If you ever parked at a casino on the Las Vegas strip for a popular event, then you know the definition of pain. Even if you score a prime spot by arriving early enough, getting out quickly isn't happening unless you leave early.
Caesars Entertainment, which operates Caesars Palace, Harrah's and several other casino and hotel brands, is alleviating such parking pains with a digital platform that automates payment for faster ingress and egress at its facilities.
The Parking Access and Revenue Control Solution (PARCS) system, which also integrates with the company's loyalty rewards and hotel management software, helps facilitate parking for thousands of people who flock to the Palace daily to gamble and attend concerts and other events.
Betting on a better CX
"We were having people queuing up in lanes and couldn't get them in fast enough," says Caesars CIO Les Ottolenghi, who detailed the system to an audience of his peers at the CIO 100 Symposium in August. "If we have an event, such J-Lo or Celine, and we try to get them in and out, anything that delays that is a bad thing."
MGM Resorts International forced Caesars' hand in 2016 when it instituted paid parking, says Ottolenghi. That put pressure on Caesars and the rest of the entertainment powerhouses on the strip to answer. The challenge, however, was implementing a system that didn't add friction for customers, who were already frustrated with the prospect of paying for something that had been free for decades.
Ottolenghi, who joined Caesars in 2016 to lead its digital transformation, rose to the challenge. Collaborating with TIBA Parking, Ace Parking, CVPS and Agilysys, Ottolenghi's team created PARCS, which incorporates two-way audio, CCTV, 115 surveillance cameras, and 136 license plate recognition (LPR) cameras to help triage parking.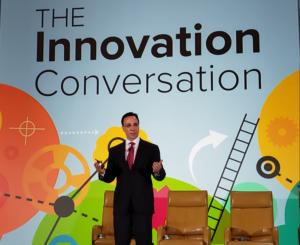 The system, spanning 68 lanes in seven off-street parking facilities, pairs each license plate to the guest database, allowing guests to present their room key at payment kiosks to enter the parking area and self-park. By pairing vehicle IDs to guest access credentials, the LPR also identifies abuse or misuse. Guests may also use their smartphones to request and pay the CVPS valet service to speed up the car retrieval process.
The brain of PARCS, SmartPark Command, enables staff to remotely manage and control guest service situations in any of Caesars' parking locations. PARCS also includes two custom web portals to allow Caesars' business departments to self-manage worker and contractor parking, or to validate and print valet and self-parking visitor discounts.
PARCS, which was launched in June 2017, also integrates with Caesars' Total Rewards system, the company's loyalty program, which offers frequent customers incentives and benefits. Nearly 40,000 self-parking vehicles and 2,500 valet vehicles are processed each day through PARCS, which launched in June 2017.
The IT modernization play
"Parking is a strategic part of our business," Ottolenghi says. It might be hard to imagine parking as strategic, but the new parking system generates tens of millions of dollars a year for the company.
But PARCS wouldn't have been viable without some long overdue technology modernization, Ottolenghi says. The IT team moved productivity, collaboration, sales, marketing and financial systems to cloud software to a handful of strategic vendors, including Microsoft, Salesforce.com, Hewlett Packard Enterprise and Oracle.
"We sold the whole idea to be completely digital and do a technology transformation first," Ottolenghi says. "It got to where we were not just being an asset manager to being a business partner."
Such capabilities also serve as the foundation for Caesar's "casino of the future," which includes the addition of digital skills-based and social interaction eSports games popularized by millennials. In 2016, Caesars inked a deal to feature games from eSports purveyor Gamblit Gaming in its casinos.
Ottolenghi, who noted that Caesars built a 5,000-square-foot lounge to support eSports fans, says Caesars is leveraging mobile and cloud technologies to provide "frictionless innovation" that supports the emerging trends. Artificial intelligence, he says, will also eventually factor into Caesar's future plans.
Ottolenghi's digital innovation plans are underway as 57 percent of "digital vanguard" CIOs cite innovation as their top business priority, followed by customers at 56 percent and growth at 48 percent, according to Deloitte's 2018 Global CIO report.