Communication is the bedrock of all social behavior. And multilingual communication — what linguists call code-switching — is the human norm. The British Council, the United Kingdom's international cultural arm, has referred to recent surveys indicating that the majority of humanity is multilingual. The Linguistic Society of America reports that there are upwards of 6,000 languages worldwide, and humans have worked hard to accommodate this diversity. In Novi Sad, Serbia, for example, the sign to the mayor's office is in the four official languages of the city: Serbian, Hungarian, Slovak, and Pannonian Rusyn.
IT leaders often say they have to focus on code-switching when working with colleagues outside of their department. They have to reframe and redefine how they present IT initiatives and strategies because the perceptions, technical aptitude, and interest level of their audiences may vary wildly. Closing this internal understanding gap has been a major focus for Christie Struckman, Gartner research vice president on the firm's Leadership, Culture and People team.
"The purpose of communication is to create understanding," Struckman says. "Without understanding, enterprise leaders and employees cannot take action. Communication plans should be renamed 'understanding plans,' since that is their purpose."
Struckman advises IT leaders that communication tools are not a panacea in and of themselves, and the medium is not necessarily the message.
"The IT profession is seduced by our own communication tools," she says. "Just because we can communicate directly to all employees of the enterprise does not mean we should. Managers are the force multiplier of an organization and communication should travel through them. Create understanding with managers, and you have the most efficient path to enterprise-wide understanding."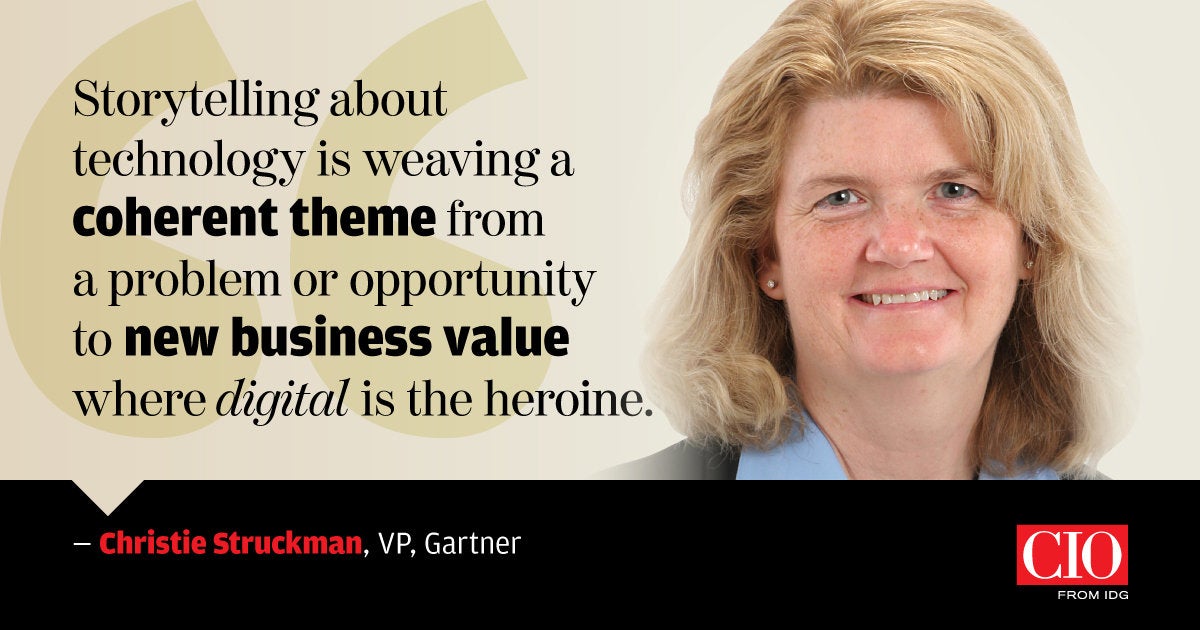 Ultimately, Struckman underscores the vital role that storytelling holds in any IT department. Ideas are fragile things. Like glowing embers, they need the right oxygen to catch fire. Storytelling is an ancient art that needs a renewed focus in our digital age, as it breaks down barriers, creates a compelling vision, and even puts wary skeptics at ease.
"CIOs are having success in communicating across the enterprise by using storytelling," Struckman says. "Storytelling about technology is weaving a coherent theme from a problem or opportunity to new business value where digital is the heroine. Storytelling helps CIOs sidestep the inherent complexity of technology, focus on the value generated through technology, and create excitement through the exposition, conflict and resolution of the problem or opportunity that the enterprise leaders care about."
In this edition of Transformation Nation, CIOs reflect on their own roles as storytellers and communicators. They reflect on the specific strategies that they have employed to make code-switching more effective and enjoyable.
Chris Manriquez, vice president for IT and CIO, California State University, Dominguez Hills
When it comes to communicating, the CIO is both storyteller and educator. This duality is crucial to success and arguably as important as technical knowledge. Over the past three to five years, there has been a focus in the IT organization to become business-line-focused and to speak their language. And the impact of digital transformations has brought a growing need for business lines to become technically literate.
In the center of these shifts is the CIO, who as a storyteller must not only be able to span technical and business literacy, while conveying the forward-thinking momentum needed in today's reality, but also as an educator provide methods and practices to accomplish this goal. These two critical roles are really just two sides of the same coin — they facilitate an ever-growing, digitally engaged workplace and economy.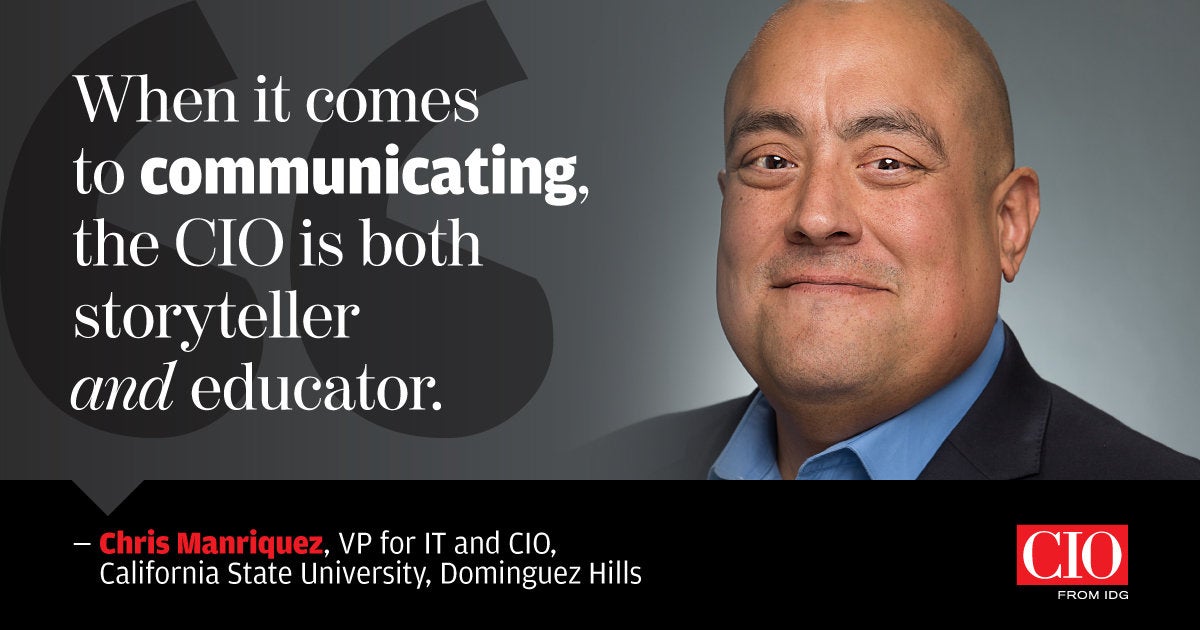 In my own institution, California State University Dominguez Hills (CSUDH), these two roles have helped in the growth of the IT organization as it has moved from a transactionally focused operation to developing foundational strategic initiatives. Beginning in 2016, our six key strategic initiatives outlined a technology ecosystem focused on a systemwide graduation initiative (GI2025), data and analytics, digital production, instructional and research, digital smart campus, and technology partnerships. These foundational pieces were needed for digital transformation.
Today, the dual communication role has grown to include the development of a multi-year, university digital transformation (DX) strategy. This strategy looks to address many digital divide issues that pose equity gaps for our students, as well as the transformative opportunities offered through a collaborative design. Again, these are vital components given what is at stake: successful engagement in the ever-growing digital economy for all university members (students, alumni, faculty, and staff).
Communication is also crucial at a university, which functions like a small city, where diverse multi-industry is spread across a spectrum of invested constituents, such as infrastructure operations, academic facilities and labs, healthcare, police and parking, design and construction, instructional support, financial operations, food and retail, residential and dormitories, sporting venues, etc.
Growing demands across these varied functions have been drivers towards constructing "engagement platforms," which will allow us to hear from and speak to various university groups (students, alumni, faculty, staff, community members, partners) in the ways they interact with the campus functions. It will also allow IT to elevate the critical touchpoints students have with faculty, staff, and managers.
In a higher education enterprise, like CSUDH, our astounding diversity is integral to who we are, and our partnership with community, corporate, governmental, and other educational systems puts communications in a heightened role. The CIO role brings together partners for internships while investing into corporate thought leadership alignments, not solely related to technology, while conveying the vision of collaborative thought leadership.
Jamie Cutler, vice president and CIO, QEP Resources, Inc.
Communication is the most important, and the least leveraged, aspect of leadership in my experience. Communicating across the organization is a common weakness in IT leadership. It is a fact of the pace and complexity of technology that company leaders (CEO, CFO, COO, VPs) are often less versed than ever in technology despite its prevalence in today's workplace. Projects that often extend well beyond original scope, security challenges and threats, performance and operations issues, changes to systems and people — all of these stretch our everyday communications approach. Given the everyday distance of our executive peers who are rightly focused on dollars, operations performance and cost of capital, how does a good leader create a communications program that ensures a common dialogue and awareness?
First and most important: Communications must be done in the language of business, not of technology. Over the course of my career, I have seen more highly intelligent, seasoned technology veterans launch into a technical conversation with business leaders, only to lose their audience in the first minute and torpedo their credibility. Next, create regular communications channels for projects, routine updates, changes and outages. These should be factual, clear (again in business language) and concise and should come out weekly or bi-weekly. Email and web portals are ideal mediums here.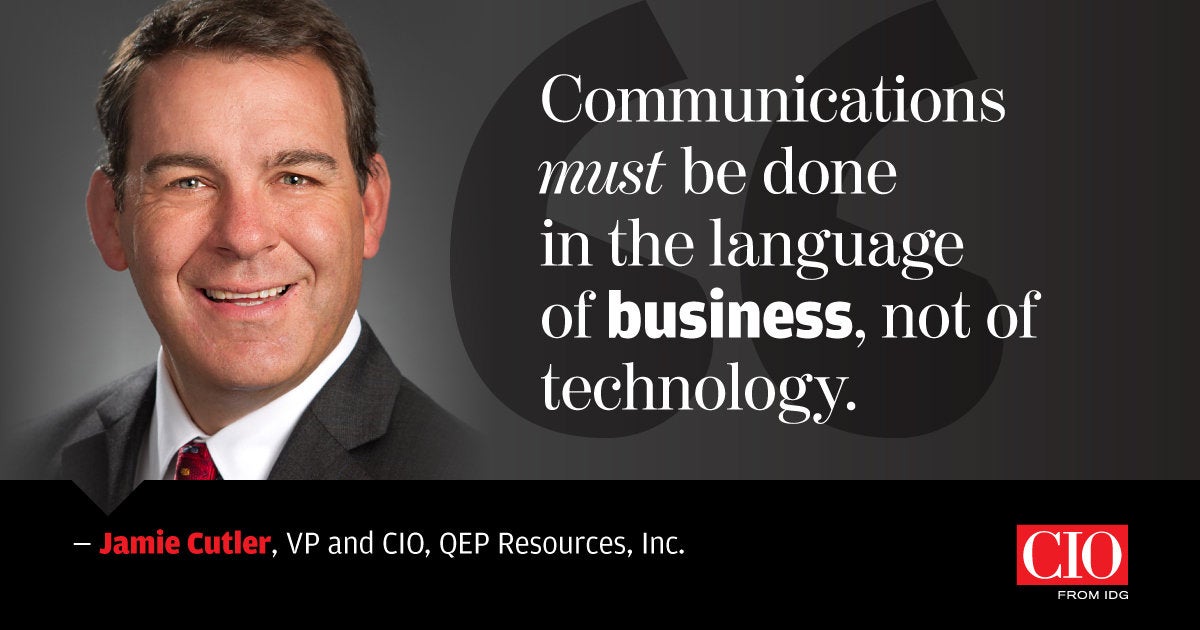 The role of IT Business Partners (BPs) (in some organizations these are Business Analysts) is key, in addition to IT management for ongoing person-to-person communication. BPs should be embedded inside the organizations they support, should be attending staff meetings and operations meetings in those areas, and should be delivering a one- to two-minute updates (again using business language) outlining IT initiatives, annual planning efforts, significant projects and operations changes that can affect the areas they support. Finally, it is their role to listen and to bring operations updates and back into the technology groups to build awareness inside the technology function of operations efforts, challenges, and opportunities for technology improvement.
One of the more critical areas of communication is leader to leader. Technology leaders must create regular and ad hoc opportunities to establish communication channels with executive and mid-level management in operations, finance, and other key support functions inside the organization. These meetings, both informal and more formal, should occur across management levels and should establish the common goal of corporate success as the foundation. Most of us have a story about how we "surprised" an executive or other management peer without intending too during a group meeting. Using a "heads-up" approach to communication is a good tool to create common-ground leadership.
Communication cannot be a one-time initiative; it needs to be an ongoing, integrated part of everything a technology leader and his team do. Good communication needs to be in the language of business, occur at all levels in the organizations, and be both regular and ad hoc to achieve the goal of common success.
John DiCamillo, associate principal, CTO, Americas region, Arup
When communicating with non-IT peers, it is critical that IT staff follow these three simple steps: [1] keep it simple, [2] avoid technical jargon, and [3] refrain from using acronyms.
Many times, IT staff think they need to provide as much detail as possible to get their message across. This is not the case, and in many instances, a lot of details will cause the non-IT peer to lose interest or get confused. Keeping your message short by using simple sentences enables you to connect to the audience at their level of understanding. This should not be looked upon as talking down to your audience, but as a way for you to connect with them that they are comfortable with.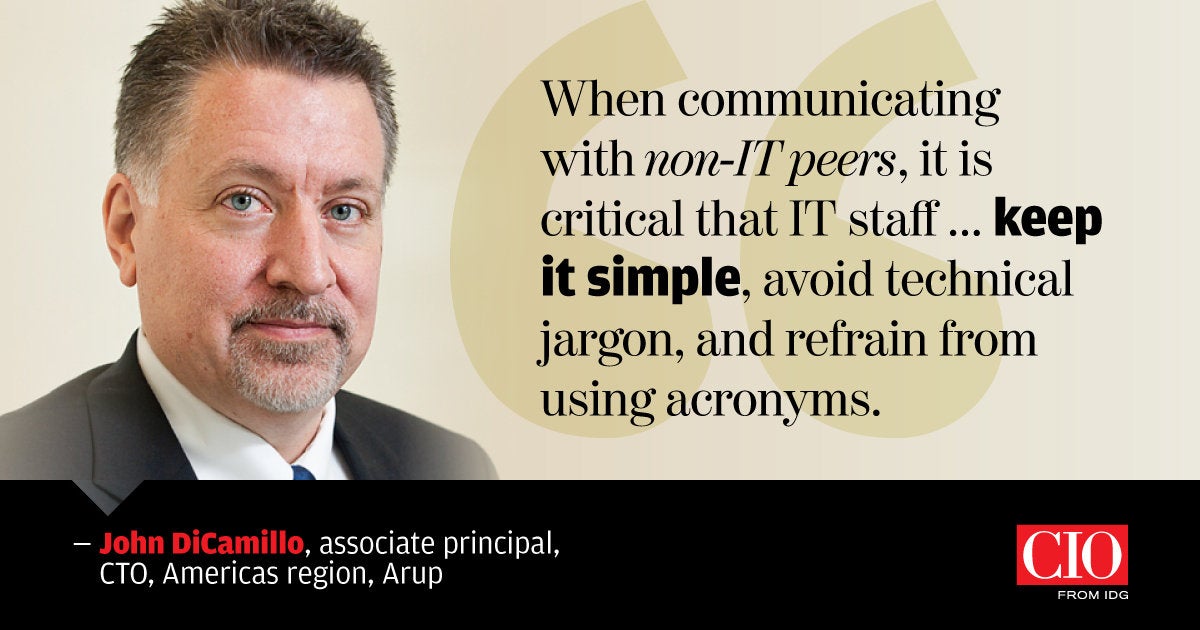 Many IT staff do not have a Bachelor of Arts degree in English from their university and may have difficulty speaking in terms their non-IT peers may understand. IT staff rely upon what comes natural to them, using technical jargon to relay their message. Depending upon the audience this can cause confusing, introduce more uncertainty and even alienate the non-IT peer. IT staff need to learn how to speak in the language of business benefit and the value, showcasing how IT provides to the firm's business processes, services, efficiencies, and overall profits.
Finally, just like technical jargon, acronyms should also be avoided. Many times, acronyms hold multiple meanings, even within the same industry and can seriously impact the message if the IT staff believes the acronym being used means one thing, while the non-IT peer believes it means another thing.
By following these steps, you can easily get your message across without causing confusion, creating anxiety, or misleading your audience.
I recently went through an exercise to review and update the monthly messages I wanted to share with my Board and Operational Executive and decided to follow these three simple steps. I immediately realized that in certain sections, I was violating these principles, using technical jargon like "upgrading to Microsoft Exchange 2016" instead of business speak like "enhanced email system with improved performance, larger mailbox sizes, etc." I also discovered that by using a simple risk register chart, I could remove multiple paragraphs of text that made the overall message easier to consume. Upon completion of this exercise, I had an executive update that was business-based, was to the point, and had a smaller footprint for my Board and Operational Executive to read.