Some chief digital officers (CDOs) have a marketing background, and some come from the start-up world. At Principal Financial Group, where "digital" is a business strategy that uses specific technologies, the CDO has a background in strategy and in IT. Gary Scholten, CIO and CDO at the firm, discusses his dual role and how the company has incorporated digital into its growth strategy.
———————————————–
How did you wind up as Principal Financial Group's chief information officer and chief digital officer?
I've been Principal's CIO for almost 16 years and have taken on additional responsibilities over the years, including head of strategy and of human resources. Two years ago, our CEO was talking about the need to drive digital more deeply into our business strategies, and he asked me to consider leadership in this area. I did some research and found that the title of chief digital officer resonated with our conversation.
I also found that companies were defining the chief digital officer title in four distinct ways: one was a focus on digital marketing or direct-to-consumer led by a CDO with a strong marketing background. Another used digital as a synonym for customer experience, with CDOs who come from startups. Then there are companies that use digital interchangeably with technology; those CDO roles are filled by CIOs or CTOs. The fourth category, which made most sense for us, is a CDO who is responsible for developing a business strategy that is informed by digital technologies. So, really, the CDO role at Principal is a strategy role.
Our CEO felt that my CIO, strategy, and HR background was perfect for business strategy-oriented CDO.
CEOs who want to hire CDOs with that kind of background — CIO, chief strategy officer, and CHRO — may be waiting a long time for the right person. Given the rarity of that skillset mix, what do companies do to find someone to lead digital?
The person who can lead a digital business strategy will have strong IT acumen and experience in business strategy. That person could be a CIO but could also be someone who has led strategy in a digitally native start-up. The key is the combination of technology and strategy.
What does digital mean to Principal?
We've adopted the MIT Center for Information System Research definition of digital: Digital strategy is business strategy that is completely dependent upon specific sets of technologies. These technologies could include data analytics, Internet of Things, artificial intelligence, machine learning, cloud, or customer experience-related technologies such as mobile, web and social media. For Principal, digital means taking these specific technologies and applying them to business strategy.
What are some products that have resulted from your digital business strategy?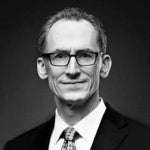 In the U.S., our largest business is employer-sponsored benefits. Increasingly, decisions around employee benefits are moving toward employees, who have more and more choices. But many employees do not feel that they have the information to make those choices. So, we developed a capability we call Easy Elect, which uses behavioral-economics approaches to guide employees through their benefit selection.
What is the technology?
It uses advanced web techniques, guided decision design, and data analytics. Based on the employee's profile and their answers to a few key questions, Easy Elect personalizes their benefit selection experience and guides them through the process.
Another example of our digital business strategy is on our investment side. We are a large asset management company, and we've had a global research platform for 20 years. We are building the next generation of that platform, which we are calling an analytics cockpit. It uses artificial intelligence to digest public information and internal data to augment our investment analysts' work. It allows the analysts to use a much larger amount of data to make stock selection decisions. We started with stocks, but we will be rolling out the analytics cockpit to fixed income and then to our real estate business. We are finding that the tool is beating sell-side analyst projections, just using AI, before our analysts even become involved. The tool is in the early stages, but we are really excited about it.
How has your IT operating model changed to drive your digital strategy?
Several years ago, we began anticipating a move into digital strategy. We moved into agile — but not as an "IT only" initiative, because for Agile to be successful, the business and IT have to move at the same time.
We are now 100 percent agile in software development, and we are bringing agile to infrastructure and information security. That was the first big change in our operating model.
The second change was leveraging a digital ecosystem. We started using managed services and API-enabled systems years ago so that we would be ready for digital. We also knew that data analytics would be a growing part of our operating model, so we built an infrastructure to support AI and other analytics technologies. Finally, we recognized the importance of risk management, not just in information security, but in our digital business environments, as well, because when you move into digital, you expand your attack vector.
What was the key to getting your business partners to invest time and resources in agile?
We have a complex set of multiple businesses. The first business that went agile was all in, but the shift wound up being bigger than they anticipated. By the time the second business unit moved to agile, leaders from the first business could help them anticipate the change. The advantage of being a large multi-business organization is that we can learn from one business to the next.
What advice do you have for CIOs who are looking to drive a digital business strategy in their companies?
Don't develop a separate digital strategy; focus on a business strategy regardless of what technologies you are using. There is a natural tendency among business leaders to see what start-ups are doing or what a competitor has announced, and say, "What are we doing about that?" But the closer you can tie your investments in digital technologies to your business strategy, the better you will be at change management.
For example, when the concept of the "robo advisor" came into wealth management, a shockwave went through our leadership that this technology would change everything and that we had to have one. I kept asking, what is the business strategy? Robo advisor technology could be strategically important to us, but by itself, it will not be so disruptive that we all need to drop everything and go in that direction.
People can understand a business strategy better than a technology that is dropped out of the blue. That doesn't mean that you don't keep an eye on emerging technologies, but by putting business strategy first, you only adopt those technologies that are good for your business and your customers.
About Gary Scholten
Gary Scholten is executive vice president, CIO, and CDO of Principal Financial Group. He's responsible for overseeing the company's use of IT and driving digital strategy into all aspects of the business, as well as leading the company's use of offshore resourcing and oversees Global Sourcing.
Scholten joined the company in 1980 as an assistant planning analyst. He held multiple IT positions, was promoted to senior vice president and CIO in 2002, and to executive vice president and CIO in 2014. He became CDO in 2017.
He received a bachelor's degree from the University of Northern Iowa in Cedar Falls.