IDC estimates that the economic value of digital transformation at US$20 trillion (which is more than 20 percent of global GDP) and reports that the disruptive impact of digital transformation has not yet been realised. However, the research firm reports, disruptive technologies are well on their way and will change business markets and how companies attract and retain customers.
To recognise the companies that are best prioritising digital transformation and deploying it at their businesses, IDC announced earlier this month the winners of the second IDC DX Summit & Awards 2018 for Malaysia and Singapore. The Malaysian and Singapore winners join ASEAN IDC DXa awardees from Indonesia, the Philippines and Thailand this Thursday at IDC's DX Summit and Digital Transformation Awards where the regional award winners will be announced.
The IDC DXa are designed to recognise organisations that have significantly disrupted or transformed the market using digital technologies, according to IDC. All winners, IDC said, showed measurable excellence in their digital transformation efforts.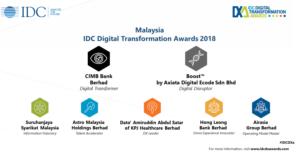 Malaysian Digital Transformation Award Winners
"We have seen interesting projects on cognitive computing/AI, big data and analytics, IoT [Internet of Things], robotics and robotics process automation being utilised across vertical industries, among others." said Sudev Bangah, managing director IDC ASEAN. "The local winners have shown that Malaysian enterprises are well-positioned to take advantage of digital transformation."
The winning organisations in Malaysia for the 2018 IDC DX Awards and their digital transformation initiatives are the following:
Digital Transformer of the Year: CIMB Bank's CIMB Enhanced Virtual Assistant.
Launched in 2016, CIMB's Enhanced Virtual Assistant (EVA) was developed by CIMB's digital team to provide 24/7 access to customer demands for a seamless mobile banking experience. Designed with a chat-based interface, CIMB EVA is integrated with banking functionalities such as accounts checking, fund transfer, bills payment and prepaid mobile reloads, combined with a messaging platform that's designed to allow users to receive instant transaction alerts and customised promotion updates.
Digital Disruptor of the Year: BOOSTby Axiata Digital eCode.
The Boost e-wallet is designed to make transactions more efficient and secure. Since it launched in 2017, Boost has partnered with 17 banks to support the in-app reload feature for wallets as well as prepaid mobile accounts. Each transaction merits rewards for users and Boost also offers digital vouchers for deals and discounts with partner merchants. Boost has also enables peer-to-peer lending, where users can instantly, for no fee, send or request money from other contacts. To date, Boost has more than 25,000 touch-points including pasar malam (i.e., night market) stalls, food trucks and restaurants, online stores and physical retailers, IDC reports.
DX Leader of The Year: Dato Amiruddin Abdul Satar, KPJ Healthcare's managing director and president.
As the head of one of Malaysia's private leading healthcare providers, IDC says, Dato Amiruddin Abdul Satar has played a vital role in leading the adoption of digital technologies in the organisation and in the healthcare industry. His earliest projects involved moving his group to adopt KPJ Cloud, which has reached 18 hospitals today, as well as the re-engineering and redevelopment of core applications including organisation-wide use of electronic medical records and Cloud ERP. His latest initiative uses artificial intelligence in cancer research and treatment in five KPJ hospitals, being the first in the country to use this technology.
Omni-Experience Innovator of the Year: Hong Leong Bank's Predictive Customer Intent CRM System.
Hong Leong Bank omniexperience projects cut across the bank's operations, improving productivity, optimising cost-to-income ratio, and increasing customer satisfaction (CSAT) scores. Its initiatives include an AI chat advisor on its website and internet banking platforms that answers general inquiries on Hong Leong Bank products and services to reduce customer contact with call centre agents, a robotic concierge designed and built to interact, identify and match customer requests to HLB products, a real-time feedback system with social media sentiment monitoring, and omnichannel analytics dashboards. Hong Leong Bank's Predictive Customer Intent System uses machine learning to predict a customer's call intention based on recent banking and interaction activities with the bank.
Information Visionary of the Year: Suruhanjaya Syarikat Malaysia's (SSM) MYDATA
Suruhanjaya Syarikat Malaysia (SSM), the statutory body that regulates corporate and business affairs in Malaysia, launched MYDATA in 2016 to provide users a single, direct electronic access point to the official company registration offices in Malaysia. SSM's role is to incorporate companies and register businesses and ensure all company and business information are available to the public. The commission also handles monitoring and enforcement activities to ensure compliance with business registration and corporate legislation.
Talent Accelerator of the Year: Astro Malaysia Holding's Digital Culture Accelerator Programme
The company launched its enterprise-wide Digital Culture Accelerator Programme to empower its employees to respond to the changing technology landscape and customer demand. The Programme's efforts include revamping employer branding identity and recruiting of digital talent, reskilling talent for new ways of working, changing fundamental team structures to deliver trendsetting products and services, and augmenting and growing talent within the broader ecosystem. Key initiatives include experimenting and building minimum viable products to help embed a digital mindset in ideation and project execution and its Certified Innovator Programme (CIP) and Certified Technology Professional (CTP) programme to develop internal capabilities in product and service innovation, software development, artificial intelligence, data analytics, video delivery, ad technologies and e-commerce, including adoption of agile and the service teams concept.
Operating Model Master of the Year: Air Asia Group Security Solution for Online Booking
AirAsia offers domestic and international flights to more than 165 destinations in 25 countries. Its online ticketing platform is accessed by a wide audience in different geographies around the world. Because of this, the airline's ticketing platform has been exploited by crawlers and botnet attacks, affecting both website and app performance. AirAsia faced malicious activities from bots that occupy free seats, hindering customers from purchasing their tickets and directly compromising airline bookings and revenue. AirAsia thwarted high-level hackers and uncovered complicated hacking patterns then implemented a security solution that uses a content delivery network with customised rules applied to a cloud web application firewall.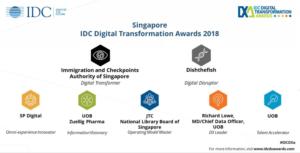 Singapore Digital Transformation Awards
"In 2018, there has been an acceleration in the pace of DX projects in Singapore, with many organisations demonstrating good success in the application of multiple technologies to deliver transformative change, and new digital capabilities," said Sandra Ng, group vice president of Practice Research at IDC Asia/Pacific.
These are the Singapore winning organisations of the 2018 IDC DX Awards and their outstanding DX initiatives that distinguished them:
Digital Transformer of the Year: The Singapore Passport Story of Immigration and Checkpoints Authority of Singapore (ICA)
The ICA has revolutionised the passport application and collection processes from a manual-based model with a suite of solutions that turned the entire passport experience into a seamless one. From applying through the mail in 1994 to electronic internet application in 2002, from passport collection at post offices near home to self-service iCollect kiosk, ICA has consistently generated greater convenience for its citizens.
Digital Disruptor of the Year: Dishthefish
Dishthefish transforms traditional fish mongering by augmenting its online sales with physical retail locations. The startup brings customer son a journey of seafood discovery. Dishthefish uses smart technology to help remember and understand customers' preferences. The organisation is aimed towards make buying and eating seafood at home an enjoyable experience.
Information Visionary of the Year (tie): Zuellig Pharma's Zuellig Health Solutions Innovation Centre
The Zuellig Health Solutions Innovation Centre drives development of Zuellig Pharma's work in data, digital and disease management. Set up in partnership with the EDB, the centre builds on the company's century-long foundations in distribution, to explore new ways to improve access to healthcare. of Zuellig Pharma has developed data insights platforms and AI-powered predictive analytics capabilities to provide transparency and optimisation of supply chain activities. More recently, Zuellig Pharma has also embarked on blockchain projects to unlock the opportunities that connected information systems can bring to the industry.
Information Visionary of the Year (tie), Talent Accelerator of the Year; United Overseas Bank's Enterprise Data Architecture & Governance (EDAG) and DX Leader of The Year: United Overseas Bank's Managing Director & Group Chief Data Officer, Richard Lowe
United Overseas Bank uses technology to gain an understanding of its customers' preferences and to make their banking experience simple, safer and reliable. The bank also continually develops its AI and machine learning capabilities to meet the various needs of its businesses. United Overseas Bank has worked with its Hadoop to develop a big data solution that would enable various functions in the Bank to have quick access to relevant and quality data for analyses. These functions, such as compliance and retail banking, are then able to draw on the insights generated to optimise their business processes and to design distinctive customer experiences.
Operating Model Master of the Year (tie): JTC's J-Ops Command Center
JTC's J-Ops Command Centre is one of the first integrated building and estate operations command centres in Singapore. It houses multiple smart facilities management systems with functions such as building optimisation, estate surveillance and work flow automation, to allow JTC to remotely monitor and manage facilities operations for majority of its developments and estates across the island. The command centre allows JTC to achieve improvements in tenant comfort, reductions in energy leakages and efficiencies in resource deployment. Beyond that, the team stationed in the Centre can pull and analyse data from pilot FM systems deployed in JTC developments.
Operating Model Master of the Year (tie): National Library Board of Singapore's NLB Mobile
The NLB Mobile app caters to the digital lifestyle of patrons and has become a key channels to deliver library content and services. It serves as a portable digital library providing convenient access to a wide range of resources, including the latest eBook titles, emagazines, enewspapers and elearning courses. It also offers features to help patrons perform library transactions conveniently, such as on-the-spot borrowing. The National Library Board of Singapore says NLB Mobile app is the first library app in the world to offer such a function. Since it launched the app in 2016, it has been downloaded more 500,000 times with over 6 million accesses.
Omni-Experience Innovator of the Year: SP Group's Digital's SP Utilities
SP Group serves close to 1.4 million customers in Singapore, reads about 3.8 million electricity, gas and water meters bi-monthly and processes about S$6 billion in utility payments annually. In the face of technological disruption, the mobile app, SP Utilities, is centred on customers' growing needs and changing lifestyle. Customers can make transactions on the go, get timely reminders on bill payments, track their utilities consumption and check history of their usage as well as that of their neighbours. It also has a live chat function for customers to have their queries addressed promptly.
How IDC Determines DX Awards winners
IDC says that it follows a two-phased approach to determine the country and regional winners. Each nomination is evaluated by a local and regional IDC analyst against a standard assessment framework based on IDC's Digital Transformation Taxonomy, which is designed to provide structured guidance on how industry and government verticals are creating and enabling digital transformation success. The 14 industries represented in this set of taxonomy documents are: Banking, Capital Markets, Government, Healthcare, Insurance, Life Science, Manufacturing: Asset Oriented Value Chains (AOVC), Manufacturing: Brand Oriented Value Chains (BOVC), Manufacturing: Engineering Oriented Value Chains (EOVC), Manufacturing: Technology Oriented Values Chains (TOVC), Oil & Gas, Retail, Smart Cities and Utility.