Financial service customers expect full and instant access to all of their credit information in their moment of need from any computing device. And they assume their transactions will be secure.
Synchrony is now using artificial intelligence (AI) to improve customer services and help process and secure millions of credit card transactions per day across more than 74 million accounts. The company, which manages private-label credit cards for Gap, Lowe's and several other high-profile retail brands, is also hiring more talent to ensure that it keeps pace with evolutions in AI and other technologies that undergird its digital transformation, says CIO Carol Juel.
"AI is a competitive advantage for our business and our partners," Juel says. Other CIOs feel the same way, if the proliferation of AI projects is any indication.
Fifty-three percent of global data and analytics technology decision makers are implementing or expanding their use of AI, while another 20 percent plan to implement AI in the next 12 months, according to a survey of 2,879 business and technology leaders conducted by Forrester Research. Computer vision (22 percent), speech analytics (20 percent), text analytics (23 percent), natural language generation (21 percent) and machine learning platforms are among the core AI tools enterprises are using or experimenting with, according to Forrester analyst Brandon Purcell.
Entering the chatbot era
Synchrony is using AI, machine learning (ML) and robotic process automation (RPA) to facilitate sales, improve the underwriting experience for customers, and enhance the company's ability to assess risk, Juel says.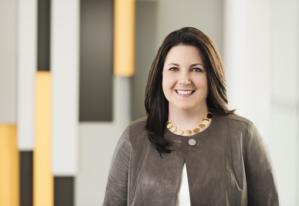 One AI tool is Sydney, an intelligent virtual assistant to whom consumers can ask a direct question and get instant answers via their phone's messaging application, says Synchrony CTO Greg Simpson. Sydney, which has been deployed by more than 20 retailers, answers consumers' inquiries about opening a new account, payment options, log-in issues, and rewards programs. Synchrony personalizes Sydney's tone and language to match those of its partners. Simpson says Synchrony "trained" Sydney using hundreds of topics collected over the years from the company's call center data.
This approach alleviates friction created by interactive voice response (IVR) systems most companies use, which tend to irritate consumers with their long-winded menu options. Sydney has reduced live chat volume by more than 50 percent, Synchrony says. Eventually, Synchrony's customer service representatives will use Sydney when serving cardholders to help improve Sydney's intelligence over time.
It isn't clear how Synchrony's bet on Sydney will play out in the long run. As it turns out, getting consumers to adopt a new platform, let alone a paradigm shift in how they consume services, is a tough nut to crack. Synchrony appears fully invested in this approach; eventually, the company will add voice recognition capabilities to Sydney, enabling consumers to query the chatbot via speech.
Fraud detection and process improvement
Synchrony is also using machine learning for fraud detection in its credit underwriting process. Traditionally, Synchrony built fraud models by hand. Now, ML systems run regression models that pore over hundreds of data points, such as the age of an email, where a call is coming from and whether a consumer has a mortgage — in real time. Synchrony weighs this data in an array of combinations to detect potentially illicit transactions. "The ML figures out which factors correlate to a likely fraud situation" in seconds, Simpson says.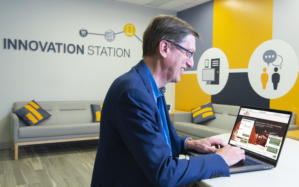 Ideally, this ML tool will give Synchrony a better understanding of consumers and a more complete picture of the risk Synchrony will take in serving them.
If ML is the brains of Synchrony's new AI push, RPA serves as its hands, eliminating repetitive tasks previously performed by humans, Simpson says. For example, Synchrony RPA software "bots" now automatically pull data from various system to produce business reports. For example, the company's treasury department recently used the AI-powered bot for internal forecasting and operations, resulting in a 50 percent reduction in process cycle time. Synchrony will soon apply more tools companywide that are projected to save tens of thousands of hours.
"That work of pulling data between systems — RPA can do that for us now," Simpson says. That enables Synchrony to make better judgment calls about how its software engineers spend their time to do work of "greater cognitive value."
Underpinning these AI and ML moves is a Hadoop data lake, working in concert with tools such as Apache Kafka, which helps Synchrony process data streaming from mobile device and computer transactions in real time.
The data lake connects with and feeds Synchrony's private cloud, which enables the AI technologies to process vast amounts of data at scale, Juel says. Synchrony uses public cloud services to "burst out" for additional computing capacity, based on the seasonality of its retail partners' businesses, Simpson says.
Synchrony's bet on AI puts them in good company. Eighty-two percent of 1,100 U.S. executives from early enterprise adopters of AI report a positive return on their investment, according to new Deloitte research.
Courting talent
But banking on AI presents challenges to Synchrony when it comes to grooming the necessary skills to gain business insights. Like every enterprise, Synchrony is hiring experienced analysts, data scientists, developers, and software engineers — when and where it can.
The AI and data science talent gap has been well documented. Juel looks for staff who are conversant in and can connect their work to the broader business strategy. Indeed, 69 respondents to the Deloitte survey cited a "moderate, major or extreme" skills gap regarding AI.
But Synchrony is playing the long game. While AI and ML are two of the big needs today, new technologies will emerge that Synchrony must be prepared to adopt to serve its customers, Juel says.
To forge a strong talent pipeline, Synchrony in April opened the Emerging Technology Center at the University of Illinois to advance technology capabilities and equip students with real-world skills in AI, data science, design thinking and other emerging tools and practices. More than two dozen students have secured internships at the center.
In September, Synchrony partnered with the University of Connecticut to launch the Synchrony Cybersecurity Center to engage computer science and engineering undergraduate and graduate students to collaborate with the finserv on next-generation cybersecurity tools. It also provides another talent pipeline. "We are investing in talent to make those [technology] skills shifts," Juel says.