IT departments are comprised of individuals with their own unique talents, goals, and levels of emotional investment. Like a skillful conductor, the effective CIO must be a champion and mentor for these individual contributors, wedding their individual efforts and self-interest to a larger and harmonious whole. This effort is a strategic imperative and the ultimate test of leadership.
A sense of intrinsic motivation gives work meaning. According to M. Eric Johnson, dean of the Owen Graduate School of Management at Vanderbilt University, this essential focus has been made all the more pressing in light of ongoing market and demographic trends.
"Millennials now represent the largest generation in the workforce, and they bring much-needed energy and expertise to business," Johnson says. "However, shifting interests and work habits may make them the most difficult generation to motivate and retain. A recent Deloitte study found that nearly 40 percent of millennials believe they will leave their current employer within two years, and only a third think they will be in the same job for five years."
Johnson advises CIOs to emphasize their commitment to career advancement for all IT employees, while also connecting day-to-day tasks to a larger vision. Doing so will help prove that IT leadership is committed to two key aspects of motivational leadership: encouraging career progression and nurturing a sense of autonomy and mission among employees. These are critical aspects of a positive work life for all employees, but Johnson stresses that they are particularly pertinent to the now-dominant millennial bloc. Millennials are less hung up on compensation and benefits, he explains, and often are more concerned with societal impact and flexible work schedules.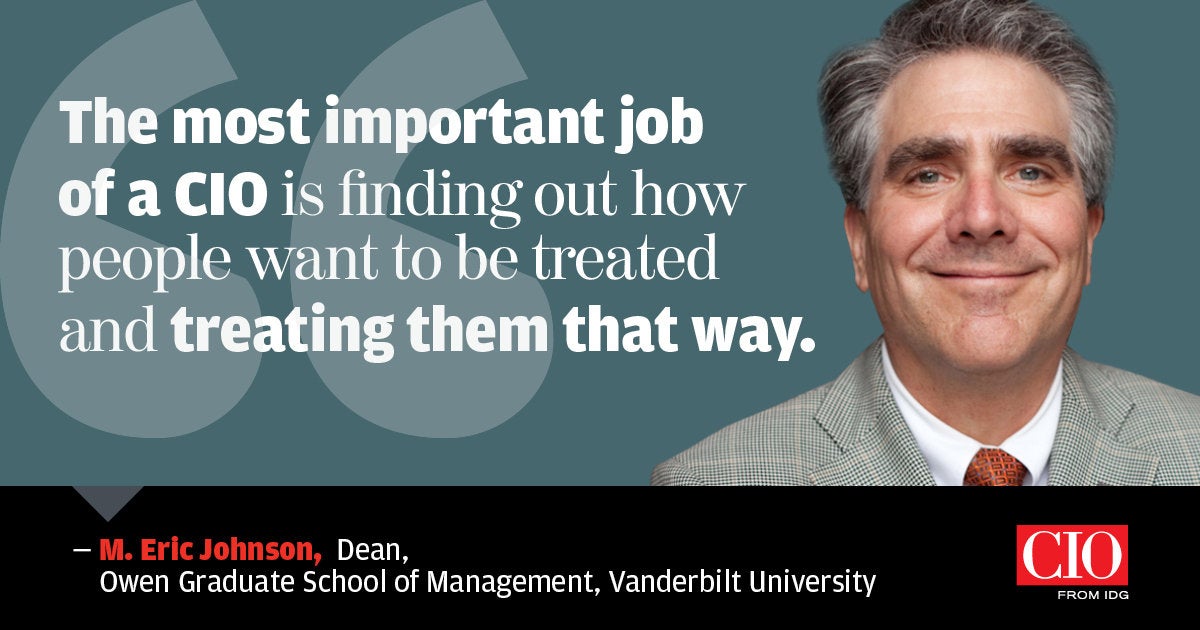 "Millennials in particular crave a sense of movement within their organization from the very start," he adds. "One approach to satisfying those eagerly seeking advancement is to restructure the career ladder with more career steps and shorter assignments, leading to more rapid advancement. CIOs should build motivation strategies that facilitate a work-life integration culture, like relaxed dress codes, greater inclusion in decision making, and links to social responsibility."
But the desires of millennials are far from the whole story, despite their statistical significance.
"CIOs often build their organizations by finding people like themselves, with similar values, goals, and incentives," Johnson says. This is a potential hazard because CIOs can rashly assume that their direct reports think exactly like them. Such a blind spot — in which CIOs overlook individuality and, by extension, offer misaligned incentives — can quickly exacerbate morale.
There is no quick fix, but Johnson emphasizes that listening and remaining responsive will always help CIOs keep in touch with the goals of their employees.
"The most important job of a CIO is finding out how people want to be treated and treating them that way," Johnson concludes.
In this edition of Transformation Nation, global technology leaders reflect on how they treat their direct reports and practice the discipline of motivational leadership.
Russell M. Kaurloto, Vice President & CIO, Clemson University
Motivating staff, whether individual, group, division, or organization, takes a tremendous amount of leadership skill, initiative, follow through, and genuine focus. Motivating staff is more a leadership paradigm than the self-motivation of the individuals themselves.
Too often, we as leaders use sports coaching analogies to motivate staff, but they are appropriate and proven in how you motivate individuals and teams to perform at higher levels. This is where the paradigm of leadership and the motivation continuum takes place. Leadership needs to set the vision, goals, objectives, and gain buy-in to reinforce directives with affirmations on a daily, weekly, and monthly basis.
Motivation cannot be overstated, but the push to motivate cannot be perceived as lip service — this is the death knell of any organization. Motivation is continual, never-ending, with leadership's genuine involvement to build credibility and set the tone and vison of the organization. Simply stated, you need to walk the walk.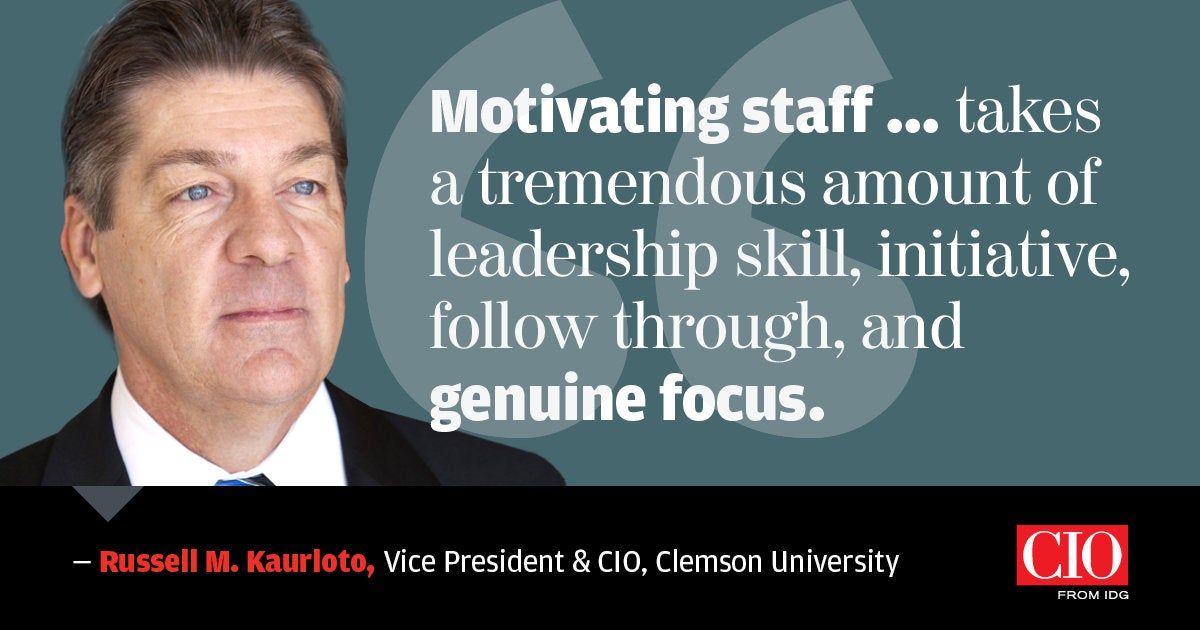 So, how do you know if an employee is motivated? Is it simply based on work performance and meeting objectives? In my experience, no. These are basic tenets of the job for which they were hired. Motivation is measured differently — these are the soft skills individuals and teams bring to the table that add value and differentiation to your organization. They are your table stakes of performance. Motivated staff bring energy, optimism, and thought leadership to your organization, a willingness to change and adapt with great self-confidence.
So, how do I motivate staff?
As mentioned above, set the vision but be sure your vision is not unilateral — include your teams in the vision discussion; their contribution and involvement are key.
I meet with every person throughout my organization for 15 minutes — yes, everyone (370 people). I call it the "15-minute CIO." The 15 minutes is not about the business, although that is the commonality; it's more about the individual and understanding the culture to set a motivation strategy. This is where you have an opportunity to voice your vision, gain immediate feedback, build teams, and motivate. Important to note — this is not a one-time deal. I keep it ongoing year after year.
Shop the hallways, cubicles, and offices. Make your rounds, be seen and be presentable — engage. Tied to the "15-minute CIO," I find this to be the most effective in motivating individuals and teams. Reinforce your vision and genuinely ask how they are doing, how you can help — it's not all about you.
Continuous praise. Praise individuals and teams for their achievements, (using sports analogies) both on and off the court — it's not always about the business. It's important to showcase achievements in their personal lives, as well as their contribution to the organization.
Succession planning. Build a strategic succession plan to promote your best motivated staff to keep them fresh, but be careful — don't set them up for failure. Lastly, money isn't everything, but it sure helps.
James Swanson, SVP/CIO and Head of Digital Transformation, Bayer Crop Science
Bayer has outstanding talent in the IT field. Our employees are in such high demand they literally could work anywhere. Yet they choose to work at Bayer. Why?
It's simple — our IT employees embrace our mission and vision to shape modern agriculture, helping farmers feed a growing planet in a sustainable manner. They tackle the toughest challenges of the oldest profession using the latest technologies, like AI, blockchain, and decision sciences. They fail fast, learn, and immediately build on their experience. They advance disruptive ideas, scale appropriately, and accelerate shared knowledge. They work in a collaborative, entrepreneurial environment as equal partners with the business to help inform and drive key decisions. And they create products that support cutting-edge science in biotechnology, chemistry, and agronomy. Each our employees views themselves as an advocate for driving digital transformation in our industry.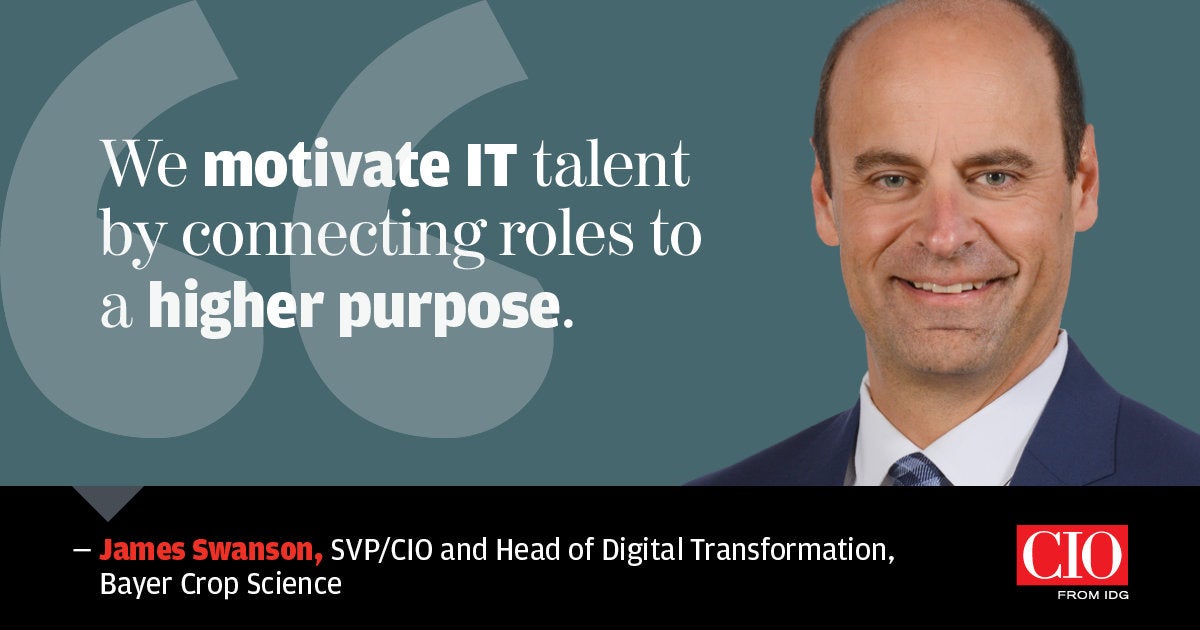 So, number one, we motivate IT talent by connecting roles to a higher purpose. Helping our farmers grow more food sustainably is a passion for IT employees at Bayer. I am so proud of that commitment I see every day.
Two, we reward and recognize great talent. Historically, Monsanto IT has been a forward-leaning company that enables its employees to not only advance, but shape, their own careers. I see those opportunities increasing with Bayer — from professional and technical skill development, such as innovation challenges and hackathons, to employee-led business resource networks that promote inclusion and diversity.
We know those opportunities are important to our employees because we regularly measure and use the results to improve. In fact, our employee engagement scores have increased over the last two years, even during times of significant organizational changes.
The business results speak just as loudly, and our employees take pride in that success. Our community of research scientists, data scientists, engineers, developers, and others work together with the business to build a data-driven ecosystem that has brought us recognition as being at the forefront of emerging data science companies.
Michael Smith, VP and CIO, American Academy of Family Physicians
The ways in which an IT leader can motivate IT resources or talent are as varied and unique as individual snowflakes. Although science has proven snowflakes fall into one of 35 different shapes or categories, the chance of seeing the same design or shape of a snowflake while snow is falling can be likened to the odds of winning the lottery.
With those odds it can seem daunting to accomplish this, but all it takes is a little discipline and time. During my 21-plus-year career in IT, including 15 years in leadership and management positions, I have committed to making sure I understand the goals, desires, and passions of the individuals that work for me. To accomplish this, I make a point of meeting one on one with each of my staff at least twice a year.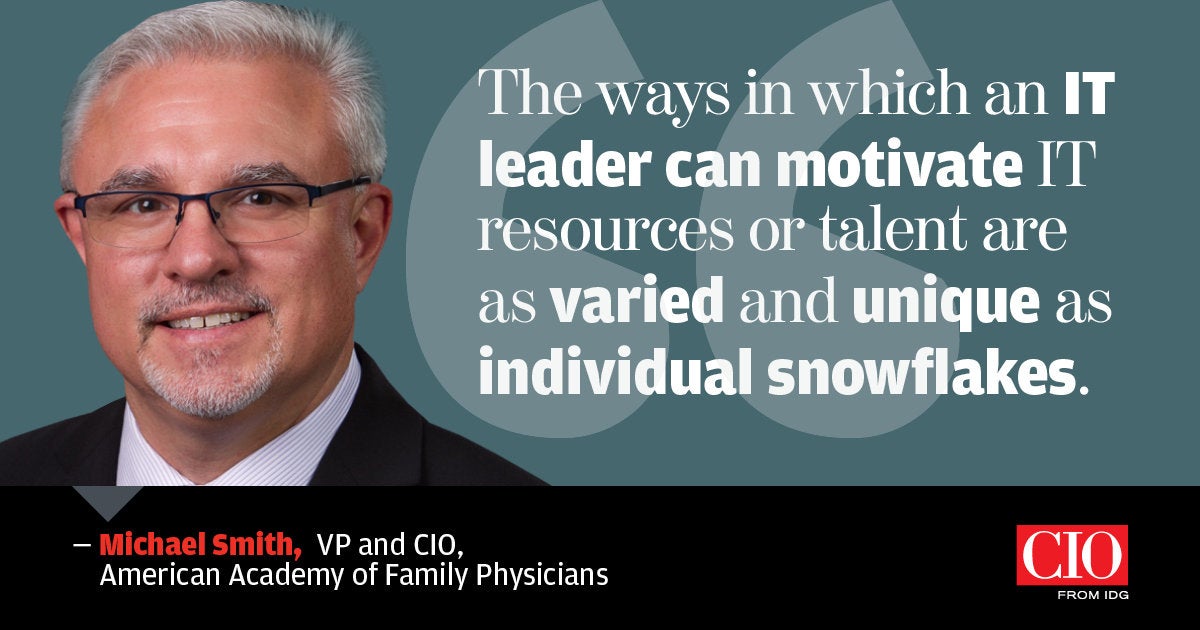 In addition, I have recruited my director of IT (my second in command) to do the same. In return, in total we meet with each staff member once a quarter. Our time with these individuals is sacred and deliberate. We focus on what their career goals are and help to understand how they can achieve those while working for us. In some cases, their goals cannot be met in their current role, and sometimes it may require them to spread their wings and move on to another opportunity and another company.
However, we have learned invaluable information in how better to position ourselves and the overall leadership team to understand what makes our resources tick, and in return they feel valued and understood. The results we see demonstrate significantly more productivity and loyalty from each of them. This model can work in any size organization. The larger the organization, the more delegated the one-on-one meetings can be across leadership positions.
Brad Strock, CIO, PayPal
A company's culture, and the resulting attitudes and motivation of its employees are among the most powerful factors determining business results. This is especially true for technology teams, who are increasingly the critical driver of enabling the business strategy.
In my experience, there are three key drivers of attracting and developing the best talent, and capturing both their hearts and minds:
Connection with the company's mission and their role in achieving the mission.
A strong, positive culture, both of the company and the technology team.
Recognition for great performance, coupled with regular, clear feedback on how to improve.
At PayPal, we are fortunate to have a compelling mission to democratize access to money globally. Bringing financial services and commerce to the world in an efficient and inclusive way is a powerful goal to both attract and keep the best and the brightest. This is particularly true of millennials, who increasingly demand to be associated with organizations that serve a greater purpose.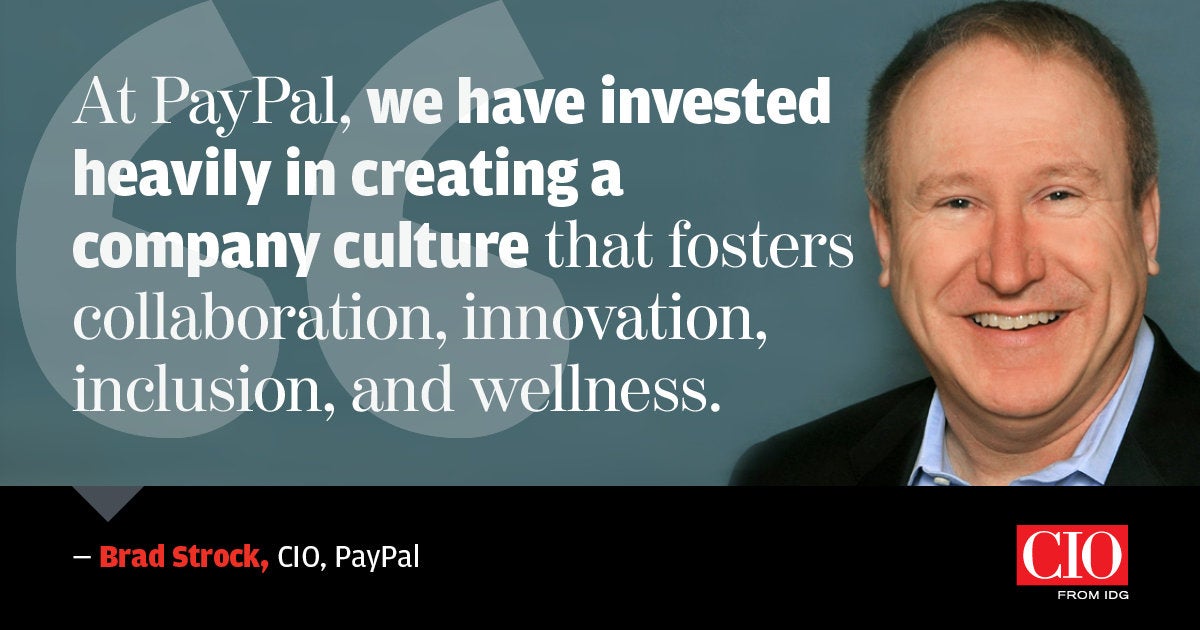 Culture is an often overused term, but its importance cannot be overstated. Companies have cultures, as do technology teams, and both are critical in creating an environment in which each member of the team can perform to their full potential. At PayPal, we have invested heavily in creating a company culture that fosters collaboration, innovation, inclusion, and wellness.
Feedback is the third and critical piece of the puzzle. High-performing employees demand both recognition for accomplishments and frequent, constructive feedback on their performance. Feedback is a gift, a critical input to getting better. At PayPal, we invest in training managers and employees to provide frequent, candid, and constructive feedback that reinforces strengths and helps improve areas of development. In my tenure as CIO, we've seen these investments yield positive results in motivating our technical teams to operate at peak performance.
William Thirsk, VP of IT/CIO, Marist College
What has worked well for us is continuously challenging our managers and individual contributors to perform at a level that is one click above what they believe to be their best effort. While this may sound difficult, it is a method that has always delivered the desired results or results far better than I would have received had I just "managed through" a challenge.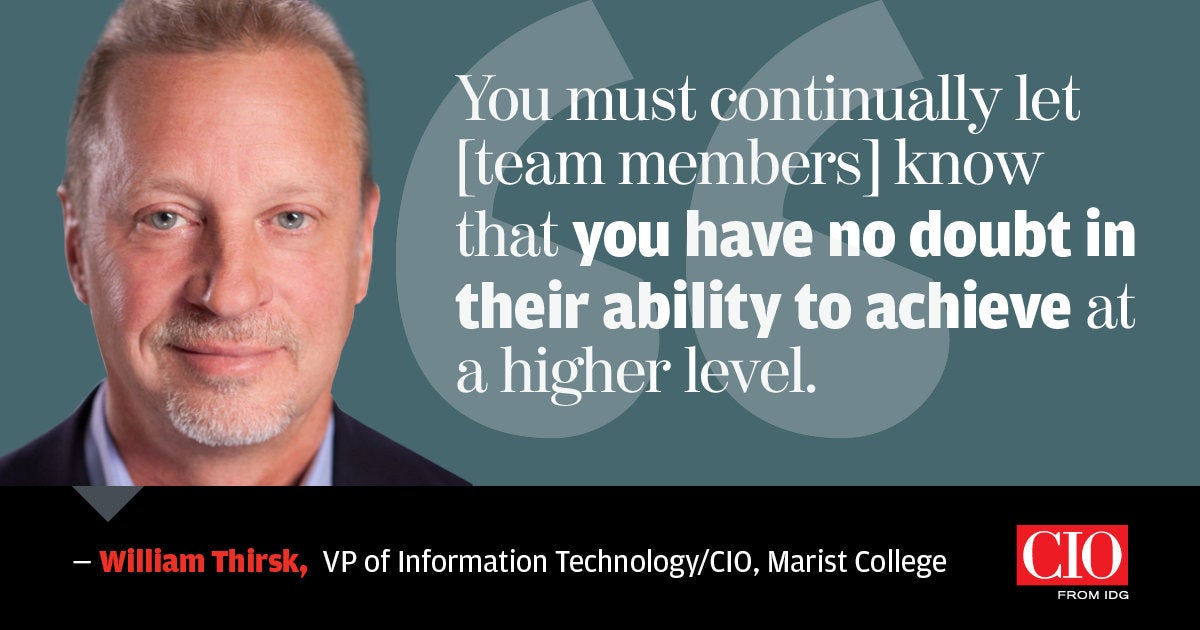 There are several pre-conditions for this type of motivational effort to work. First, you must visibly participate with your team in the accomplishment of the challenge. This doesn't mean having to do someone else's work. It means your team must perceive that you are providing a valuable and measurable effort on their behalf.
Second, you must truly believe your team can do it. If you are not a true believer, it is unlikely that you will be able to inspire others. You must continually let them know that you have no doubt in their ability to achieve at a higher level.
Third, wrap up each project up with a bow. Be generous with rewards relative to your organization's culture. A reward can be as small as a gathering of the participants to thank them for their work and effort, or assuring them that they will get to participate in the resulting benefits achieved for the organization such as bonuses, promotions, or other tangible benefits.
Finally, coach them through the tough parts. You are not a professor who exists to teach lessons. You are a leader who is there to inspire and support your team through challenging projects so that they may reach their next best potential while mutually enjoying a job well done.
Rahul Merchant, CIO and Head of Client Services & Technology, TIAA
In any industry, experienced IT professionals can become comfortable doing things the same way every time. They might be too close to their work, too busy, or uninterested in alternatives.
To be successful, however, organizations must evolve. Sometimes, leaders must disrupt entrenched thinking. At TIAA, we refer to this as adopting "the beginner's mind," having a lack of preconceptions, a quality often seen in industry newcomers.
One way that TIAA cultivates the beginner's mind and motivates IT talent is through the TIAA Technical Associate (TA) program. We've found that bringing recent university graduates into our organization energizes our IT teams — just one of many positive results.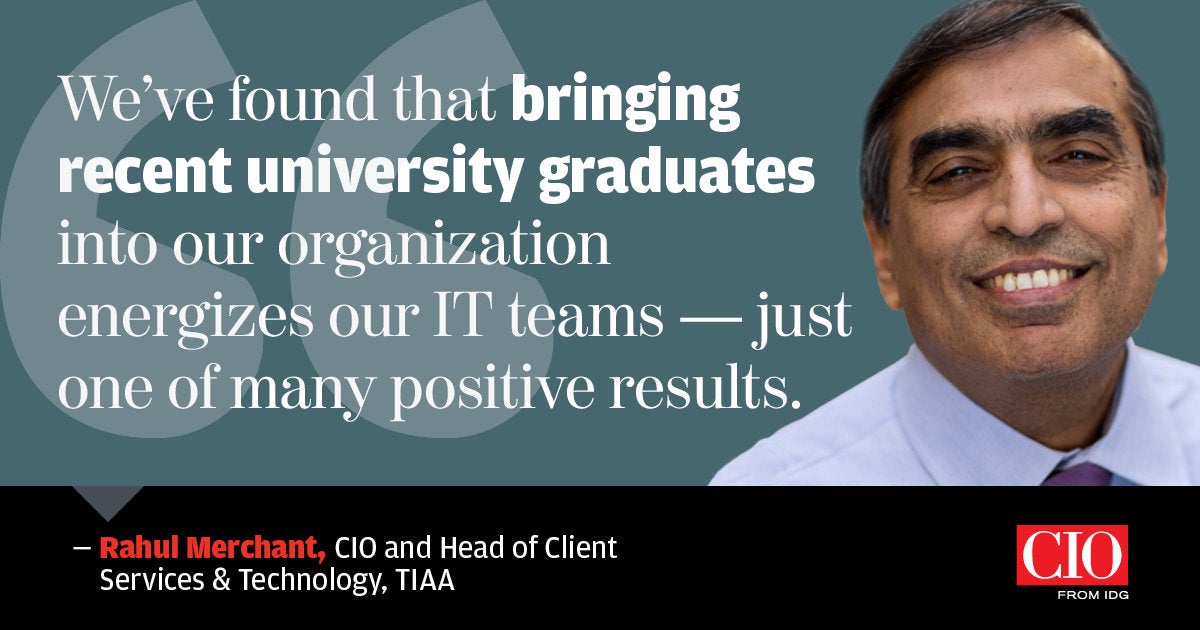 Since 2012, TIAA has recruited grads from more than 40 different universities. The program integrates them within varied teams in a year of rotational assignments. In each rotation, TAs have the opportunity to suggest new ideas and processes.
Two results stand out. First, the program creates a path to skilled IT candidates. Many TAs are offered full-time positions. To date, TIAA has hired more than 200 employees for IT development, analysis, engineering, and cybersecurity roles.
Perhaps more important is the adoption of new skills and processes by experienced personnel who see the beginner's mind at work. One example: a TA overcame several roadblocks her team faced to deliver a clean, functional prototype in a short timespan. This accomplishment, which a program lead described as "truly impressive," surprised her teammates.
Through our TA program, we encourage a flow of ideas in an ecosystem where knowledge moves organically throughout the organization. This is one of many ways our 100-year-old firm continues to evolve in adopting new technology and skills when technological change is taking place faster than ever.