Many financial services companies are content to test new products and services within the cozy confines of innovation labs, where risks are minimal for a notoriously risk-averse industry. In today's digitally-obsessed, disrupt or be disrupted era, TD Ameritrade is more interested in releasing innovation out into the world to see what happens.
The online broker is enabling investors to conduct trades and solicit information by speaking to Amazon.com's Alexa virtual assistant software and testing Facebook's Oculus Go virtual reality technology to inform investors about its products and services. The goal? TD Ameritrade expects to get a sense of the possibilities these platforms pose for digitally-savvy investors who are increasingly accustomed to using such technologies in their daily lives, says Sunayna Tuteja, head of strategic partnerships and emerging technologies at TD Ameritrade.
"It's about using technology to break down barriers and empower more consumers," Tuteja tells CIO.com. "You can only do so much innovation inside a lab; you have to put it out in the wild."
Banking on voice trades
TD Ameritrade is hardly the first financial services firm to experiment with Alexa. For that past few years, Capital One has been allowing people to ask the virtual assistant how much they've spent at Starbucks. JPMorgan Chase & Co earlier this year began serving investors tear sheets and other information via Alexa, with a plan to eventually provide prices on bonds or swap.
But as a key player on CIO Vijay Sankaran's tech "tiger team," pushing boundaries is part of Tuteja's job at a company that was among the first to enable trading via phone, desktops and mobile applications. The broker is allowing clients to access their accounts and transaction history, trade by voice with an Alexa-enabled device, such as an Echo or Echo Dot, and receive customized "flash" market updates curated by TD Ameritrade's Network, Tuteja says.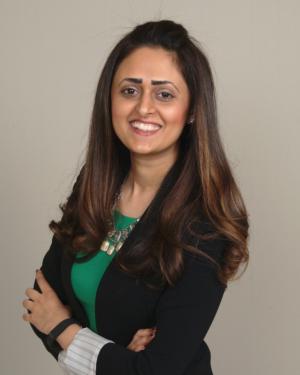 Clients must visit the Alexa App and enable the "TD Ameritrade skill" to set up a voice code for trading capabilities. Once enabled, clients can get started by saying, "Alexa, open TD Ameritrade." Ideally, Tuteja says this will entice clients to do their research and execute trades all via Alexa.
It's a delicate dance of artificial intelligence (AI), machine learning, natural language processing (NLP) capabilities for TD Ameritrade, which is also using blockchain, robotic process automation and other newfangled tools. Many financial services firms struggle with complexity such as technical debt and distractions that prevent them from engaging with emerging technologies, Tuteja says. She says that TD Ameritrade operates a bit more like Tesla; it's bold and risky but its cars are collecting valuable data while on the road.
Embracing Alexa today may seem prescient, considering that 50 percent of all searches will be voice searches by 2020, according to ComScore data. But it's necessary, Tuteja says. "Just as smartphones went from novel to necessity over the last decade, voice interfaces like Amazon Alexa are quickly becoming more pervasive as people grow more and more comfortable using them," Tuteja says. "We have to go where the puck is going."
It seems the puck is moving more quickly these days. Tuteja noted that a partnership like the one she inked with Amazon.com for Alexa would have taken TD Ameritrade years to ink in the past. She said this deal took about 90 days, a timeline which she attributed to the growing prevalence of Amazon.com's presence — over 50 million Alexa-enabled devices — in peoples' homes. The implementation had its hiccups; Tuteja says tailoring the NLP to more colloquial English required some finesse.
Even so, Tuteja also says she hopes her company's aggressive move will set the flywheel spinning for fast-followers, which will help buoy the entire sector toward voice-based transactions. "We hope that other people will take this precedence and lean into this," Tuteja says.
Investor education, from virtually anywhere
The VR bet is a less certain proposition, given the waning enthusiasm for the nascent technology, whose immersive headsets and software some find too isolating, clumsy and, in some cases, nauseating. But Tuteja, who copped to being a "VR nerd," is excited about its potential as an educational tool that transcends geographic barriers.
At the Investor Education Conference in Las Vegas earlier this month, TD Ameritrade unveiled a partnership with Facebook to deliver information about its products and services via the Oculus Go headset. At the event, TD Ameritrade demonstrated how it could take investors inside the NYSE, NASDAQ, CBOE and a Bitcoin mine. Individuals can access these experiences by visiting the Oculus Video app on the main menu, as well as through the Oculus mobile app on a mobile device.
Investing in such a partnership might seem a bit of a reach even for TD Ameritrade, which already offers content about its services via Facebook Messenger, WeChat, Apple Business Chat and, of course, Alexa. And Tuteja acknowledges that VR has not yet had its "magic moment" or tipping point.
But Tuteja says VR go can imbue learning experiences with a sense of community, putting TD Ameritrade advisors and clients spread around the world in a virtual room to view material together for seminars and, eventually, "trading clubs."
"What VR does really well is take abstract concepts and make them more interactive, immersive and actionable," Tuteja says. "We're on a journey to break down more barriers to entry when it comes to investing in the markets, and this is one more way we can do that."