Credit card giant Mastercard envisions a future where consumers make purchases not only from smartphones, but via virtual assistants, cars and other connected machines. But with hackers trolling the dark corners of the web to grab financial gain with minimal effort, Mastercard must also be able to vet and secure purchases in mere milliseconds.
To facilitate its vision for a veritable Cambrian explosion in digital payments, Mastercard is using sophisticated fraud analytics systems and software, which is being increasingly augmented with artificial intelligence (AI) technologies, Ed McLaughlin, president of operations and technology at Mastercard, tells CIO.com. AI can help software and connected systems facilitate more secure payments than a human checking out at a kiosk using the traditional plastic card — even one with a chip embedded in it.
Tech to replace humans, manage concept drift
"What's most important is to take the human out of the loop, so that they don't have access to personal data at the point-of-sale," McLaughlin says. "It's about how you use powerful tools around AI to increase cybersecurity and protect consumers."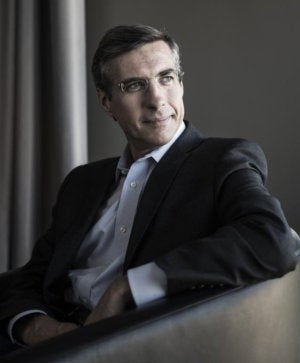 As one of the world's leading credit card companies, Mastercard has invested significantly in technology to support its millions of account holders. It's adopted robotic process automation (RPA) to make work more efficient for its thousands of employees. It is also looking to use AI to manage "concept drift," or the tendency for an automated process to gradually move away from its original goals, triggered by implicit biases in AI or other, external factors.
But perhaps nowhere has Mastercard invested more dollars and talent than on technologies to cement its status as a secure platform that fends off as many as 200 threats per minute. McLaughlin shared three distinct ways Mastercard is tackling cybersecurity on behalf of its millions of consumers.
In-memory grid facilitates fraud analytics
The lynchpin of Mastercard's payment platform is an in-memory grid that uses AI to instantly detect and thwart potentially aberrant payment behaviors across its network. This "engineering marvel" — think of it as almost an SAP HANA database for cybersecurity — leverages more than 200 attribute vectors and is refreshing constantly to analyze new transactions against a cardholder's purchase history, according to McLaughlin.
"When it sees [aberrant patterns] it can alert and intervene to stop fraud," McLaughlin says, adding that the grid stopped $1 billion in financial fraud since 2016.
AI "smart agents" guard the front gate
Complementing the in-memory grid are software assets Mastercard picked up in its 2017 purchase of cybersecurity startup Brighterion, whose "smart agent" technology leverages several other AI and machine learning (ML) tools to help generate risk models and scores that help Mastercard approve purchases.
For example, it's iLearn software uses multiple unsupervised learning tools, including multi-dimensional clustering, associative learning and deep learning, to learn from unlabeled data. Brighterion's assets also include anti-money laundering and real-time breach detection solutions.
A NuData way of securing purchases
Biometrics have emerged as a promising approach to cybersecurity, enabling companies to vet people via fingerprints, as well as scans of vein patterns in palms and irises. But what if you could also identify a user based on how they access their smartphone, mobile application or website?
In 2017, Mastercard made such an overture when it acquired NuData Security, whose behavioral biometrics technology closely clocks how someone uses their personal technology services, including anything from typing patterns to usage frequency.
NuData software assesses, scores and learns from each online or mobile transaction to enable merchants and issuers to make near real-time authorization decisions. Anything outside normal usage suggests aberrant behavior that could raise red flags. "That intelligence is infused into the system to make it better," McLaughlin says.
Secure AI enables contextual commerce
Such fraud-fighting analytics — new approaches for which are regularly tested in Mastercard's applied research group — will help secure what will eventually evolve into "contextual commerce," which could include payments originating from unexpected places.
For example, MasterCard is experimenting with "smart mirrors," essentially Internet-connected mirrors that will not only help shoppers decide whether an item of clothing looks fetching on them, but process payments for apparel from a touchscreen, or via voice. Shoppers could leave with the goods or have them shipped home.
McLaughlin also sees a potentially large opportunity for MasterCard in enabling payments through virtual reality (VR) headsets such as Oculus. A gamer, for example, can pay for extra credits or options simply by speaking aloud or making certain hand gestures. Similarly, a headset-donning shopper could purchase furniture using content that helps them visualize how a new sofa or chair would look in their home.
Mastercard is currently working with retailers and tech vendors in "test and learn" mode on many of these capabilities. In contextual commerce, the possibilities for providing seamless payment experiences amid the global shift to connected devices is virtually infinite, McLaughlin says. "These are transformative experiences," McLaughlin says.