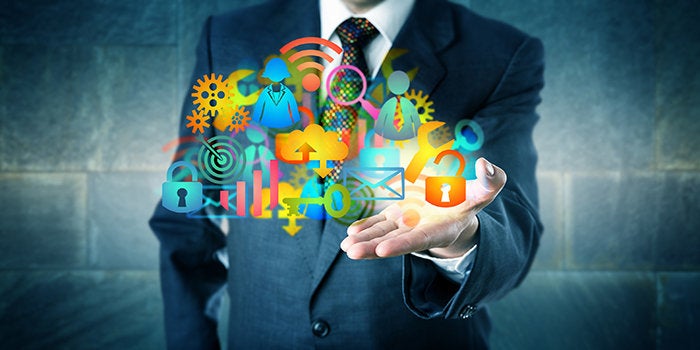 Asian ICT infrastructure investment is exploding as businesses review and modernise their data-centre architectures to keep up with the service demands of a growing and increasingly sophisticated population.
Demand for cloud services, particularly to support big-data analytics initiatives, is driving this trend. Frost & Sullivan, for example, believes the Asia-Pacific cloud computing market will grow at 28.4 percent annually through 2022.
Growth in cloud demand is driving massive investment in Asian data centres, which a recent report from real estate firm JLL said would overtake the US market – comprising 40 percent of global data-centre investment – by 2020.
Despite this growth, many businesses are also rapidly realising that public cloud is not the best solution for every need.
Despite the benefits of infrastructure as a service (IaaS), platform as a service (PaaS) and software as a service (SaaS) offerings, public-cloud platforms do not always offer the same level of visibility, performance, and control as on-premises infrastructure.
This reality is pushing many companies towards the middle ground of hybrid IT, in which applications and infrastructure are distributed across public cloud and self-managed data centre infrastructure.
Optimisation of that data-centre infrastructure is critical to the success of the hybrid IT model. By 2020, Gartner believes, 90 percent of organisations will have adopted a hybrid infrastructure management strategy.
Hyperconverged infrastructure (HCI) offers a clear path towards delivering that optimisation – extending the life of corporate infrastructure investments and improving performance without completely changing the underlying architecture.
A driver for healthcare reform
Asia's healthcare market has been particularly responsive to the benefits of HCI, which offers an integrated solution capable of improving aging infrastructure in line with increasingly onerous data-security requirements.
Medical equipment trading company Mutoh is one such company. With more than 50 offices across Japan delivering an inventory of 300,000 products from 1500 manufacturers, Mutoh sits at the centre of a complex supply chain that is managed using mission-critical IT systems.
The company's once-robust, five-year-old architecture was compromising Mutoh's customer experience because it could no longer keep up with the requirements of the growing business. Data was being extracted from different systems running on multiple physical servers, slowing order processing and impacting customer service.
Mutoh's IT team wanted to boost capacity by virtualising more systems, but it became clear that the existing platform had reached the limit of its capabilities.
"Even if we had been able to increase the CPU and memory of our existing hardware, the servers would still have five-year-old hard disk drives," says Yasuhiko Taga, Manager of the Administrative Section of Mutoh's Information Systems Division. "We decided that it was time for change – we wanted to take advantage of the latest technology."
Mutoh implemented four Lenovo Converged HX5510 appliances, successfully installing the units in one day and migrating 50 virtual servers to the HCI platform in just one week. This rapid change staged the company's core systems on a scalable, pre-integrated HCI platform based on industry-leading Lenovo hardware and Enterprise Cloud Platform software from Nutanix, the leading HCI vendor.
"With the Lenovo solution, we can scale compute and storage resources very easily," Taga says. "This means that we can start small and ramp up resources as and when needed to ensure we always provide speedy services to our customers, even during periods of peak demand."
The software-based Nutanix architecture allows dynamic monitoring and allocation of resources, with the ongoing support of Lenovo's skilled global technical support network.
"We can manage everything from the compute resources to the virtualized environments via a single pane of glass," Taga says. "Should we ever encounter any issues, we would be able to see where the problem is at a glance."
Bringing the cloud to the data centre
In an era where cloud applications are characterised by flexibility and performance, conventional application infrastructures have fallen behind the curve.
Companies are struggling with challenges including high capital costs; the long time to deployment for new applications and services; unplanned application outages; challenges providing or testing disaster recovery capabilities; and low infrastructure utilisation rates due to 'islands' of computing infrastructure.
HCI offers an alternative by taking a fresh approach to computing infrastructure with a completely software-defined platform that integrates compute, memory, storage, and virtualisation into a single platform. This allows enterprises to extend the life of their investments and modernise their data-centre architectures without losing control of their applications.
Increasing appreciation of the rock-solid reliability of HCI solutions is driving strong sales of the platforms – which, IDC notes, grew 9.9 percent last year to be worth $US3.5 billion during the second quarter of 2018 alone.
Mutoh's quick and successful migration reflects the benefits that can be delivered by integrating Lenovo's robust hardware with the well-recognised benefits of the Nutanix HCI platform.
In healthcare and any other industry, this integration means that companies can rapidly modernise their infrastructure and gain the benefits of software-based resource allocation and management.
This delivers an on-premises application platform that offers the same level of scalability, resilience, disaster recovery and failover as the public-cloud solutions that businesses are also rushing to embrace.
In a world that is rushing towards the cloud, HCI offers a promising way for large-scale businesses to combine the best features of the cloud with the best features of the data centre. By building a hyperconverged strategy for their infrastructure, Asian businesses can look confidently towards the future without being encumbered by their past.
To learn more about the way an integrated hyperconverged infrastructure can help you build the right infrastructure for the future, click here to download our free Hyperconverged Infrastructure eBook Guide for the Enterprise.