The transformation strategy at Caesars Entertainment, which started at the board level, was to develop a model of continuous technology and services delivery that would optimize market opportunities for new revenue. Recently, I spoke with CIO Les Ottolenghi about the global gaming company's digital journey.
————————————-
Martha Heller: Tell us about the transformation at Caesars Enteratinment.
Les Ottolenghi: The driver behind our transformation was to make Caesars a "digital first" business and a technology leader in the industry. This included architecture, business technology, and the operating model both for IT and for the entire company.
The company had come out of bankruptcy in October 2017, and we wanted to expand our sales with current customers and acquire new properties and locations. By having superior technology and better processes for delivering that technology, we would be able to capitalize on new business opportunities, particularly those that improve customer experience.
What was the approach to improving the technology delivery model?
Ottolenghi: Our strategy was to architect a cloud-first technology stack. We started by replacing legacy systems with cloud platforms for functions like general ledger and accounts payable. We replaced disparate systems for human capital management with a common cloud platform that allows employees to engage with us whether they are in Las Vegas or in one of our more than 50 locations around the world.
We also used a cloud-first approach for customer engagement. We've just completed a project called Maestro, which will launch during the first quarter of 2019. We are creating a 360-degree view of our customer in Salesforce, which will be tied to all of our other operational systems. We are also using INFOR to replace a 27-year-old lodging management system. The new platform will tie into a central reservation system that has an advanced yield management capability.
What are some customer-facing products that you've rolled out in the last year?
Ottolenghi: In August, we launched the first installment of the Casino of the Future at the Linq Hotel & Casino, which features a new sports book concept along with fan caves. The fan caves are physical spaces that have a relaxed, lounge format, where sports fans can socialize. The caves allow for viewing of multiple screens so that fans can watch and bet on sports and play video games at the same time.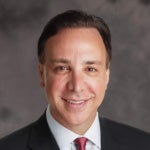 This is an advanced casino format that runs on a high-speed local infrastructure. Last summer, DEF CON, the hacker convention, tested our high-speed wireless infrastructure and reported that ours was as strong a Wi-Fi experience as they had seen anywhere.
We have also refactored our total rewards app, and the redesign earned us the highest rating — in both the Android and Apple app stores— for the integrated resort industry. Downloads of the app have doubled over the last 12 months.
We are currently running an experiment where team members on the property can use smart watches to access customer profiles, so that when they see the customers on the floor, they can provide personalized service and suggestions.
What market opportunities does your new technology stack open up for you?
Ottolenghi: In November 2018, we will be opening a five-star resort in Dubai called Blue Waters. It will be the first high-tech, integrated property in the world, with plans to open a similar property in Cabo San Lucas in 2020.
When you have a globally available common platform supported by a secure, resilient infrastructure with high availability, you can expand your business rapidly.
How did you change the culture in IT to drive the transformation?
Ottolenghi: We made it clear to the IT organization that we would no longer be a "keep the lights on," asset management function. We were becoming a "drive the business" organization. We did that by building a senior IT leadership team that has the communication skills to create a compelling vision of our strategy.
We told the team, "It's up to you to redefine your jobs to drive this transformation. Talk about it together, create your own communities, develop your own naming conventions. Define your new identity."
We also over-communicated our vision with a constant and consistent articulation of it; moreover, we moved away from simply having and relying on a single town hall once a year. Our team engagement numbers are much higher than in the past because people are really excited about their work. Also, our CEO has been very vocal in his support of our transformation. When he speaks to investors and analysts, he talks about how we are a digital leader in technology. That support inspires everyone to say, "Let's go."
You said that your transformation was facilitated by a common platform across the entire business. What was challenging about moving to that platform?
Ottolenghi: The hardest part was master data management. We're such a performance-driven organization that if we blew up somebody's reporting capability during the transformation, it would be pretty disruptive.
The second challenge was defining a new organizational design across all of Caesars that would give our business partners ownership of the technology change. We had to find the right balance between IT owning everything or having the business own everything. We decided on a federated model where our business partners own their own product direction and business outcomes, and IT owns the integration services, infrastructure, and security.
For example, we recently put in a new content management system. The head of e-commerce, who sits in the marketing department, owns the new product but works closely with our development team in an agile process. Marketing is the product management team, not IT, and they have demonstrated how incredible they are as digital leaders.
What has this experience taught you about transformational leadership?
Ottolenghi: Transformation starts with clarity of vision. The unknown becomes fear, and fear becomes doubt and uncertainty. If you can't provide a clear and crisp statement of your roadmap, then you get lost and so does everyone else. From the beginning, you have to be able to articulate your vision, the business outcomes, the end state, and all of the steps that have to happen to get from here to there. This means being very clear on the strategy, the most immediate operational changes, and the changes that will happen every day. You have to consistently connect the long-term vision to the day-to-day operational changes to the business drivers of the company. The key: communication, communication, communication.
About Les Ottolenghi
Les Ottolenghi is executive vice president and CIO for Caesars Entertainment. Prior to joining Caesars Entertainment in early 2016, he was global chief information & innovation officer for Sands Corporation and was the founder & CIO of Plat4M. Additionally, Ottolenghi spent several years with leading travel and hospitality companies Agentware Incorporated, Carlson Wagonlit Travel, and Holiday Inn Worldwide. He received his undergraduate degree from Duke University and holds an MBA in decision information analysis from Emory University's Goizueta School of Business. Ottolenghi is also an adjunct professor and lecturer at both the Goizueta School of Business and Troy State College.