Mavenlink is an online project management platform that offers a range of features aimed at project management, team collaboration, project accounting, and business intelligence within a single solution.
Considered a leader in professional services automation and project management, Mavenlink is making it easier for companies with dispersed workforces to achieve a greater level of transparency into project productivity. Key to this effort are new features focused on collaboration, end-to-end full-cycle resource management, and a robust business intelligence tool baked right in.
Following is an in-depth review of Mavenlink's work management platform, including the key features and functions service-based companies will find beneficial in fulfilling their needs.
Roles and permissions
Mavenlink users range the full org chart, from business owners and executives, to project managers and project contributors. Roles can be assigned to both internal and external stakeholders, thereby facilitating project collaboration between clients, contractors, off-site delivery services, and internal contributors, among others.
Users can be assigned an account role, which is their main role within the organization, and a primary project role, which is the role assigned to them for an individual project. Mavenlink also allows admins to assign multiple project roles to users who perform multiple roles within a project.
Account-level permissions determine the privileges that are granted to each team member. Project roles can be assigned permissions at the project level. Every type of user within a project can be granted access to collaborate on project budgets, schedules, timesheets, expenses, files, reports, resources, change orders and more, depending on specific needs.
Mavenlink's user interface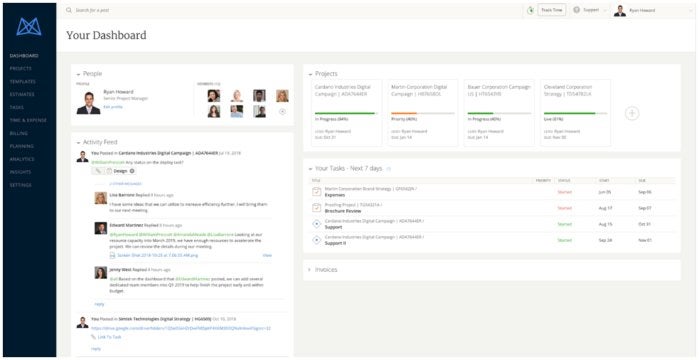 The Mavenlink interface is clear and intuitive, offering users the ability to see what matters most, without clutter. The main user dashboard is broken into key areas to give a clear view of a project's participants and activity feeds, as well as the individual user's tasks and progress. Project details, such as project health, resources, tasks, schedules, estimates at completion (EAC), budgets, and more, are color-coded to highlight potential risks or opportunities. Mavenlink also estimates a project's anticipated profitability based on its current state of progression. This extended visibility takes much of the heavy lifting away from project managers, enabling faster and better decision-making.
Mavenlink also provides user-friendly views to facilitate the work of project contributors depending on their role and the types of information that may be valuable to them. In particular, Mavenlink's project cards allow project managers to see what resources are being used by various projects, as well as overdue tasks and what is on the horizon. By clicking on a task all the information relating to that task is made visible in a tabular form without having to navigate to another screen.
Mavenlink also offers a project Gantt chart view that displays a project's milestones and tasks on the left of the screen, with timelines, resources, dependencies, and status to the right. These elements can be color-coded based on completion status. Pipeline projects can also be created and tracked within this view.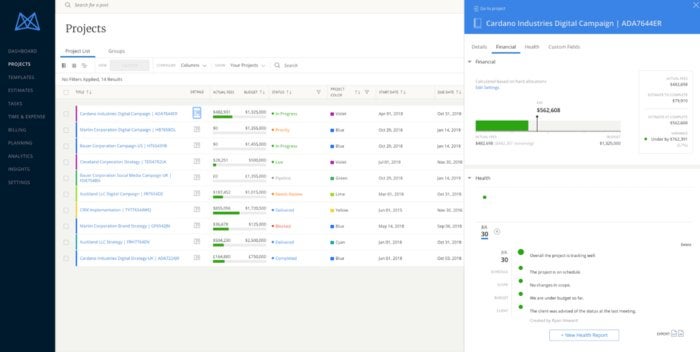 Key features
The Mavenlink platform offers a wide range of robust features that will fulfill the needs of most dispersed project management teams, including the following.
Project creation and task management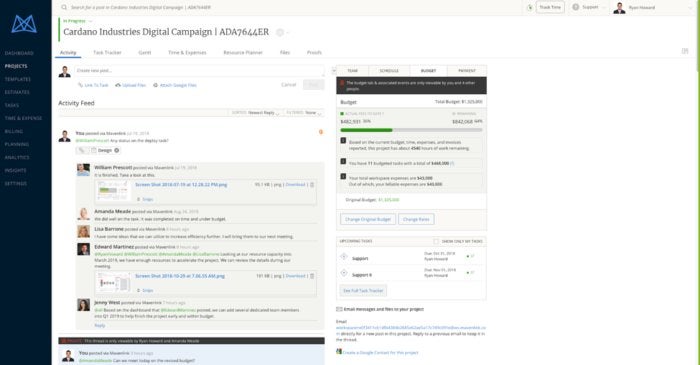 Mavenlink projects can be created quickly and easily from new or existing Salesforce templates. Teams can track tasks, milestones, deliverables, and profitability in terms of hours and dollars using tabular views such as activity, task tracker, Gantt, time and expense, resource planner, files, and proofs.
Mavenlink also offers a number of project and task creation and management features to assist with decision-making:
Snapshot: Within the Gantt chart view, users can take a snapshot of any project at any time in its lifecycle. These snapshots help teams track their progress at key points in time and make adjustments as a result. They can also be useful for illustrating lessons learned in post-project reviews.
Full-cycle global resource planning: Mavenlink provides project managers and resource with the ability to view and allocate all named and unnamed resources at the task, sub-task, and project level. Allocation adjustments can be made at these levels and throughout an entire company.
Master planning views: For planning purposes, Mavenlink offers both a resource- and project-centric view. Within the resource view, project managers can see the demand, scheduling, allocation, and tracking of all resources as they are currently and with their planned future utilization. The project-centric view allows project managers to see soft and hard allocations. Both views enable project managers to easily reallocate resources using a click-and-drag motion.
Color coding: Within the master planning tab, color coding makes it possible to tag projects by color. Color coding can be used to code projects by client or project type. As many people are inundated with text-based data, color coding helps offer a quick at-a-glance view of projects.
Performance measurement and reporting
Mavenlink Insights, the platform's business intelligence tool, is an important differentiating feature. Across the top of the screen are reporting tabs, including a portfolio scorecard, project health, revenues, project execution, resources, and project status.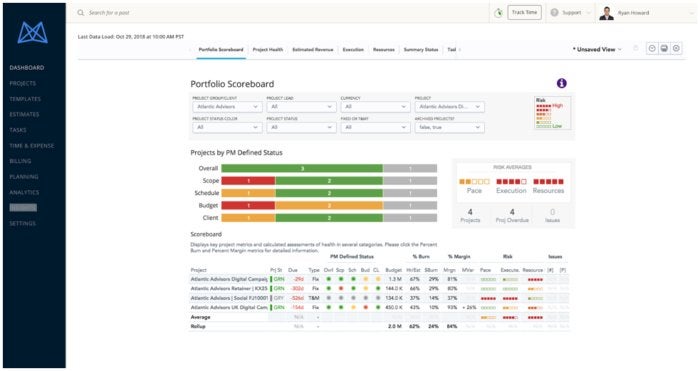 Mavenlink Insights offers filters to zoom in on specific criteria and to cut out non-essential details, making the tool customizable depending on a user's unique needs. These reports compile input data as well as system-generated metrics, with items in red signaling risk points, yellow as areas to monitor closely, and green signaling good health. In addition to approximately 60 standard reports, Insights offers the ability to customize reports and dashboards to highlight what matters most to each user. From this scorecard view, a user can drill down into an individual project to see what is happening and where trouble spots or bottlenecks may be from a resource, budget, or scope perspective. All reports can be scheduled and sent out to teams.
I was amazed at the great thought and level of flexibility that has been built into Mavenlink's reporting and dashboard features, which aptly deserve the name 'Insight.' The type and amount of business intelligence available in Mavenlink seem endless. This was my favorite feature and is sure to be a goldmine for any user at any level within a service-based organization.
Some useful dashboards worth mentioning are:
Staffing and capacity: This report can be displayed by date range and helps identify resource usage, availability, gaps, and demand, making it extremely valuable for capacity planning.
Resource utilization by week: This gives visibility into how resources are scheduled, and how they are performing against targets. Utilization information is displayed visually at a summary level, and individual role and resource performance is broken down in a table that is presented as a dashboard.
Projected margin at completion: This highly valuable dashboard for service companies lends visibility into project and task budgets, fees and costs to date, as well as projected costs and fees, burn rates, and margins at completion, hence providing insight into project profitability.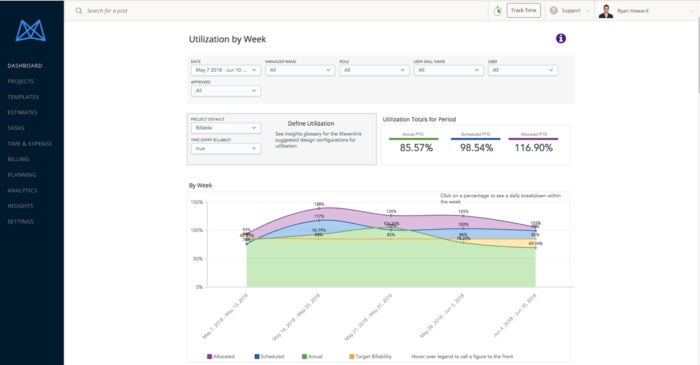 Collaboration: Project Pulse
Mavenlink recently rolled out two features that project managers, service businesses, and teams will find convenient and valuable. The first of these, Project Pulse, enables organizations to keep a finger on the pulse of all initiatives through a project activity and bidirectional chatter feed.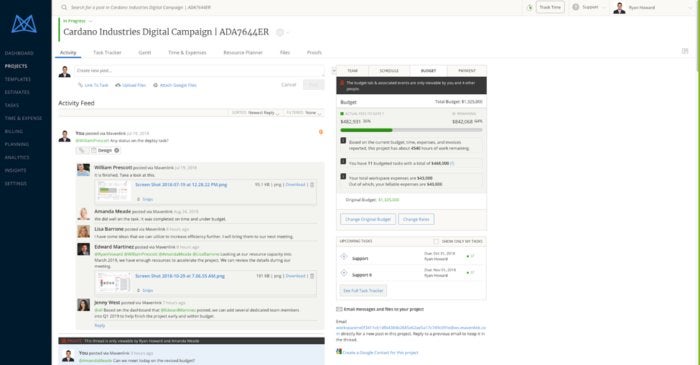 The platform's interface with Salesforce gives customers and project stakeholders visibility into project status and ongoing project-related conversations using a rich-text chatter feed from within Mavenlink. During the sales stage, a customizable template can be used to kick off a project with granular project details — such as budgets, status, resources, team time tracking, and expenses — available right within the platform without having to jump to Salesforce.
Through this project activity feed, companies can quickly view profitability details, such as estimate-to-completion, fees charged, project scope and health, right down to which invoices have been billed and how costs to date compare to respective budgets. For services companies, activity levels, resources management, and profitability are key metrics; here, Mavenlink excels in offering increased visibility into these areas.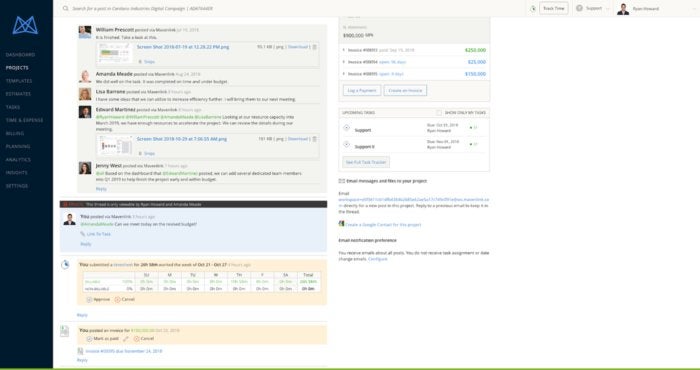 Project Pulse's bidirectional chatter feed integration helps companies to align sales, services, and account management teams as they work seamlessly within their preferred applications. The chatter and activity feed shows project progress and all private and public conversations between a client, project team, project manager, and other stakeholders. It also includes a record of file uploads.
This impressive feed also captures internal and external team member roles, resources, timesheet information, change orders, budgets, fees, hours or remaining work, expenses, burn rate, and profitability projections. Information can also be passed back and forth from financial and other systems. Here, Mavenlink has masterfully created a crisp yet comprehensive view of all the essential elements a stakeholder might need to keep on top of their projects as they unfold.
End-to-end full-cycle resource management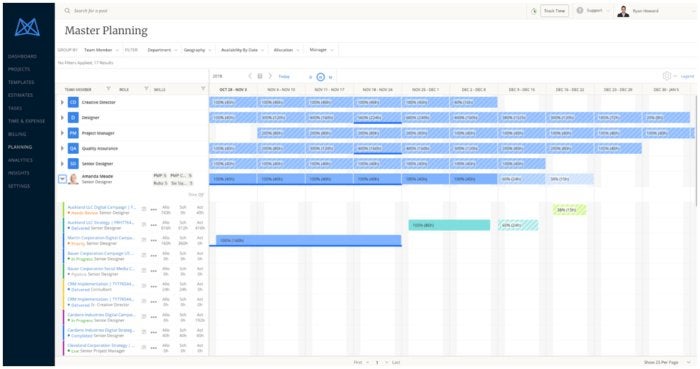 Mavenlink has also recently introduced end-to-end full-cycle resource management capabilities, which have been designed specifically to meet the needs of the services industry. Many solutions have the ability to deliver on some aspects of what Mavenlink offers, such as estimating and planning, but fall short on delivery, analyzing, and optimization. Mavenlink's resource management capability allows services companies to estimate, plan, deliver, analyze and optimize all resources with full visibility and without the risk of necessary steps falling through the cracks. Project managers can see each type of resource, whether they are full-time or part-time, their availability, skill sets and capabilities, utilization, multi-currency and multi-level bill rates, and cost tracking.
Following are the key resource management features Mavenlink offers for each stage of a project's lifecycle:
Estimation: scenario building, scenario comparison tables, margin modeler, project templates, Salesforce app
Planning: Project allocation, master planning console, roles and skills, rate cards
Delivery: Project scheduling, resource planner, weekly schedule, time tracker
Analysis and optimization: Demand and capacity forecasting, roll of report, utilization dashboard, resourcing dashboard, additional dashboards and reports
Mavenlink's resource utilization module also makes it easy for service businesses to identify the extent to which resources are being utilized and where they are being utilized, key factors in resource reallocation.
Integrations
Mavenlink M-bridge services-centric integration and extensibility platform integrates the core operational system of record and other applications to effectively support the business lifecycle. M-bridge makes it possible to support all the functions, needs, and processes relevant within a service-based business model. Mavenlink's open API standard simplifies integration with almost any app, including numerous pre-built service-based integrations such as NetSuite, Salesforce, Quickbooks, GSuite, Jira, Expensify, Xerox, Sage Intacct, Slack, Concure and more.
Documentation and support
Mavenlink has various resources for user support, including a knowledge base, video tutorials, a training center, and developer documents.
Pricing
Mavenlink is available at four pricing tiers: Teams, Professional, Premier, and Enterprise, based on an annual contract.
Teams for collaboration and task management: $19 per month for up to 5 users; additional users $4 per user per month
Professional for collaboration, project management, and time tracking: $39 per user per month
Premier for collaboration, project management, time tracking, financials, and resource tracking: contact Mavenlink for pricing
Enterprise for collaboration, project management, time tracking, financials, resource tracking, advanced services, and business intelligence: contact Mavenlink for pricing
Users can also sign up for a free plan through Mavenlink.