Two weeks ago, we polled Heller Search's network of IT leaders to learn how satisfied they are with their team's knowledge of the business and what they are doing to improve it.
In answer to our first question — "How knowledgeable is your IT team about how their work drives business value?" — 66 percent said their business-facing teams connect their work to business value, but the rest of the IT organization does not. Only 10 percent responded with "Not at all: IT does not connect their work with business value," and a healthy 24 percent reported that everyone in IT has a clear understanding of how their tasks relate to business goals.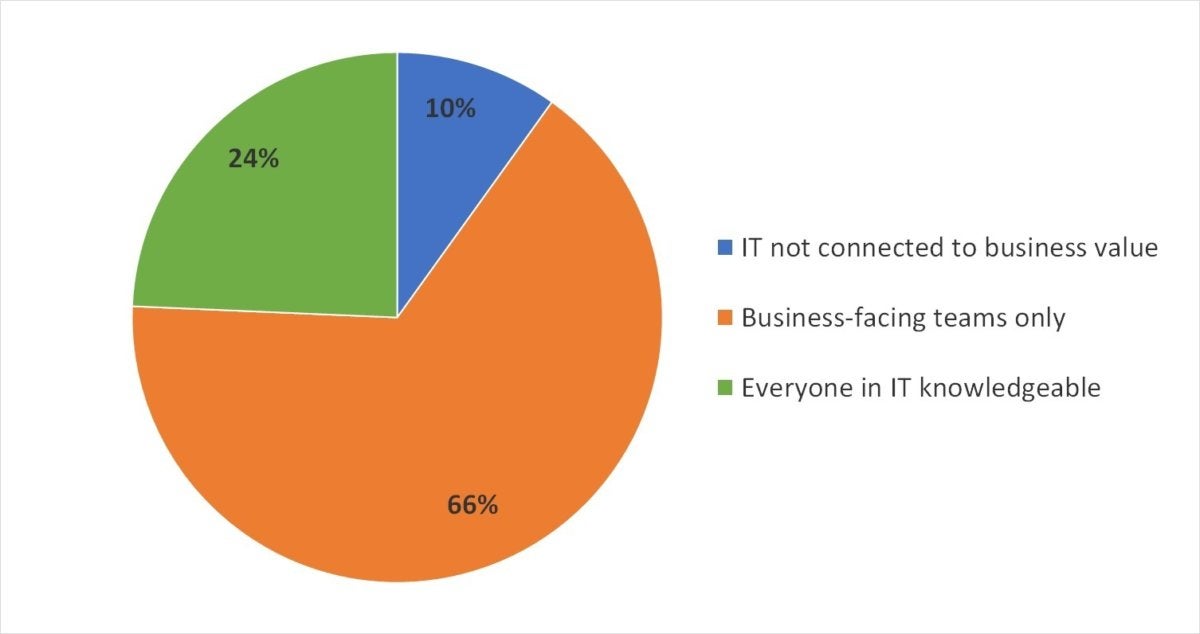 Responses to the question "How are you improving business knowledge, or fostering a business outcomes culture?" revealed that CIOs are using a combination of approaches. Cross-functional project teams, where members from IT, marketing, product development, and other business functions work together toward a business goal, are most popular (68 percent), followed by a business relationship management (BRM) function (52 percent). Forty-nine percent of respondents are adding business metrics to traditional IT performance goals, and 14 percent are using rotational programs that allow IT people to work in other parts of the business for an extended time and vice versa.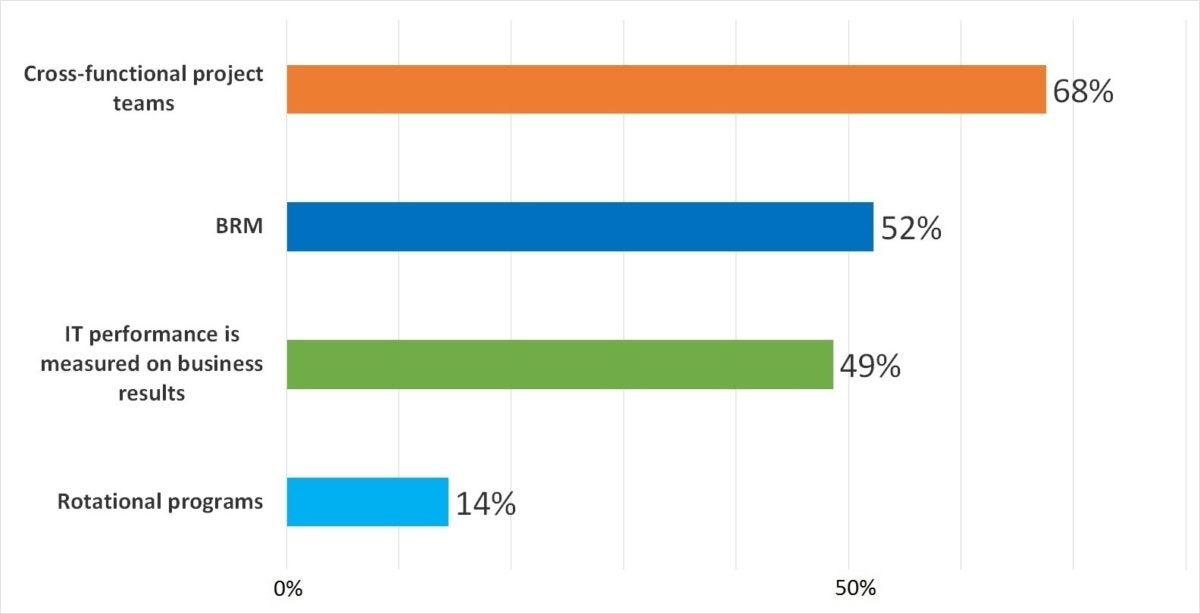 9 approaches to connect IT work to business value
Respondents also wrote in with a number of additional approaches they are using to connect IT work to business value — above and beyond those we asked about in the survey. Here are a few:
"We develop real business cases for all IT investments; every project has an ROI."
"We host quarterly earnings release pizza parties to encourage learning and engagement in our company's business."
"We ask of every project: How does this project or technology initiative add value? How does it increase revenue or reduce costs? If the team can't answer the questions, they have to revise the proposal."
"Most of our IT organization is involved in an outcomes-based business transformation. There is no better opportunity to develop IT business knowledge than participation in a business transformation."
"We use a Four Disciplines of Execution model for goal setting that aligns IT with the company's most critical goals. We use tactical touch points to connect IT work with business value and reward programs to recognize IT contribution to achieve business outcomes."
"Monthly financial discussions are a part of every IT staff meeting. Since our employees are incented on EBITDA, we discuss how IT projects and services are directly impacting EBITDA drivers."
"We offer internal training courses on business-related topics where all staff, including IT, participates."
"IT has direct revenue responsibilities through SaaS with paying customers."
"We have a job shadowing program where IT works directly with our business partners to understand what they do and how they are actually using the tools we develop."
CIOs share ideas for connecting IT to business value
As long as we are sharing ideas for connecting IT work to business value, here are a few more that I've picked up over the past 12 months from my CIO friends:
Given how hard all of you CIOs are working at tearing down the walls between IT and the rest of the business, I am optimistic that next year's survey results will be even more positive. Drop me a line if you would like to share your own approach with your peers.