Craig Richardville, chief information and analytics officer (CIAO) of Carolinas HealthCare System, one of the largest healthcare systems in the country, has been a force of innovation for many years. His IT organization has been winning awards for technology innovation since the early 2000s, and Richardville has received CIO of the Year awards from the Charlotte CIO Leadership Association, College of Healthcare Information Management Executives (CHIME) and Healthcare Information and Management Systems Society (HIMSS).
How does Richardville and his team manage to drive innovation in an industry that has been a relative laggard in adopting new technologies?
"We tend to look outside of healthcare to other industries for innovative solutions that we might use to improve the patient experience," Richardville says. "In the digital world, healthcare has more in common with other industries than we used to, so I spend a lot of time talking with non-healthcare CIOs."
IT ideas borrowed from unexpected industries
A case in point: When Richardville received his electric bill from Duke Energy, he saw the bill gave advice on how to lower his family's electricity costs. He talked with Duke's CIO about the systems and processes behind that product and introduced the same capability to Carolinas HealthCare System.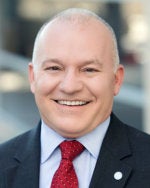 "Our bills now advise patients how to be more accountable for managing their health," he says. "We are educating our patients about their healthcare through billing, which is no different than Duke Power promoting low-energy light bulbs."
Likewise, Richardville is currently in talks with the CIO of a pillow manufacturer about how Internet of Things (IoT) technologies might allow both companies to innovate.
"We do a lot of work with sleep apnea, so we talked about the fact that they sell pillows and we work with monitoring devices," he says. "Maybe we should think about how to put sensors in pillows that will allow patients to make sleep monitoring a part of their lifestyle. Putting your head on your pillow when you go to sleep is a lot easier than hooking up to a monitor."
Voice is the new user interface
While "connected pillows" are only in the early discussion phase, Richardville and his team have plenty of innovative projects in development.
"One of the most innovative things we are currently doing is integrating our services into Amazon's Alexa," Richardville says. "Voice is becoming the new user interface, so we are shifting our services to that platform."
Patients can use Alexa to learn wait times at Carolinas HealthCare System's nearest urgent care centers and then reserve their spot in line.
"Our goal is that patients will be able to use voice for any online services they are currently using, whether that's scheduling appointments or paying bills," says Richardville.
How did the IT team at Carolinas Healthcare System get the voice initiative going?
"We used a free intern," says Richardville. "We took a smart, young engineering student who had just graduated and said, 'We want you to transfer our applications into voice skills.' This was very exciting new work for him, and we got the initiative up and running at a very low initial cost."
Innovation integrated into everything they do
Richardville says there are several new leadership skills, such as innovation and lean thinking, that should not be siloed departments, but rather weaved into the fabric of core business leadership.
"Innovation does not belong to one group here. We've integrated innovation into everything we do. By creating an innovative culture, we've been able to leverage technology for patient care and experience for decades," he says.
For example, six years ago, members of Richardville's team read a short article in an issue of Popular Mechanics about palm scanning technology that Japanese high-tech companies were developing for use in ATM machines.
"We thought we could use the same technology to do a better job of recognizing people when they walk into our facilities," he says. So, the IT team called Fujitsu, the company developing the technology, and struck a deal. "Healthcare is the biggest market for this technology now," Richardville says.
The key to building an innovative culture is being laser focused on it, he adds..
"To build a culture of innovation, as CIAO, you have to be a change agent, where you maintain a level of intensity in always looking to transform, to partner with technology companies, and to be well networked with companies that are doing exciting new things," he says. "Look at Uber. It would be great to find new ways to transport patients to our providers, providers to our patients, as well as prescriptions to our patients. How could we work with a company like Uber to create a better experience, and lower our costs, thus creating a new value proposition?"
For Richardville, the most exciting opportunities for innovation on the horizon in healthcare are around self-service.
"We would like to see patients and their loved ones have a greater ability to manage their own care," he says. "I can manage my finances without going into a bank, and I can shop without visiting a store. As we move toward a model that pays healthcare systems for patient outcomes, not the volume of services we provide, we will make it easier for patients to work with us."
About Craig Richardville
Craig Richardville is senior vice president and chief information and analytics officer at Carolinas HealthCare System. He has been with the company for more than 20 years. Previously, he was vice president of information systems at ProMedica Health System. Richardville received both a Bachelor of Business Administration degree in computer systems and a MBA in finance from the University of Toledo.
Read more about digital transformation: