For some companies, digital transformation (DX) might stem from a new mobile application or deployment that increases the efficiency of a field-based sales team or results in improved customer interactivity. That was the case at Waste Management, the largest provider of waste and refuse collection services in North America, where customers can use their smartphones and other mobile devices to schedule trash pickups and take an active role in the company's business operations.
Other companies, such as Waterton Associates, a Chicago-based real estate investment and property management company, take a more people-oriented approach to DX by establishing an innovation lab that fosters companywide creativity and collaboration. The company also uses crowdsourcing digital tools that eliminate the barriers of distance or professional hierarchies by getting everyone involved in the process of coming up with new ways to streamline or expand the business.
Digital transformation in the healthcare industry
Being a "DX DJ" is a bit more complicated when you're queuing up changes in a highly regulated industry such as healthcare and routinely deal with rules and regulations that often seem to put serial innovation on the backburner in favor of the status quo.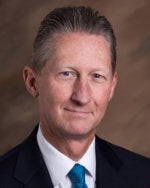 It gets tougher and tougher every year when you're dealing with regulations, HIPPA compliance, complicated programs such as Medicare, and a board that gets involved in absolutely every aspect of the business from a governance standpoint, notes Doug Blackwell, senior vice president and CIO at Horizon Blue Cross Blue Shield (BCBS) of New Jersey.
"You're trying to be innovative and move the business forward by creating new technology-based capabilities. But, a lot of times, you're just trying to deal with the security concerns and compliance," he says
Small steps won't result in big changes
Blackwell, a Boston native, joined the company in 2011 and is responsible for all aspects of IT, including the planning, development, and delivery of all applications and infrastructure, as well as system and technology operations. The default mindset is to keep things moving forward with an emphasis on incremental changes that don't rock the boat and keep operations on an even keel.
That's not a bad strategy in healthcare, but it's also not a plan that typically results in significant transformational growth and change.
"Transformation to me is really when you go beyond the incremental," Blackwell says. "It impacts the way people are either behaving or working with one another and is very unlike the traditional approach."
Does that mean Blackwell is a rule-bending maverick who prefers going against the grain to get things done? Not really. Prior to joining Horizon, Blackwell held a number of senior IT positions in the financial service, insurance, and software sectors, so he knows the sometimes subtle intricacies of IT-business relations. In short, he knows how to play the game.
"What we're trying to do is change that whole paradigm and say it's really about the health of the patient, the health of our member that really counts," Blackwell explains. "It's about trying to lower costs as part of that and improve the overall customer and member experience. That, to me, is the transformational aspect of what we're trying to do in healthcare."
Blackwell and his team started rolling out the first phase of Horizon's digital transformation strategy last year by launching pilot web and mobile services that improve the member experience and make it easier for participants to understand their benefits. These services detail which doctors are available, explain how much services will cost, and let a patient schedule a visit.
The Phase 1 rollout lets individuals take a more active role in the administrative nuances of medical care, which really isn't anything new. In fact, it is quickly becoming virtual business as usual for users who routinely use their smartphones or mobile devices to order pizzas, groceries, or a ride across town and prefer the same "tap and swipe" convenience for medical services.
During the first phase, Horizon also adopted a full agile development and methodology, which included assigning a product owner for the digital platform —something the hospital IT department never did before. The insurance provider also revamped the physical space for the digital team, creating an open environment with no walls or barriers.
"People aren't able to hide behind a cubicle or office wall," Blackwell says. "We also provided a variety communications and collaboration tool, like JIRA, to support the unstructured and open environment.
The doctor is (virtually) in
Phase 2, which is coming this year, will extend that bubble of technology and collaboration by providing customers with more direct access to doctors and nurses. Basically, it will allow users to go beyond benefits, co-pays, and out-of-pocket expense snapshots to interact directly with healthcare professionals.
For example, Blackwell explains, if someone has a rash and wants to know if it is something serious, they can use their mobile device to connect with a nurse practitioner and engage in virtual triage via a videoconference session. If it is bad, an in-office or hospital visit can be scheduled. If it is something minor, such as poison ivy, then the issue might be solved during the interactive session — all at a lower cost or no cost to the patient.
"We're able to take care of it right away without having to go through a process of scheduling an appointment, waiting three or four days or a week to get that appointment, having the doctor see you, and getting a prescription sent out," Blackwell says.
To keep the momentum going, Blackwell and his team rely on BCBS members and internal groups to test new solutions — taking a real-world crowdsourcing approach to trying and shaking down new technology solutions.
How does Blackwell see the technology evolving over time? While the tele-triage system and front end of the member portal incorporate a lot of decision-making software, plans are to eventually employ elements of artificial intelligence and machine learning to make the software even more intuitive and predictive, he says.
Advice for healthcare providers
What suggestions does the Horizon IT chief have for other healthcare providers looking to go down the digital transformation path?
Don't try to do everything yourself. Horizon developed its own integrated API and digital integration layer, but it partners with smaller and often more nimble firms that have already developed needed pieces of the technology.
While the customer is always the primary focus, make use of mobile and digital technology to boost the efficiency of your own teams. For example, while the agile development process does have some need for a physical space, a lot of work can be accomplished virtually.
Don't assume if you build it, they will come. Communications, marketing, and a lot of information going out to members about the new process was a necessary part of the project. You also have to encourage people to use it.
Be patient. Don't expect success or adoption to happen overnight. It took healthcare about 10 years to make cloud computinginto something viable, Blackwell claims. That will be the case for most emerging technology that has the capability to even positively disrupt industries that are heavily regulated and watched.
Being patient about emerging tech (no pun intended) is key, Blackwell says. People in the industry are talking about the use of blockchain right now, he says, and it is something that will start to surface in applications over the next couple of years. "But, it may take several years to make universal use of the technology."