Artificial intelligence (AI) and machine learning had (has?) manufacturing and minimum wage workers anxious about their jobs following Elon Musk's predictions. Blogger and former CIO Chris Romano cautions the rise of machines will be more insidious, since robots don't require sick time, vacation, salary and vacation time.
That is so 2017.
While algorithms are fascinating and metrics are important, what's been trending in our good old-fashioned personal conversations with CIOs and some leading technology providers is a need to communicate solutions to business challenges in non-IT speak.
Executives in the Midmarket CIO Forum community know they must prioritize innovation to keep their companies competitive in their respective market sectors, but many are constrained by limited bandwidth and head counts.
Deloitte's midmarket technology trends survey released late last year shows stronger collaboration in 2017 between IT and business leaders when it comes to managing the IT agenda — 34 percent versus 24 percent a year ago — a nod to shifting dynamics in the C-suite.
There's much debate around the feasibility of a bimodal IT model, particularly with the emergence of DevOps steadily gaining ground.
"You can't, or at least I don't want, to be described as a part-time innovator, setting aside time to innovate when we can get around to it," said Jeremy Busey, IT director at Shorelight Education.
This is certainly not a new challenge within the digital realm. Cutting-edge consumer technology is gaining practical application within the business, particularly in the midmarket sector, where newer technology adoption tends to be a bit more calculated with less room for risk and error.
That's precisely why Dave Widener, director of IT and Project Management at Dead River Company, has partnered with Peter Moore of Wild Oak Enterprises to help his refresh this New England-based fuel and propane provider's IT strategy.
"I need to repackage what I already know and make it sellable," Widener explained of his engagement. "That Run-Go-Transform model is hard to do without doubling staff, so we need creative ways to release some trapped IT value and look at the best and brightest on our team to get there."
Blending human and artificial intelligence
Perhaps, then, the key to successful IT rollouts and innovative digital transformation is striking a delicate balance between human expertise and the technological cutting edge.
Bill Gates asserts that robots will free up human laborers to serve true human needs like education and elderly care. Does that mean teachers and nurses will finally get their fair shake?!
Shadi Katib, senior vice president and CIO at goeasy.com, is working to integrate voice-activated technology such as Google Home or Amazon's Alexa with the company's business intelligence tools so meeting rooms are equipped with real-time data on user-friendly dashboards as opposed to waiting for a report from a business analyst.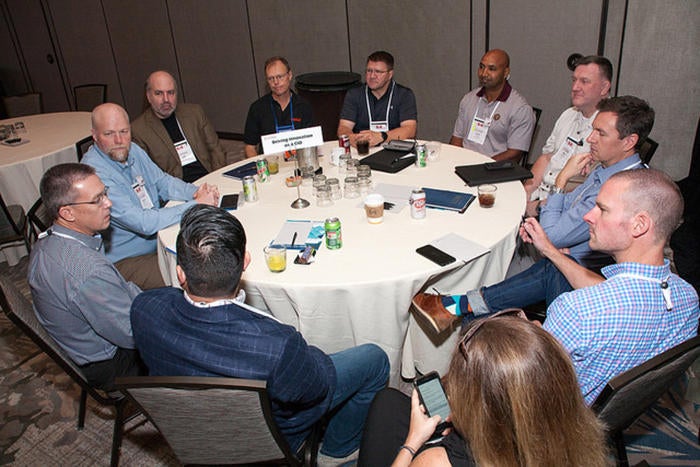 At Samson, a leading developer of high-performance synthetic ropes, Director of IT Dean Haverstraw envisions employing AI and its streams of information to predict the lifecycle of ropes used on gas tankers and oil terminals. He envisions products in the field that will essentially communicate with the manufacturer when they need to be serviced or replaced, though he admits that's still some time into the future.
When asked how his peer CIOs might help manage fears around job security, particularly in the manufacturing sector, with the advancement of AI technology, he added that this technology has been around for some time.
"This is just software that's matured over the years," Haverstraw said. "If we point to those consumer technologies, people can become more comfortable with it. Our job is to control and help the human condition by augmenting operations with personnel."
At ServiceNow, CIO Chris Bedi found his team was not positioned to lead innovation because they were spending 74 percent of their time running the business. After scrutinizing every operation within IT, they opted for a "best service is no service" model. While the path to "no service" is a marathon, not a sprint, and one that's still full of unanswered questions, he said 43 percent of IT operations resources were shifted to innovation last year.
He writes, "As CIOs, we have to be bold in what we take on but pragmatic about how long it will take to really achieve our goals."
Read more about digital transformation: