The perennial problem facing IT: How do we make our IT organizations more knowledgeable about our business? A close corollary: How do we make the business people we import into the CIO's organization, more knowledgeable about IT?
Brad Clay, CIO of Lexmark, which delivers printing, imaging, and software solutions, has found an answer to both questions.
Clay joined Lexmark in 2002 and worked in supply chain, IT, and finance for 14 years before becoming CIO in 2016. He inherited a strong IT team, but he saw room for improvement in IT's relationship with its business partners, particularly with sales and marketing. So, Clay decided to fill some key IT leadership positions with people currently serving in business functions outside of IT.
"I needed people who had credibility with their teams and were strong communicators and leaders," he says. "In IT, we were more focused on bits and bytes than on relationships. This is particularly true with sales and marketing because we really don't speak the same language."
Non-IT people were a better fit
Clay opened up a leadership position in application development and support for the sales organization. This would be the person who owns the executive relationship with the chief revenue officer and vice president of enterprise channels, service, and sales. Several people applied for the role, some from IT and some from non-IT business functions. He found that the non-IT candidates were a better fit for the position.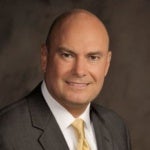 "It's really hard to sell the chief revenue officer on a candidate if that person has never sold anything," Clay says. "Without that credibility, the job is an uphill climb. You can earn it eventually, but it takes a lot of time. It's hard to replicate the knowledge gained through 20 years in sales. I can't train someone on what it's like to make a sales call."
In the end, Clay filled the role with someone who had been selling managed print services for Lexmark and had a long background in professional services. (The chief revenue officer and sales vice presidents were a part of the interview committee.) He has filled several additional leadership positions with candidates outside of IT, including his CISO, who came from product development, which at Lexmark, has a strong security component. He estimates that 10 percent of his 400 people came from the business side, all currently serving in leadership positions.
Hiring from outside of IT goes a long way toward establishing strong relationships with business leaders, but those relationships can go south quickly if delivery and support aren't there. The challenge Clay faced: how to make the business imports smart about IT.
"When people consider a move into IT, they think they need to be technical," says Clay. "But we don't need technical people in our applications leadership roles. We need our IT leaders to understand the profession of IT — what we do and how we do it — and to leverage their strong relationships to allow us to deliver new functionality more quickly."
Formal training program
Clay has turned the need for his business imports to understand the profession of IT into a formal training program, complete with a certification.
"Our training program starts with the recognition that the IT profession is not java or HANA or whatever," says Clay. "IT is about core processes, like ITIL, and change, incident, and release management. We follow the same processes regardless of technology. I don't think we've had anyone who hasn't had their eyes opened during ITIL training. People new to IT did not realize the importance of how IT governs itself."
Once trainees have an understanding of ITIL, Clay brings them into Lexmark's strategic operations control center where they can monitor applications and network performance.
"This is where the rubber meets the road," says Clay. "It's hard for people who have not grown up in IT to understand the impact that cutting corners on processes has on operations. If someone doesn't open a ticket — and just sends an email to tech support — then we can't get to the root cause and fix the problem long-term. That's the next 'A-ha' moment in the training program."
With ITIL and the operations control center under their belts, trainees are ready for GLSS, short for "globally scaled solutions," Lexmark's continuous deployment methodology.
"Everyone knows that IT designs and develops applications for functionality, but the real point of GLSS is that we are also designing for supportability," says Clay.
During this phase of the training program, Clay wants trainees to learn two major points:
It is important to design for supportability as much as functionality.
IT's job is not to automate a process, it's to help business partners solve problems.
"When a business partner comes to you with a requirement, your job is to address the business problem, like reducing complexity when setting up a new customer, not just delivering the technology," Clay tells the team.
The entire training program should take less than six months, after which trainees receive a certificate and are ready to lead in applications.
"At the end of the day, I need a value proposition for why strong business leaders should join IT, and I need them to be effective when they get here," says Clay. "The training program gets them going on driving change right back into the business."
About Brad Clay
Brad Clay is senior vice president, chief information and compliance officer with Lexmark, a position he's held since November 2016. Previously, Clay was vice president, CIO and Acquisition Integration, as well as director of financial analysis and strategic initiatives. He joined the company more than 15 years ago, in September 2002. Clay has a BS in computer science from the U.S. Military Academy at West Point, and a Master's in managerial economics from the University of Oklahoma.