Choosing a new enterprise resource planning (ERP) system – or deciding to renew a contract with your current vendor – remains one of the most challenging decisions facing CIOs and other IT decision makers.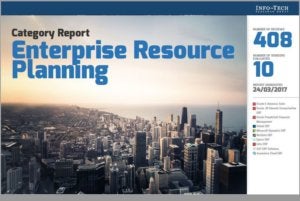 To help IT leaders make the call, Info-Tech Research Group (an IT research and advisory company) and SoftwareReviews.com, its user-generated review site, collected 408 reviews of ERP products written by ERP users who Info-Tech describes as "IT professionals who have worked with it intimately through procurement, implementation, and maintenance."
[ Visit SoftwareReviews.com and add your reviews ]
The report focuses on what it categorizes as the leading ERP vendors and ranks them in four areas:
Where they fall in Info-Tech's Data Quadrant (placement in the quadrant indicates its relative ranking as well as its categorization)
Vendor capabilities
Product features
Emotional footprint (which measures high-level user sentiment towards product and aggregates emotional response ratings for dimensions of the vendor-client relationship)
Rating the best ERP vendors
Vendor capabilities rated include: creating business value, performing a wide variety of tasks, operating at or above industry standards, adapting to market change, reducing training due to intuitive design, providing timely and sufficient support, seamlessly integrating data, scaling to meet business needs, the ability to implement the ERP solution without disruption, ease of IT administration and backend user interface, and the availability and quality of training.
Rating ERP product features
Product features evaluated include accounting and finance functions such as general ledger, accounts payable and accounts receivable, and analytics and reporting; business intelligence (BI) analytics as well as planning and optimization, customer relationship management; governance, risk and compliance; employee management such as recruiting, payroll, and development performance management; industry specific capabilities, job and project management; purchasing and procurement management; and supply chain management.
The 10 vendors evaluated are Acumatica Cloud ERP, Deltek ERP, Epicor ERP, Infor ERP, Microsoft Dynamics ERP, NetSuite ERP, Oracle E-Business Suite, Oracle JD Edwards EnterpriseOne ERP, Oracle Peoplesoft Financial Management and SAP ERP Solutions.
For a look at all 10 ERP offerings, click the link below to download the PDF.
Info-Tech ERP Category Report Summary
Info-Tech Research Group
More on ERP: