The proliferation of consumer technologies is shifting the way CIOs are delivering technology services to their businesses. Nowhere is this more evident than at Walmart Stores, where CIO Clay Johnson is delivering IT as products rather than as projects or systems. Walmart's culture change underscores how traditional companies are following in the footsteps of companies such as Facebook, Uber and others whose products are designed for the consumer masses.
"If you look at how [technology] products are developed, why wouldn't IT teams have that kind of model?" says Johnson, who also serves as the retail giant's executive vice president for global business services. Commanding both IT and shared services, which includes supporting payables and receivables, HR, help desk, call centers and procurement, allows Johnson to facilitate "end-to-end, single-threaded management" of technology services for Walmart's 2.3 million employees around the globe.
Delivering IT services using the rigorous, time-consuming waterfall model is no longer viable for companies seeking to leapfrog or keep abreast of competitors. And with mobile and social technologies increasingly the focal point of technology services, companies are instead embracing agile methodologies, with weekly rather than monthly delivery cycles completed in conjunction with business peers who will consume what IT delivers.
Business buys in to DevOps
Agile is fast; DevOps is faster. At Walmart, Johnson says software developers in his staff of 10,000 IT workers are practicing DevOps, in which continuous integration and continuous delivery (CICD) methods enable enterprises to push out upgrades to software daily. Such rapid deployment dovetails with the product management model Johnson is pursuing. For example, whereas managers previously owned a piece of an IT service, managers serve as "product owners" responsible for integrated technology solutions.
Among the first shifts Johnson made was to implement Workday human capital management software. Whereas IT managers would have previously been split into different groups, Johnson put one person in charge and co-located IT and business personnel responsible for deploying the product. The move inspired confidence among business executives and users. As a result, process design changes happened quicker, shrinking release cycles to 3 months from 9 months. "We saw the speed pick up and a lot more clarity in the process design and how it was going to be implemented," Johnson says.
Johnson applied similar principles to financial management solutions his team was rolling out, co-locating the entire IT team with the business. When someone from the team ran into an issue, they posted a message to Facebook Workplace, an enterprise-grade version of the popular social media platform, rather than submit a help-desk ticket. Johnson says the team convened and solved the problem in 30 minutes.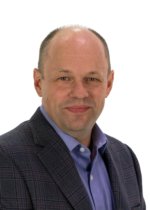 Walmart's use of Workplace is emblematic of Johnson's philosophy of making tools available that reflect a workforce increasingly populated by digital natives. "Everybody knows how to use Facebook," Johnson says, adding that it requires no training. Walmart initiated Workplace as a pilot test last summer, one of Johnson's first large-scale implementations since joining the company in January 2017.
And while Johnson admits he didn't "know where it would go," he says it's gone viral, with employees announcing accomplishments they are proud of, which generates awareness and excitement. Walmart won't reveal adoption numbers for the platform, but it is significant enough to make Workplace the foundation for a new crowdsourcing initiative. The company launched Value Makers, in which employees post potential ideas to facilitate waste reduction, or digital technology efforts intended to improve business processes. Every quarter the company will pick the most "liked" projects to work on.
IoT, analytics and chatbots
Analytics derived from internet of things (IoT) data is among the big initiatives Johnson is focusing on this year. In 2017, Walmart deployed sensors in refrigerators and other areas across its 5,000 U.S. stores. The early use case is preventative maintenance to thwart food spoilage, with sensors tipping off the company to temperature changes in the coolers.
Future use cases could include sensors that trigger HVAC systems to regulate temperatures based on the number of people in stores. IoT might also note how people's shopping patterns can be used to improve logistics processes, such as better managing supply and demand. Analyzed in aggregate, such data could offer a valuable view of the company's retail operations. "How do you use the data in the right way for a competitive advantage or to monetize it?" Johnson says.
Johnson, whose team has already implemented hundreds of bots to automate several manual business processes, is also exploring how Walmart might implement chatbots into HR functions such as recruiting. Ideally, any of the hundreds of thousands of prospective employees that apply for a job with the company each year may end up doing so via chatbot.
"If you can order a pizza through a text message, why can't you apply for a job [the same way]," Johnson says. "We want to be able to offer different avenues for people to come in to the company and make sure we're attractive across all different generations."
Key takeaways
As Johnson works through these and future technology services, he says the product management approach will take center stage. Johnson offered the following four tenets that underpin the IT culture change he is instantiating at Walmart.
Transparency. Being upfront about what you're trying to accomplish and offering clear, concise direction and feedback.
Open culture. If you're going to disagree, air it out in the room. For example, speed is everything in a DevOps lifecycle. Resolve disagreements in meetings and move on. "You can't have a conversation and leave the room and nobody agrees, or people change direction," Johnson says. "You have to have the debate there and move on."
Fail fast. Failure will happen so get over it — quickly. "When you do rapid iteration, you're going to fail a few times," Johnson says. "You have to get the business comfortable with it, too, and help them understand that there are going to be some things that might break or might not work but at the end we're going to be in a lot better place and we're going to get there a lot quicker."
Open debate. Everybody has a voice and can speak up, Johnson says. "You want to be able to hear everybody's ideas when you're driving an end-to-end ownership model."
Related digital transformation articles: