Once you've pulled all of the traditional levers of productivity and you are stagnating at 1 percent annual productivity gains, where do you go? For oil and gas giant Baker Hughes, a GE company (BHGE), the answer is digital industrial leadership. Jennifer Hartsock, CIO, explains how she uses a product management model and strong business partnership to leverage data and analytics for real business outcomes.
What is "digital industrial leadership"?
Digital industrial leadership is transforming the industrial world. For BHGE, specifically, data and analytics are fundamentally changing the way work gets done in our business and in the oil and gas industry as we prepare for the next big step-change in productivity.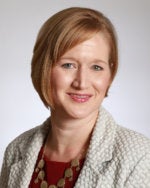 When I think of digital industrial leadership, I think about using data to move from looking in the rear-view mirror to looking into the future. We are beyond making decisions based on order history; we are using data to be predictive and make recommendations for future sales targets.
As an example, we are using artificial intelligence on the shop floor to understand what drives disruptive, unscheduled downtime of our welding machines. When information technology meets operations technology, we learn what behaviors or indicators lead up to that unplanned downtime. We can use predictive analytics to do preventive maintenance and improve our productivity.
How do you measure the success of digital industrial leadership?
We look at productivity gains. For a long time in the industrial world, we would see 3 to 5 percent gains in annual productivity. But for the last few years, we've experienced a stagnation — we've been hovering around 1 percent. With digital industrial leadership, we are now starting to see an uptick in productivity. With virtual and digital tools, we need 10 to 15 percent fewer engineering hours to produce a product than we did before, sometimes even less. That extra time frees our employees to focus on innovation and growth.
What is the IT organization's role in digital industrial leadership?
What role doesn't IT play? My team and I assess all of our business processes to identify opportunities for where analytics can drive fundamental change in performance. It is not always the process experts who identify those opportunities; it is often IT. Really, it takes a marriage between digital technology knowledge, process expertise, and great IT operations.
How have you structured the IT organization for digital innovation?
We have structured IT to foster partnerships and credibility. For example, one of my IT leaders sits on the supply chain team, where he and the supply chain operations people work together to define the work that needs to be done to improve digital enablement of the shop floor. IT has to be embedded with the supply chain team — and truly be part of that team — regardless of what the specific initiative is.
You have moved from a project to a product management model. What does that mean?
I grew up in supply chain organizations where we would engineer, develop, and support products. IT work is very similar. With product management, we think less about delivering against a budget or timeline. We think more about creating a technology-enabled business capability that you care about from cradle to grave. You are accountable for the product's development, delivery, maintenance, and when it needs to be retired.
In the past, IT has struggled with the notion of an application moving from "cradle to grave." We don't like to end applications because we don't think of applications as products. We lack a neutral position in thinking through upgrading, replacing, or abandoning a technology. But the proliferation of applications can cause real problems for organizations. In a product management model, you care for a technology from when it is born to when it leaves the earth. We are in a constantly changing environment, and we have to be diligent about what we invest in. We can't afford to let applications live forever.
Why has the proliferation of technologies been an issue in the past?
We all have business partners who love to hug their applications forever. They have not been incented to change the way they work. IT people would have to talk to their business partners about the need for simplicity, but they were not trained or incented to have those tough conversations. That's where product management comes in. We reward IT teams for driving for simplicity and caring about business capabilities, not specific technologies.
What have you done to create a product management mindset?
We have changed our compensation structure and our job titles to make the transition. We started with the functions that are most strategic to our business — engineering, commercial, supply chain — and named product leaders for each area who are fully accountable for the lifecycle of those capabilities. These product leaders were asked to talk to senior management about the technologies in their portfolio: number of users, shifts in adoption, and the need for new capabilities. This is a different way of thinking than, "Here is a project that a business partner requested."
Our goal is to shift more of what we do from project to product, although not to 100 percent. Not every application belongs in that category. A highly customized niche application for a specific facility might not need a product manager, for example.
The product managers all reside in IT and have a dedicated business partner. In commercial, for example, the vice president of product management, who is on my direct staff, has a partner who is the vice president of commercial excellence.
With software engineering happening both in IT and in other business areas, how do you decide where IT stops and product engineering starts?
At Baker Hughes GE, we have a chief digital officer who is responsible for commercial software development — that's the software we sell to customers — while in IT, we develop software to run our business. The CDO and I use the same job titles, competency models, hiring processes, and SDLC. By aligning in that way, we have people who move back and forth from commercial to IT. Which organization you are developing for is less important than the outcomes you are trying to drive. But at the end of the year, if you are willing to dig in and learn a new language, you have great opportunities for broader career development.
What are the qualities that you look for in IT people who can help drive digital industrial leadership?
We look for people who are intellectually curious, driven by collective success, courageous enough to advocate for disruptive ideas, and have the confidence to be direct. Our tag line for 2018 is "Agility and speed for radical simplification." Radical candor is necessary in that context. We don't want to allow our consensus-based culture to interfere with our ability to be fast and decisive.
About Jennifer Hartsock
Jennifer Hartsock is Vice President and CIO for Baker Hughes, a GE company. As CIO, Jennifer drives BHGE's global IT strategy, services, and operations to deliver innovative digital solutions for BHGE, its employees and customers. Prior to joining BHGE, she held CIO roles with GE Oil & Gas and Cameron International, and has more than 20 years of IT leadership experience. Jennifer has a BS in applied computer science from Illinois State University.