The CIO agenda for 2018 is bigger and bolder than ever. Modernization. Automation. Transformation. Digitization. Acceleration. Innovation.
CIOs have to be bold — the landscape is littered with what were previously great companies that found themselves disrupted out of existence. You know their names, and so do the CIOs who are racing to ensure that their companies continue to separate themselves as disruptors, rather than the disrupted.
Having studied CIO-led transformations over the past three decades, we have identified a key differentiator found in the best IT transformations: a strong HR business partner. And we're not talking about someone to just post your job listings. The best HR leaders show up not as reactive order takers, but as strategic partners and trusted advisors. These colleagues are like gold, but unfortunately there aren't enough of them. Just in the past couple of weeks, we've heard CIOs lament:
"To deliver on my agenda and the company's plan, I have 10 critical areas that I need HR to drive for me. They'll likely only get to two of them."
"Tasks, tasks, tasks is all I get from my HR group."
"I had to hire my own HR and change leaders. This is just too critical to the company's success, and I can't afford to wait or miss the opportunities that are before us."
A transformational CIO needs a lot more than someone to manage basic hiring and compliance tasks. You need an expert partner who will facilitate workforce planning to ensure that IT will have the talent and skills needed today and three years ahead — despite a retiring workforce and scarcity in your local talent market. You need an HR leader's specific aptitude for managing talent, building a strong team culture, and training for the future. The HR partner will also play an active role in driving digital transformation by helping to instill a more change-savvy, innovative culture throughout the enterprise.
The many challenges around culture and talent require specific skills and a dedicated, programmatic approach.
Moving IT and HR up the Maturity Curve
In our previous CIO Whisperers article, we highlighted IT's journey up the maturity curve. We explained why "alignment" is insufficient and "anticipators" are winning.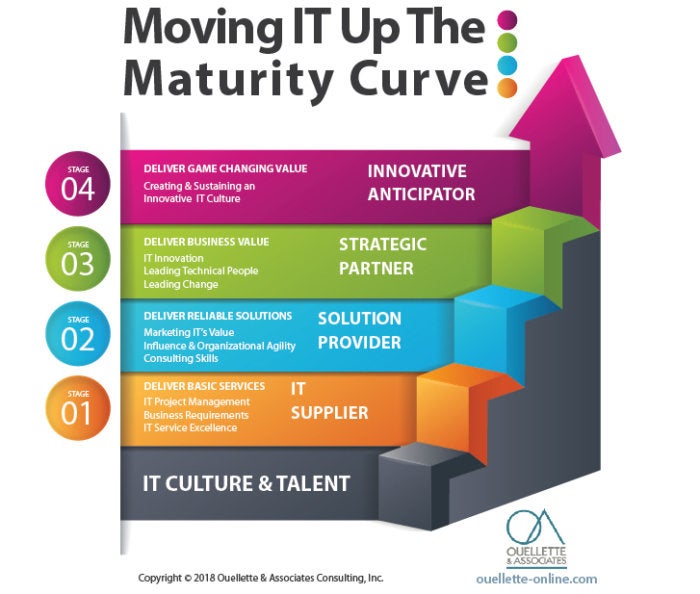 HR turns out to have its own maturity curve, defined by Josh Bersin of Deloitte in the report HR Technology Disruptions for 2018: Productivity, Design, and Intelligence Reign (pdf). Data for the report comes from more than 1,000 companies and nearly two years of research.
Bersin includes four levels in his HR maturity model:
Level 1: Reactive & Procedural — 43 percent
Level 2: Functional & Fragmented — 23 percent
Level 3: Cultivating & Empowering — 22 percent
Level 4: Pioneering & Personalized — 12 percent
According to Bersin, only one-third of HR professionals are showing up in levels 3 and 4, where they provide more strategic services and forge innovative partnerships across the enterprise. However, our CIO colleagues put a caveat on this statistic. The HR business partner to IT has a much bigger challenge than peers supporting other departments and tends to show up lower on the maturity model.
CIOs facing industry disruption and challenged with digital transformation need to accelerate culture change, build an environment of continuous learning, drive internal mobility, improve employee engagement, and more. To do that, CIOs need HR partners that are energetically powering that same evolution.
5 actions you can take immediately to improve the CIO-HR relationship
What is our best path forward? Here are five pointers based on the best practices we see from the most innovative CIOs we work with:
Become the "long straw." The best HR leaders want to work where the action is, partnering with the movers and shakers who are moving the needle for the company. We need to change the narrative to reflect the strategic value that IT is delivering to the company and show how HR can play a critical role in positioning our companies as digital disruptors. "Congratulations, you just drew the long straw."
Invest in your HR business partner. Many HR leaders simply don't get the nuances of IT. They just see us as different. So, invite them in. Give them exposure — a seat at the table. Most HR professionals say they feel like an island, so make them feel like the important part of the family that, indeed, they are.
Engage your HR business partner in all phases of strategy. HR needs a deep understanding of the IT strategy and the ability to translate it into a workforce strategy that provides the right culture, best talent, continuous learning, and internal mobility.
Recruit, grow, and retain the great ones. The best CIOs are talent magnets, always seeking and recruiting the best talent — including their HR partners. Regardless of the reporting structure, you need to support, grow, and reward these HR leaders as you would any of your high performers. Get them plugged into HR2IT, the exclusive community for HR executives who support the CIO and IT leadership team.
Build a great workforce strategy. According to Gartner, CIOs globally say that talent continues to be the number one obstacle to achieving their objectives. Tackling this issue goes well beyond improving the hiring process. Today's CIOs rely on their HR business partners to think holistically about talent and deliver a differentiated IT workforce strategy. This strategy ensures that we know, grow, engage, and retain our current talent while becoming more attractive to the next generation of talent. It also ensures that we have the skills needed to achieve our current and future strategies and win the talent war.
These are challenging times. However, the best C-level leaders will tell you these are the most exciting times, full of opportunity to disrupt ourselves, our companies, and our industries.
Find that strategic HR partner who is operating at the higher levels of their maturity model. Embed him or her as a key member of your leadership team. Engage them in strategy formulation, key initiatives, and department events. Make this person your new best friend. Then, watch them move your IT organization higher and faster up the value curve. As your company's Innovative Anticipator™ and industry disruptor, keep your HR partner right at your side as you modernize, automate, transform, digitize, accelerate, and innovate.
For more on workforce strategy and talent management, check out our blog at Ouellette & Associates. We post frequently on topics around talent.