Name a female tech founder. Go ahead, give it a shot. It's by no means a trick question, but if you couldn't come up with any, you're not alone. A recent survey from AI messaging, bots and branding platform LivePerson shows that when you ask most people to name a female tech luminary, many of the answers you get are Alexa and Siri.
Serena Schuler wants to change that, and she's creating a television comedy to do it.
Makeshift Society is a TV series pilot, currently in the early creative and funding stages, that centers on Alex, a former UX designer. Alex is booted from her Silicon Valley job after refusing the predatory advances of the CEO. She discovers a co-working space filled with creative entrepreneurs and decides to take a chance and build her own startup.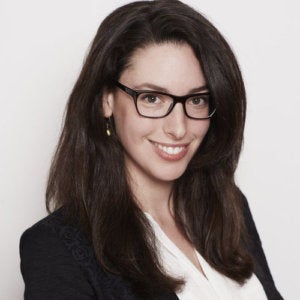 While the characters and the events in the series are fictional, they're inspired by many women Schuler has met in the tech industry, whose stories deserve a wider audience.
"These stories from Silicon Valley are dramatic and fascinating — and they haven't been told before. Female founders aren't household names, and they should be. Jennifer Hyman, Stephanie Lampkin, Reshma Saujani — I think everyone should know who they are and how they're changing the world. That's why we have to tell this story," Schuler says.
Anyone paying attention knows why — the technology industry is a (straight, white, cisgender) boys' club and only now addressing the lack of diversity and inclusion in the industry. But Makeshift Society aims to bring a woman's story front and center. Schuler's background in tech and film makes her the perfect person to bring them to life.
Schuler is an award-winning comedy writer, director, and series creator whose work has screened at U.S. and international film festivals. Her work won the Audience Award at the Washington Jewish Film Festival, she was an Audience Award Runner-Up at the Women in Comedy Festival, and she was a finalist in the Rachel Bloom Comedy Short Challenge. A previous series, Cake Walk, is streaming exclusively on Elizabeth Banks's women in comedy site WhoHaha.
The power of TV and film
The genre is also appropriate, she says; television and film have the power to tell underrepresented stories.
"The idea being if you see it, you can become it," she says. "Comedy opens our perspectives. Television comedy is the perfect genre for this because we can bring these issues to light — you get that kind of funny 'cause it's true approach that gets the message across," Schuler says.
"TV and film have the power to shape the culture. Look at Modern Family, and our country's inclusion of LGBTQ+ rights. When the show premiered in 2010, the Defense of Marriage Act was still law. But just three years later, attitudes had really shifted, and along with a lot of activism, DOMA was struck down. I definitely think we have the power to change things through this medium," she says.
It's also timely, as the #MeToo and #TimesUp movements are bringing more attention to sexism, discrimination, and bias in Hollywood and rippling out to other industries.
There's more information about the series here, as well as a link where you can help fund the series. I can't wait to watch it!