Digital is more than marketing at Conagra, the $8 billion global food manufacturer whose brands include Orville Redenbacher's, Reddi-Wip, and Peter Pan peanut butter. As CIO Mindy Simon discusses in our Q&A, digital is variable infrastructure, shorter technology lifespans, and knowing all about the consumer.
What does "digital" mean to Conagra Brands?
Simon: To Conagra, digital is technology-enabled innovation and transformation — from delivering to consumers who shop digitally to our cloud enabled infrastructure, and everything in between.
Digital is marketing in the right place, time, and context for the consumer, whether that's social, email, or some other channel. We need to be on the digital shelf and meet consumers wherever they are.
With infrastructure, it is all about cloud enablement for innovation and variability. By digitizing our infrastructure, we are developing and delivering products faster — and on a more variable cost model. With a fixed infrastructure, it is cost-prohibitive to ramp capacity up or down. With a cloud-enabled variable model, we can spin up infrastructure when we need it. With infrastructure, we are always asking, "Can we variablize it?"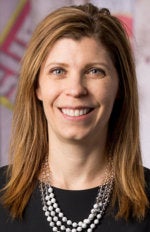 When it comes to digitizing processes, we look for friction because where there is friction, there is opportunity. How can we use analytics to help our chefs develop new products? How can we use sensors to improve our distribution? Can we use digital to analyze the data that sits in emails from our suppliers to eliminate supply chain friction? A couple of years ago, we looked at digitizing processes in our manufacturing plants, but the cost of sensors and bandwidth were too high. But today, the price has come down and opened up what is possible.
How is IT driving digital transformation?
Simon: Our job is to support Conagra's strategy to grow the business, build our brands, and expand our margins. That involves educating our business partners on the potential of emerging technologies. We are being digital with them; we are not doing digital to them.
In IT, we ask ourselves, "Are we relevant?" That is our most important question. Being relevant means doing more than driving down costs; it also means driving growth.
To drive digital transformation, we are also shifting from running projects to developing and building products. When you focus on products, you do the work differently. For example, we were going to upgrade a video teleconferencing system that was used widely across our business. Just as we have always done in IT, we were decommissioning outdated technology and upgrading to a newer version. As a project, that would have been the right thing to do and we would have called it a success. But with a product focus, we went a different way. We realized that for users, the upgrade — in terms of functionality and user interface — would have taken us two steps back. So, we decided to stop the upgrade. When you shift from projects to products, you focus more on features and experience, and you make different decisions.
What is "disposable technology"?
Simon: Many of us were brought up to put in infrastructure that lasts decades. But with our current ability to implement new technology at a lower cost, the lifecycle is months or weeks, not years. Our attitude is, "Don't overbuild it because you may not have it for long." The days of five-year contracts and capitalizing everything are gone. If the system supports your core business processes, you might want to go for the long-term solution. But it you are providing innovation at the edge, don't over solve the problem. In call centers, for example, the pace of chat and voice technology innovation is so fast that we no longer commit to a platform for five years to get a better price. Technology is cheaper, so we commit for a shorter term and watch how the technology evolves.
How can CIOs drive a digital mindset across other business units?
Simon: As CIO, you need an external focus. When you look only at the services you are providing, you are seeing half the picture. But when you understand your competitors and customers, the walls come down, and you and your business partners look at challenges together. We are seeing an emergence of digitally native companies in our space, like a startup ice cream company that has no manufacturing plants, office space, or traditional marketing. The company is all digital and has disrupted the traditional pint ice cream market. What did this company do? How did they do it? And how can we apply what they've done to our own operations? If you have your eye on the market, you can take the good things happening in the startup up space and bring those ideas inside.
The CIO can also leverage the digital mindset that already exists across the company. We are all consumers: Everyone has a smart phone or a smart home. In IT, our job — every day — is to take those experiences and ask what is possible in our own companies. Take voice capabilities like Alexa: Can we sit Alexa on our analytics platform and ask her to report on customer behavior? A critical role for IT is to find places for consumer technologies to meet industry challenges. Our job is to remove the friction.
About Mindy Simon
Mindy Simon is CIO for Conagra Brands. In this role, Mindy has enterprise responsibility for global business services, IT, cybersecurity, and leadership in digital transformation, leveraging digital capabilities such as artificial intelligence, robotics, and augmented reality.
Since joining Conagra in 2000, Mindy has held a variety of roles in finance and IT. Her responsibilities have included analyzing economic indicators and tracking major commodity markets in finance and IT, and leading technology transformation across the organization. Most recently, Mindy led global business services, including customer order management, accounts receivable, accounts payable, data management organization, and vendor management organization.
Mindy holds a BS in agricultural economics from the University of Nebraska – Lincoln, and an MBA from Creighton University. She serves on the Omaha Chamber of Commerce board of directors, serves on the Evanta CIO Governing Body Chicago, supports Girls Inc. of Omaha, is member of CIO Gartner Research Board, and has served on the Institute of Career Advancement Needs (ICAN), SAP Services Advisory Board, University of Nebraska – Omaha Data Science Curriculum Advisory Board, and Omaha Chamber of Commerce Guiding Coalition for the Technology Talent Taskforce.