For years, CIOs have been chasing the Holy Grail of IT-business alignment with limited success and plenty of indigestion.
Digital transformation has elevated the CIO role, yet IT leaders still struggle to foster effective collaboration between their organizations and business units at a holistic level. Long-standing perceptions of IT as mired in the technical weeds, disconnected from core business objectives and a bottleneck for speedy deployments, cast a shadow on the relationship, with lines of business (LOB) often taking a view of IT as an obstacle, not an enabler, for strategic innovation.
While some disconnect remains, IT and LOB have turned the corner and are working far more collaboratively than in the past. The 2018 State of the CIO survey found stronger cooperation and better alignment between IT and its LOB partners, especially as digital transformation initiatives heat up. During the past year, almost three-quarters of respondents (71%) said IT and LOB engage more frequently in collaborative projects where there is shared oversight.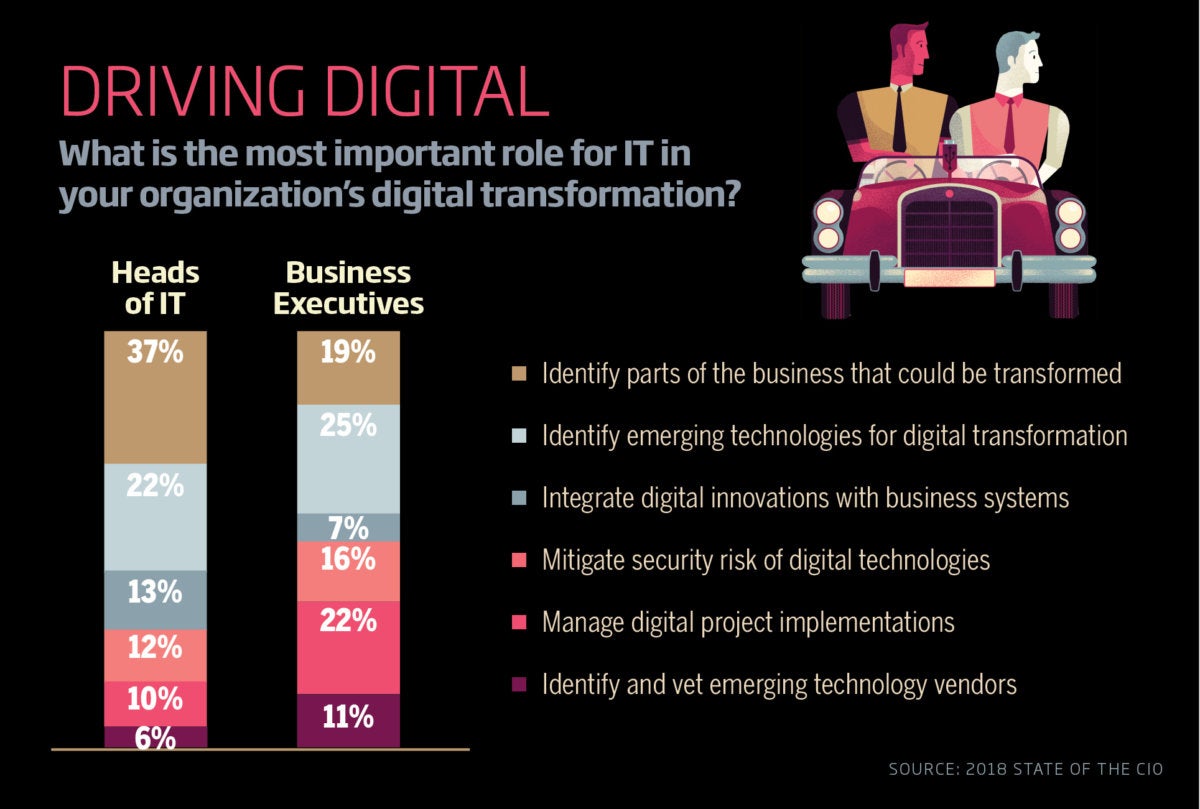 On the digital transformation front, in particular, CIOs are playing a significant role assisting the business in driving innovation. Eighty-eight percent of IT leaders and 64 percent of LOB see the CIO role becoming more digital- and innovation-focused, the survey found. To that end, 37 percent of IT leaders said they actively engage with LOB to identify possibilities where technology can alter the business, while 22 percent are a guiding force in selecting the right emerging technologies to accelerate that transformation. The CIOs more likely to be active participants in digital innovation describe their role as transformational (36%) or strategic (45%), versus those that operate in a purely functional (32%) capacity.
Business users are also starting to recognize the potential of IT's contribution. Almost half (49%) of LOB respondents to the 2018 State of the CIO survey now consider IT a strategic advisor for proactively identifying new opportunities and for making technology and provider recommendations — a role cited by 52 percent of IT respondents. A third of LOB (31%) and IT (32%) respondents view IT as a consultant that provides advice on business needs and technology choices upon request. Twelve percent of LOB and 8 percent of IT respondents believe IT can be counted on to be a risk assessor, guiding an organization's technology choices through the lens of risk management and governance.
At AmeriPride Services, the ongoing transformation to become a data-driven enterprise has set the stage for improved It-business alignment. "We've chosen to focus on service and innovation, and that brings IT into the conversation," says Steven John, CIO for the uniform rental and linen supply company. "We're a plank in the core strategy, so that helps with alignment. You can't have a data-driven culture unless business is closely aligned with IT to achieve its goals."

The balancing act continues
Despite this progress, IT leaders remain caught in a balancing act, having to split time between transformational leadership and the functional requirements that characterize the traditional CIO role. Eighty-seven percent of respondents to the 2018 State of the CIO survey said they are still juggling standard IT operational tasks, including security management (54%), improving systems performance (49%), spearheading cost controls (37%), negotiating with IT vendors (22%), and managing pop-up crises as they occur (19%). At the same time, however, 88 percent of respondents say duty calls for transformational work such as aligning IT initiatives with business goals (50%), cultivating the IT-business partnership (38%), implementing new systems and architecture (36%), and leading change efforts (33%).
Even CEOs' top priorities for CIOs straddle both functional and transformational objectives.
While the most pressing CEO mandate for CIOs has been to upgrade IT and data security to avoid cyberattacks (cited by 36 percent of respondents), taking shared responsibility for achieving specific revenue growth goals and leading digital business initiatives are equally critical, cited by 35 percent of respondents, respectively. CEOs also lean heavily on CIOs to orchestrate digital transformation, with 35 percent of CIOs taking the reins, the 2018 State of the CIO survey found. The double-duty directive is compounding the pressure on CIOs: Seventy-three percent of IT leaders surveyed said it remains a challenge to strike the right balance between business innovation and operational excellence.
"You have to make sure you're delivering the basic services like answering people's calls and making sure laptops aren't breaking down," says Carlos Garcia, CIO at Alvarez & Marsal, a global professional consulting services and business management firm. "You can't forget about the basics. If you can't deliver core services, why is anyone going to come to talk to IT about strategy?"

The year ahead
Interestingly enough, strategy is the one area where CIOs are getting relief. According to the 2018 State of the CIO survey, CIOs are spending less time on strategist functions, cited by 53 percent of respondents compared to 62 percent in last year's survey. The CIO focus on responsibilities grouped under the strategist function — developing business strategy, identifying areas for cooperative differentiation, and go-to-market plans — have decreased across the board, an indicator that companies are moving beyond mapping out strategy and plans for digital transformation and heading directly into full-blown implementation.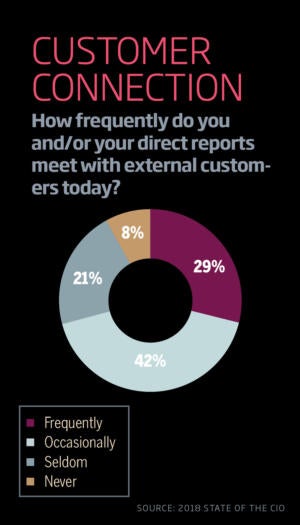 In terms of what's on the docket for the upcoming year, IT and LOB are once again in sync, both giving top priority to efforts to increase operational efficiency, cited by 39 percent of IT leaders and 43 percent of their LOB counterparts. Improving customer experience was the runner-up choice for CIOs (38%), but the fourth priority for LOB (25%). But both constituencies were in lockstep on the need to increase cybersecurity protections over the upcoming year, cited by 31 percent of IT leaders and 32 percent of LOB, in addition to growing the business — a core initiative cited by 33 percent of IT leaders and 26 percent of LOB.
As far as specific technology investments go, for 2018, CIOs' preferences and the priorities of LOB differ. The top technology investment for 2018, according to 35 percent of CIOs surveyed, is in the area of enterprise applications; only 19 percent of business respondents said the same. CIOs are also prioritizing data and business analytics tools (33%) more than their business colleagues (21% of LOB). However, both groups advocate strongly for investments in security and risk management technology, as cited by 28 percent of CIOs and 24 percent of LOB respondents. This continues the uptick in security-related spending from last year, a result of increasing concerns about the continuous spate of high-profile data breaches and cyberattacks.
"Security is a very big thing for us, as we keep data on a third of the U.S. population, including health and prescription records," says Steven Gruyters, enterprise portfolio delivery director for CVS Health. "We have a big target on our back because if some hacker gets in, they hit the mother lode. Our level of scrutiny for security is higher than the average company."

The state of 'shadow IT'
One possible driver for improved alignment and collaboration between IT and LOB is the fact that a greater percentage of the technology spend is being shifted to functions outside of IT — a trend cited by 86 percent of respondents to the 2018 State of the CIO survey. Marketing (42%) and operations (35%) hold the highest percentage of the technology purse strings outside of the traditional IT budget. Regardless of the emergence of so-called shadow IT, the technology group still controls 71 percent to 90 percent of the budget for technology products and services for nearly a quarter (24%) of the companies surveyed. Moreover, that particular breakdown isn't expected to change much over the next three years as IT maintains control over the same share of tech budgets for 20 percent of responding companies.
Even when business units go off and make shadow IT investments, almost half (47%) say there is still some level of shared project oversight with the IT organization, and 23 percent say IT still plays an advisory role. Only 2 percent of responding companies say IT plays no role whatsoever when a business unit makes technology purchases on its own.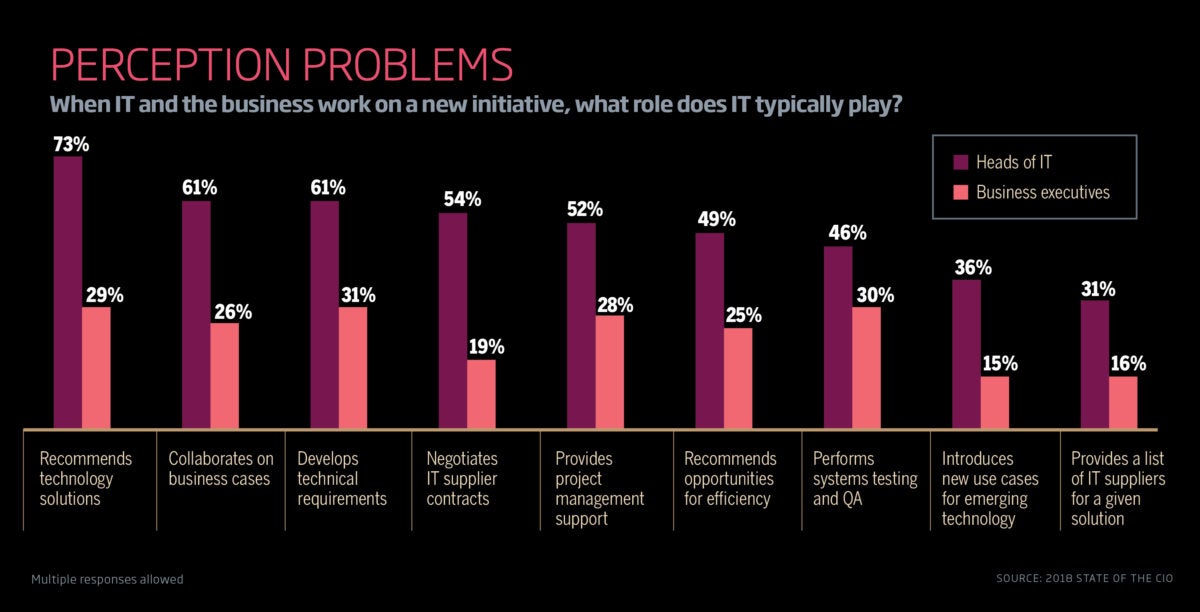 "There is a significant spend coming out of business … and you don't want to stifle that," notes David Berry, who has worked as a contract CIO in a variety of industries, including retail, cosmetics and aerospace. "There just needs to be alignment and conversation on how the money is spent — it's all about trust and relationships."
Building lasting relationships
Technology's starring role in digital transformation provides some context for the warming relationship between IT and LOB, but there has also been a lot of hard work and specific measures put in place to foster improved alignment and effective collaboration. One of the more popular tactics is having IT work with business units to develop consensus around the prioritization of IT projects — a practice cited by 54 percent of IT leaders. IT leadership is also spending a majority of its time with the business (38%) and ratcheting up work on improving the IT governance process (29%). Employing agile development techniques to accelerate project delivery was another effective measure that drew support from the business, cited by 27 percent of IT heads.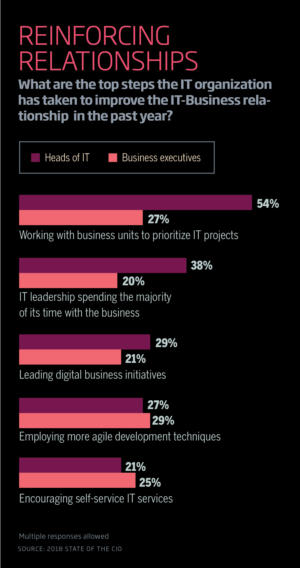 At CVS Health, consolidating disparate project management groups sprinkled throughout the company into a single project management office (PMO) with representation from both IT and LOB has been instrumental in fostering a deeper level of collaboration and a better understanding of shared business goals, says Gruyters. "With a single PMO, the advantage is you can see what needs to be done from a technology perspective and understand what the business is asking for along with all the other constraints," he explains. "We get a much better sense of what's going on and work together with the business after defining their need. That makes us more of a partner with a seat at the table rather than just delivering a component of the overall program."
While CIOs across the board are energized to elevate IT and business alignment, efforts to improve the working relationship are more pronounced among CIOs who characterize themselves as transformational or strategic CIOs. For example, 47 percent of functional CIOs work with LOB to build a business case for new technology initiatives, while 65 percent of transformational CIOs and 68 percent of strategic CIOs participate in that same practice.
Strategic and transformational CIOs are also more likely to have established a relationship with LOB whereby they are frequently called on to meet with external customers. Sixty percent of functional CIOs or their direct reports meet frequently or occasionally with external customers, compared to 71 percent of transformational CIOs and 82 percent of strategic CIOs.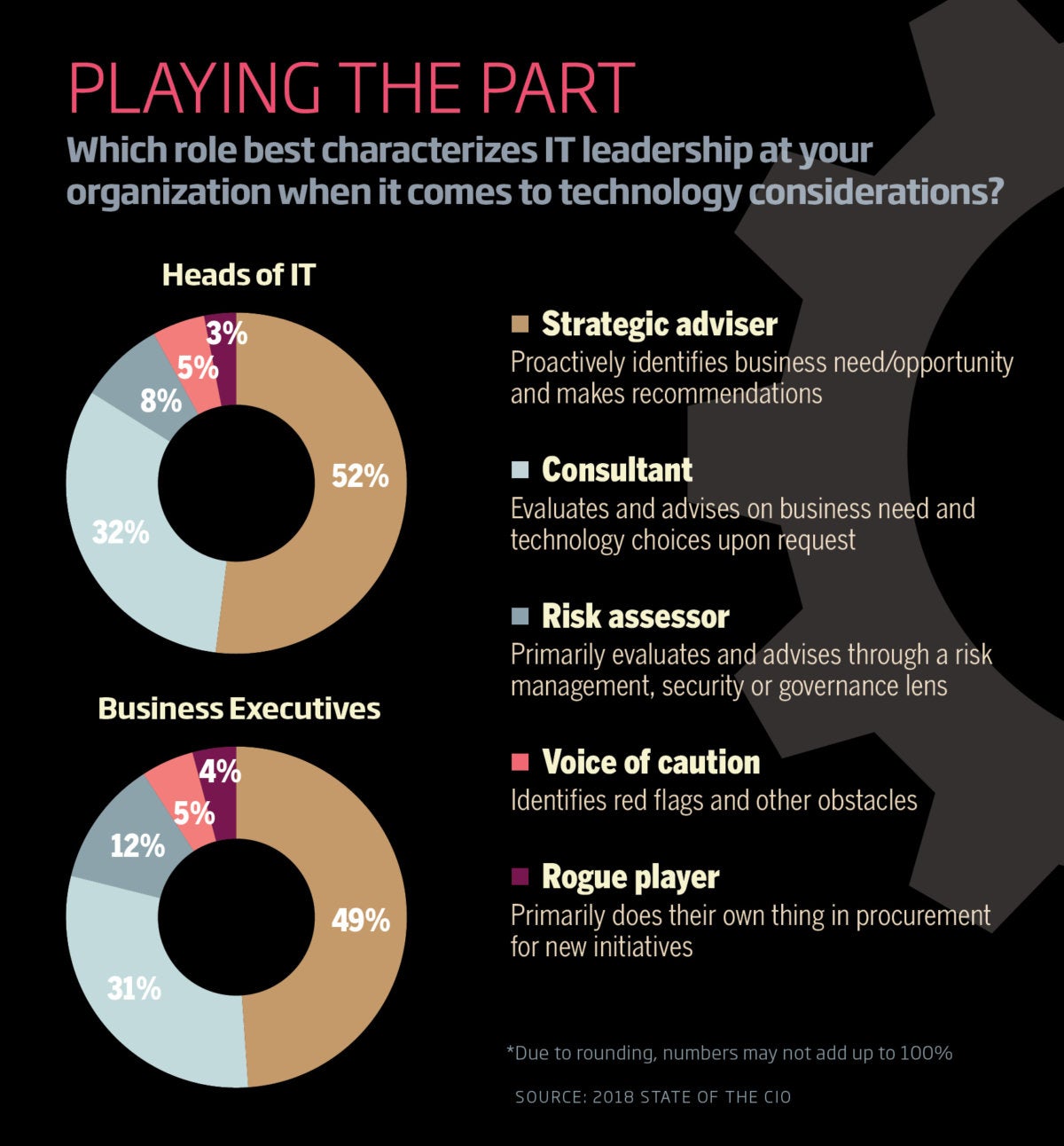 At Alvarez & Marsal, the IT organization is now routinely tapped by colleagues in the business ranks to participate in customer meetings. IT's expertise, particularly as it relates to technology strategy and operations, cyber-risks and service level agreements, has also become a critical asset in pitching new Alvarez & Marsal business opportunities, says Garcia.
By making a commitment to continuously nurture the IT-LOB relationship, Alvarez & Marsal has not only achieved alignment but fostered trust. "We are now part of the conversation … and that would have been unheard of a while ago," says Garcia. "It's a direct result of the engagement model with business — they have enough trust to have us sit down with their clients and to help earn new business. That's a big change."