Research has shown that about half of all adults make New Year's resolutions. However, fewer than 10 percent manage to keep them for more than a few months. With that in mind, we recommend CIOs stick to a single resolution for the remainder of this year: rethinking your IT budget.
Addressing current challenges
In the eyes of some business leaders, IT spending is out of control. The culprits? Weak governance, historical budget allocations and overreliance on industry benchmarks.
Weak governance. Weak governance can lead to lack of accountability. One CIO who had a massive backlog of IT projects struggled to meet business demands for years. After investigating the root cause, he discovered that business leaders significantly exaggerated the business benefits of their IT projects to gain higher priority; no one measured actual benefits.
Historical budget allocations. Treating operations costs as fixed is a common folly. For many years, 70 cents of every IT dollar spent supported existing business operations. With the shift to the cloud, that figure is closer to 60 cents now.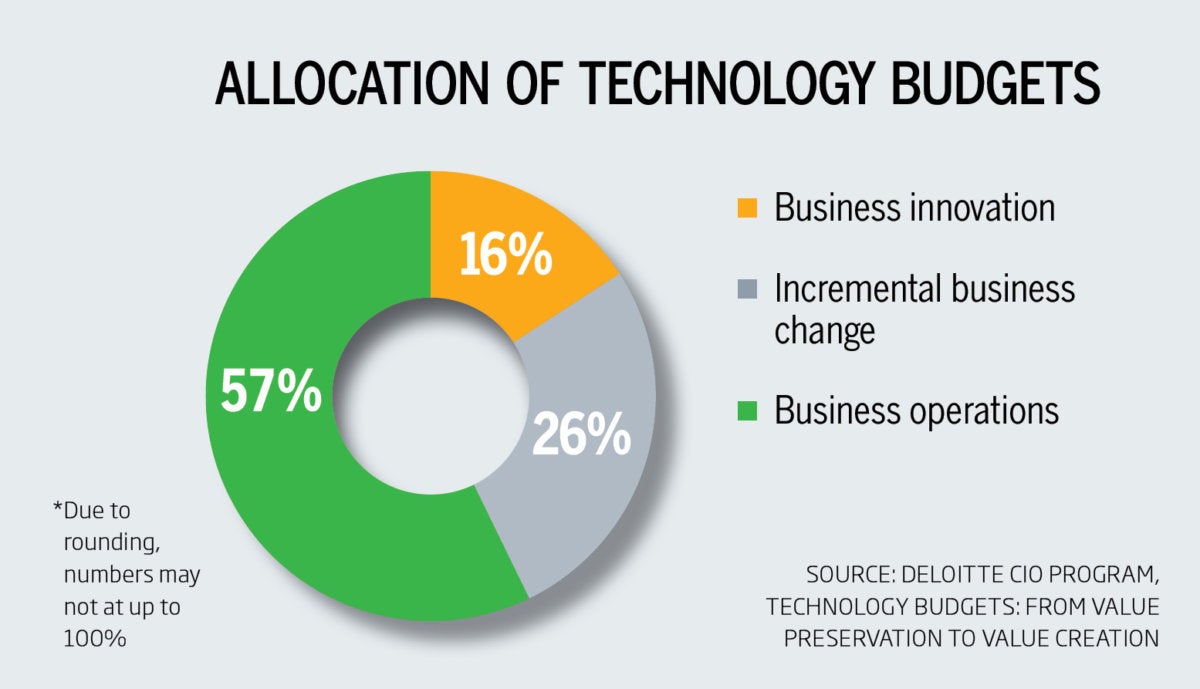 Overreliance on industry benchmarks. Many industries have relied on peers to help them define their technology spend, believing that companies in the same industry or sector have similar technology needs and thus similar technology budgets. That doesn't hold true anymore thanks to technological disruption blurring lines across industries. Other factors that skew industry averages include legacy systems, upgrade cycles, historical investment mix, maturity of IT processes and multiple companies with one-time transformation expenses.
Clearing misconceptions
To set and keep New Year's budget resolutions, CIOs must break down three commonly held misconceptions: that increased IT budgets symbolize the value of IT, that shadow IT can be helpful, and that every IT investment should have positive return.
Higher budgets don't necessarily mean higher value. Research by Deloitte shows a majority of CIOs reported budget increases compared to last year, but larger IT budgets may not be optimized budgets. In fact, we find that CIOs in high-performing companies spent significantly less on IT as a percentage of revenue compared to their peers. One of the most significant predictors of business value is the clarity of business expectations and IT's capability to fulfill those expectations.
Shadow IT is not always helpful. Many CIOs are told to embrace (or ignore) shadow IT because it provides business agility and lessens the burden on IT. Our research reveals that CIOs in high-performing companies control 10 percent more of the overall technology budget compared to their peers. Centralized control of technology spending can bring efficiencies, integration and resilience. One organization discovered that shadow IT caused three significant silos over a two-year period.
Not every investment must have a positive return. Taking a portfolio approach for tech investments may sound scary, or unrealistic, but such an approach may help CIOs optimize their value. Like a mutual fund or a stock portfolio, some investments will deliver outstanding results, while others will be mediocre or lag behind. One CIO in healthcare is investing in dozens of startups through a venture fund to balance out the tech investment portfolio.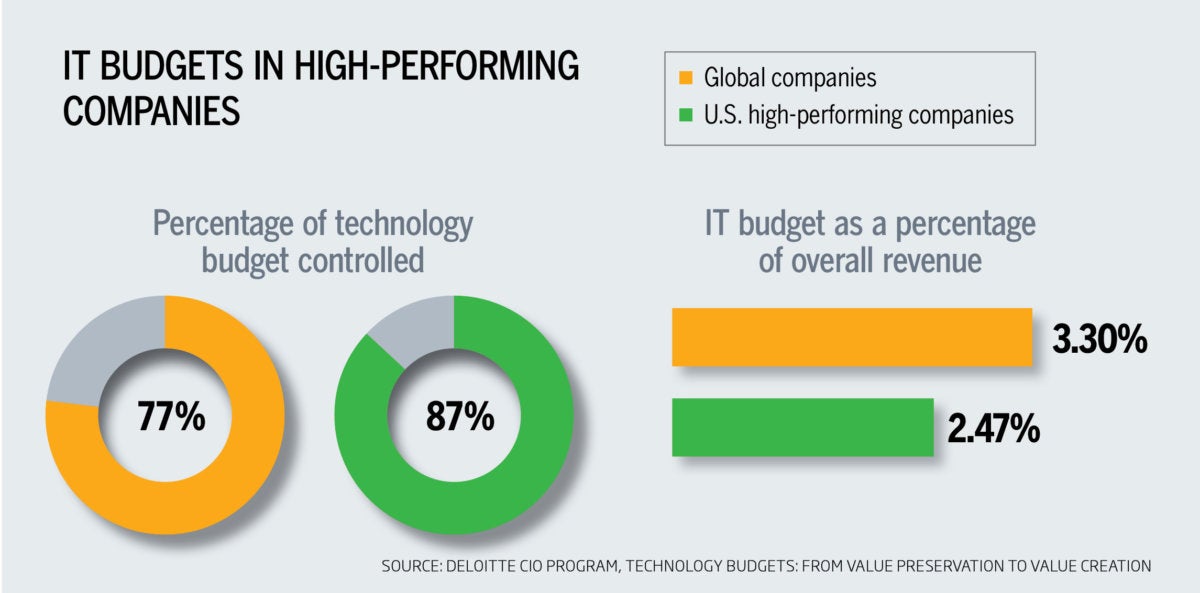 Better budget habits
Finally, we suggest developing these budget-related habits:
Build a strong IT finance capability. It's increasingly difficult for IT finance — including financial planning and the measurement, management and communication of ROI — to be managed by a part-time or dotted-line resource. Building a strong IT finance capability can optimize spending and help increase transparency and build trust that IT investments are generating value.
Design adaptive budgets. The traditional annual budget cycle may soon become impractical for IT. Adaptive budgets start with an estimate but are not set in stone, with course corrections made periodically to meet demand. Traditional annual budgets assume knowledge of all the business and technology changes that will occur throughout the year; adaptive budgets start with an estimate and adjust as changes occur. Traditional budgets are also wedded to historical spend and constrained by existing IT capacity, while adaptive budgets reallocate spending as business priorities change and adjust capacity as needed.
Develop joint accountability. IT function and budgets have remained siloed for so long that it may feel unnatural to fuse technology and business for joint business outcomes, but this may soon be the only choice for CIOs. One CIO in a financial services company builds "joint ventures" with his business peers where both leaders pitch the business case, and if the project gets approved, each leader makes a commitment to contribute the funding and resources for the project. At completion, both leaders are accountable to measure and report the ROI.
As with any good resolution, it's important to be realistic (about current IT capabilities), share your resolution (with your business peers) so you can be held accountable, and find willing (business) partners that can work with you to achieve your goals. Good luck!
This article originally appeared in the Winter 2018 issue of the CIO Digital Magazine.