Last week Cisco held its annual Collaboration Summit under the warm skies of the Arizona sun. The event has become the primary vehicle for Cisco to showcase what's new in the world of collaboration and provide some vision as to where the industry is going.
Historically, the collaboration industry was something that telecom and network managers cared about but got very little in the way of CIO interest. However, times have changed, and it's become something that the C-level should take seriously.
In the digital era, competitive advantage is based on business agility, and that means being able to make the best decision, with the right people and information in as short a time as possible. This means collaborating with others needs to be efficient, meetings need to start on time and end on time, information must be easy to disseminate, and users must be able to interact with one another as if they were sitting in one place.
During his keynote, Rowan Trollope, Cisco's SVP and GM of Applications, discussed Cisco's vision of the future of collaboration in which things just work. The quagmire of systems, cables, dial-in numbers, long PIN codes, and other things that get in the way of working, must go away and be replaced with technology that is easy to use, buy, and manage.
It's with that vision in mind that Cisco made a number of significant announcements, the highlights of which are below:
Cisco Spark and WebEx rebrand to Cisco Webex
Prior to the rebrand, Cisco had two cloud collaboration brands — WebEx, which is best known as an online meeting provider, and Cisco Spark, their team collaboration tool. Cisco recently added a third brand, BroadSoft, which provides multi-tenant cloud-calling, but that brand is largely hidden from most users.
The multiple brands seem straightforward, but there was some overlap between products that caused confusion for users as to what to use when. And the strong Cisco Spark push created the perception that Cisco was no longer investing in WebEx. Post rebrand, the products names will be as follows:
Cisco Spark -> Cisco Webex Teams
Cisco WebEx Meeting Center -> Cisco Webex Meetings
Cisco Spark Calling -> Cisco Webex Calling
Cisco Spark devices -> Cisco Webex devices
This evolution actually goes much deeper than just the brand. The back-end clouds have been integrated, so there's a common platform that enables a common experience across the different applications. This enables organizations to choose from a menu of cloud options for calling, meetings, and team collaborations and easily expand into other areas as it makes sense for their business.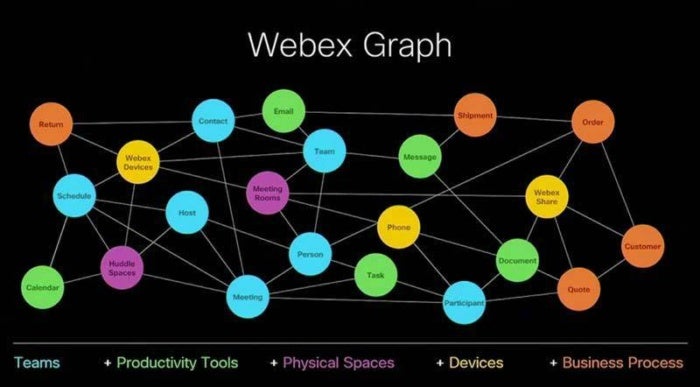 Webex Teams and Meetings get a makeover
In addition to going through a rebrand, Cisco gave both Webex Teams and Meetings a facelift. The changes to Webex Teams were designed to give Teams more tools at their fingertips versus being primarily messaging focused. Also, with Webex Teams, there is no longer a meeting leader. Instead, the tools have been completely democratized, so anyone can start a meeting, mute another individual, or do other tasks typically reserved for a meeting host.
Webex Meetings also got a significant facelift. The product has been completely redesigned to be video first to better reflect how in-person meetings work. With live meetings, workers sit down and have a discussion first and then get into content — or not. The previous version of Webex was mostly focused on content with the people being secondary. Now everyone joins via video as the default, creating an in-person meeting-like experience.
When content is brought up, it occupies one of the panes like everyone else. Each user is able to customize their screen as they see fit. Some might focus on the active speaker, others solely on the content, and others on particular individuals. The new Webex Meetings lets workers move screens, as well as enlarge and "pin" the ones they want to see.
The mobile version of Webex Meetings also got an upgrade. Workers using a mobile phone will see a 2×2 grid in landscape mode and can swipe to see more participants. When holding the phone upright, the display will be 1×2. Video-first is now the way for Webex Meetings regardless of device.
Why CIOs should care: Meetings are more efficient with video. In fact, a recent survey by ZK Research found that meetings are 73 percent more likely to end on time with video than without. (Note: I am an employee of ZK Research.)
So why doesn't everyone use video? There's still a certain stigma about people being on video, so if the default is off, people leave it off. The new meetings interface defaults to video and ensures everyone is on so individuals won't feel so awkward. In an era where making decisions quickly is important, video-based meetings can facilitate that, and the new Webex Meetings can help.
Augmented reality in Webex Meetings
Topics like virtual and augmented reality (VR and AR) have been hot in the consumer world, but not so much with businesses mostly because no one has figured out a practical application. At Collaboration Summit, Sr. Director Angie Mistretta gave a preview of AR running inside of Webex Meetings. In her demo, she dropped in a virtual Cisco Webex Board, making it possible for meeting participants to view it as she walked around it, rotated it, and resized it. This feature will be enabled initially on Apple devices, but I'm anticipating this to eventually be available on all devices.
Why CIOs should care: People don't just collaborate with people. It's common to discuss things, as well. Picture an engineer wanting to work on a jet engine with others. Virtual "things" make it possible for geographically dispersed teams to interact with objects as if they were in the same room and picture objects as they would exist in a new environment. This could drastically change how design teams, engineers, architects, and others work with one another.
Introducing Cisco Webex Share
Cisco's broad line of meeting room systems and interactive boards has changed the way people collaborate. Some Cisco customers have told me that the rooms that have been outfitted with these new devices are booked all day, every day because it makes working together so easy.
However, there are literally tens of thousands of rooms all over the world that don't have one of these advanced devices and have a more traditional display or TV in it. For those rooms, Cisco created something called "Webex Share," which is a small dongle that has an HDMI interface on it. Plug into the display and boom — instant Webex room. It's enabled via the cloud, so there's no configuration required and can be paired just like any other Webex endpoint.
Why CIOs should care: Businesses may have a desire to turn every meeting space into a rich, next-generation collaboration room, but in practicality, every organization likely has some assets that aren't ready to be discarded. Webex Share is an easy, fast, and low-cost way to get an enhanced meeting experience everywhere.
Cisco changes pricing model to Flex Plan
When Chuck Robbins became CEO of Cisco, one of his promises was to make the company's products easier to purchase. Anyone who has purchased Cisco Collaboration technology knows their pricing was complicated and confusing and could be the reasons why companies delay moving forward with a project. For example, if a business is only one-third of the way through a three-year contract with on-premises equipment, it likely won't move to a new platform until the existing contract terminates. That might make financial sense, but staying with the old could be a mistake from a productivity standpoint.
The Cisco Collaboration Flex Plan is designed to give customers the best of both worlds. With this pricing model, customers that want to switch from their current solution to Webex will receive a credit for the remainder of the contract when they make the switch. Also, the Webex meeting subscription includes bundled meetings, audio, and storage for up to 1,000 participants but only pay for what they consume. Cisco also revamped the user interface on the portal to make ordering easier.
Why CIOs should care: Contracts and licensing terms should not be the reason why a business can't move forward with new technology solutions. Flex Plan gives companies the ability to adopt Webex tools without having to worry about existing contracts or licensing terms.
Cisco Webex will soon have an AI assistant
Many of us have been experimenting with voice-enabled AI assistants like Siri and Alexa. These might be fine to tell us the weather or who won the Red Sox game, but they're not very useful in the workplace. Cisco introduced its assistant, "Webex," that can end make meetings better.
The AI assistant has many features you would expect, such as being able to say "Webex, start the meeting," but it does so much more. The brains behind the AI is something called the Webex Graph that maps out a user's contacts, interactions, meetings, and other information to get a better understanding of how that individual works and uses that to make decisions.
For example, if a worker says, "Call Christine," it will list all the Christine's in the company based on information made available in the graph so that the most likely Christine shows up first. Also, if a worker wants to schedule a meeting, the AI assistant will be able to look through everyone's calendar and pick the best time based on availability.
Why CIOs should care: AI has tremendous potential in changing the way we meet and collaborate. So much time is spent starting technology, looking for files, calling people, and inviting individuals that it's amazing we get any work done at all. AI-based voice assistants can take care of the mundane tasks so people can get to work faster and be more productive.
Note: Cisco is a client of ZK Research.