There are four distinct roles that IT can potentially play in its company's Digital Transformation (DX) activities. These roles, illustrated in Figure 1, are Observer, Requestor, Implementor and Leader. The role that IT is allowed to play is based on two primary determining factors, IT's organizational clout within the overall company and IT's willingness and ability to innovate.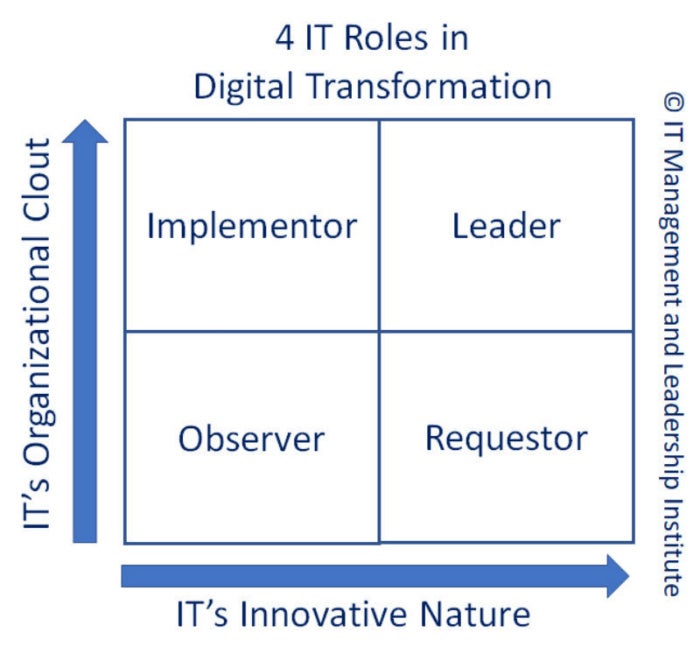 IT's organization clout is the amount of influence, respect and confidence the organization has toward IT. In other words, the organization's willingness to listen to and accept IT's advice and recommendations. IT's innovative nature is IT's motivation and ability to be creative and innovative on behalf of the company as a whole and within IT itself.
As I go through these four types of DX roles, it must be understood, that there is no right or wrong, best or worst, only what's most appropriate for IT and for the overall organization.
As a DX observer, IT is either not allowed or not willing to participate in the organization's DX-related activities. There are a number of reason why IT is not allowed to participate in the firm's DX activities, all of which in one way or another relate to the IT's internal clout. These reasons may be:
Company's overall lack of interest and/or respect for the use of technology, therefore, seeing IT as a necessary evil rather that a competitive weapon
The C-Suite's lack of respect for CIO or IT in general
Technical issues causing the organization to lose confidence in IT
Members within the C-Suite, such as the head of Marketing or Sales, who for business or political reasons would rather have full control of the DX activities affecting their area of responsibility
From IT's perspective, the CIO, or IT group in general, may not be interested in directly participating in the company's DX activities. This could be the case for several reasons, including the following:
IT may be materially underfunded and doesn't have the time to participate
The CIO and/or senior IT team are not professionally interested in participating in DX related activities and feels it's best to be performed within the business areas
The staff within IT are production oriented, rather than innovative or business-oriented by nature and as a result, have no real interest in becoming involved.
As a DX requestor, IT has great innovative ideas, but don't have the internal clout to push its agenda forward. This is the case because those within IT are creative by nature and interested in innovating. Those in IT may even have the culture, IT leadership support, time and tools to innovate. The issue, however, is that IT doesn't have the organizational clout to prioritize non-IT internal tasks. Therefore, IT must first find an executive sponsor outside of IT in order implement their ideas.
As a DX implementor, DX strategy and decisions are made without IT's involvement, but IT plays a major role in the strategy's implementation. This situation comes about when IT has the internal respect of the overall organization from an infrastructure, ongoing production, and project perspective, but it has not been given a seat at the strategy table. This could be for one for more of the following reasons:
The CIO, senior IT team and/or IT staff have not shown an interest in participating in business related issues, including DX
Members within the C-Suite, such as the head of Marketing or Sales, who for business or political reasons would rather have full control of the DX activities that affect their area of responsibility
As a DX leader, IT is playing a major role in both defining the company's DX strategy and playing a leading role is its implementation. For this to occur, IT must have the respect and support of the CEO and most of the C-Suite. This respect comes first through the design and creation of a flexible and cost-efficient computing infrastructure, reliable ongoing production operations, and on-time high quality project execution. In effect, high quality IT services are the table stakes for IT respect and the potential opportunity to be considered a business peer by other parts of the company.
In addition to running a top-notch, effective and efficient IT organization, being a DX Leader requires a variety of business skills and knowledge, not only at the top, but throughout the IT organization. An example of this skills and knowledge can be found later in later in this blog, within Step 2.
Your roadmap to DX leadership
Before discussing how to change your IT organization's current DX role within your company, I would like to reiterate, that there is no right or wrong, better or worse, there is just what makes the most sense for your company, IT as a whole, and those employed within the IT function.
Assuming you would like your IT group to move toward being a DX Leader within your firm, there are realistically only two possible paths to pursue;
Observer to implementor to leader
Observer to implementor to requestor to leaders
The reason there are only two paths to IT DX leadership is because IT must first have the organization's technical respect and trust, created by flawless IT execution. Without it, IT will never gain the organizational clout to be the business partner, technical thought leader and internal change agent, that DX Leadership requires.
The steps to make this organizational journey are listed below. Your goal is to assess each step and decide which steps are required, given your IT organization's internal clout, and innovative nature.
Step 1: Achieve organizational technical respect for IT through flawless execution
The business community (those outside of IT) think of IT as a single entity. I l call this the "One IT" concept. As a result, all interactions between IT and those it supports, whether it's a call to the Help Desk, implementation of a new application, using email, or other IT-related touch, causes them to make an opinion, good or bad, about IT in general. Therefore, to maximize IT's reputation, it must be as flawless as possible in all client-facing interactions.
Step 2: Gain IT business respect through business understanding and non-technical engagement
Business-related respect is within the grasp of all IT groups. It's attained by providing IT employees with formal and/or informal training in the following areas:
Required business knowledge

Your company's business long term vision and short-term objectives
Your company's business strengths, weaknesses and risk tolerance
The organization's overall on technological innovation
Business and technical trends within your industry and other industries
IT's role in the company competitive edge, productivity and overall profitability

Required business skills

Personal and organizational emotional intelligence
Strategic thinking and planning
Interpersonal communication, including storytelling, questioning, active listening, writing skills and presentation/public speaking ability
Business skills including influence, negotiation, change management and conflict resolution
Step 3: Increase CEO/C-Suite willingness to listen to and consider business-oriented innovative coming from the CIO personally and/or those with IT as a whole
Being realistic, in some companies this will never happen, in others, IT plays a leading strategic role, and most companies are somewhere in the middle. That aside, the combination of Steps 1 and 2, combined strong business acumen, business sense, good ideas, and interpersonal communication can, over time, give IT a voice at the proverbial business table.
Step 4: Enhance IT's creative and innovative nature and ability
If IT wants to be viewed as innovative, it must be willing to innovate. Creating and maintaining an IT innovative culture a difficult and methodical process. That said, my next post will discuss fostering an IT innovative culture.
Step 5: Internally "market" IT's competence, creativity and innovative nature
Don't let IT's great work be the company's best kept secret. The majority of IT's work is often in the shadows, outside the view of those it supports. Also, because of IT's overall reliability, IT as become like the electric company, 100% uptime is assumed. As a result, IT doesn't get any credit for its continuous production quality. This means the only time people think of IT is when a system goes down, project work is required, or an IT cross-charge is digging too deeply into someone's department budget.
If you want IT to be viewed as creative and innovative, be willing to talk (not brag) about the magnificent work IT is doing on behalf of the company. If you, the CIO doesn't talk about it, who will?
Step 6: Move IT's reputation from "Technology Subject Matter Expert" to "Business Thought Leader and Internal Change Agent"
For IT to be a true leader in DX, or at least a valued player, it must be more than simply the technology experts. IT must be seen as a collection of business people who have a strong understanding of technology. It's this "business first, technology a strong second" attitude that transforms IT from a vendor-like support function into a DX thought leader and the organization's internal agent of change.
In closing, this article is the perfect example of "it's easier said than done." This post should be viewed as a conceptual framework and food for thought on how to position IT in a way that is best for your company, IT, and all those working within the IT function.