Few companies can simultaneously trace their roots to the Great Depression era and consider themselves "digitally native." Synchrony Financial, the $13.6 billion consumer financial services company and private-label credit card provider, is one among that unique bunch.
Synchrony spun out of GE in 2014, right smack into the surging world of fintech that now includes hundreds of competitors and disruptors. Even before its IPO, Synchrony executives knew they had to reimagine the organization more like a startup than a decades-old incumbent, said Carol Juel, Synchrony's CIO.
"We were taking what is now a Fortune 200 out of a Fortune 10," Juel said. "We got to build the technology foundation literally from the infrastructure up, and we spent a lot of time thinking about the design of a financial services company with everything that's happening in our industry, from information security, to the future of cloud, to the future of AI."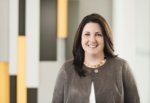 Juel and her fellow executives complemented these emerging technologies with an innovation framework aimed at helping partners find faster paths to value. The beating heart of that framework is Synchrony's Innovation Stations, a network of four innovation labs in the U.S. and India.
Innovation Stations team with Synchrony's retail, merchant and provider partners to create new applications, plug-ins and capabilities aimed at delivering better products and services for their customers.
Juel said much of the magic in the Innovation Stations come from collaborations between Synchrony teams and external partners—often in one-day prototyping meetings called "bolt sessions," where agile teams from the labs build a working software prototype that addresses a business demand.
"That ability to give people something tangible—that's clearly the [desired] outcome," Juel said. "An idea is an idea, but when you actually feel it and touch it, it makes the business case that much more compelling."
Bolt sessions and Nerf guns
Synchrony has opened Innovation Stations in multiple locations. The Kettering, Ohio lab specializes in digital and mobile platforms, while the Chicago lab focuses on analytics. Synchrony's Hyderabad, India, lab builds next-generation customer service offerings.
The first Innovation Station, though, is located in a largely residential neighborhood in Stamford, Conn.
There, visitors can find some of the usual trappings of a fast-paced innovation lab: Colorful walls; Nerf guns; and a mix of conventional workspaces and standing desks. There's even a wall where visitors, including Synchrony board members, leave messages and signatures. Employees rotate desks every few months; the teams are cross-functional and agile, as is the culture.
The Innovation Station staff Is plucked from different disciplines—technology, marketing, operations, and so on—based on their successful track records. But assignment to the lab is hardly a sabbatical. "The folks who work in our Innovation Stations are our best and our brightest," Juel said. "They get a lot of love, but to whom much is given, much is expected. You have to produce."
And they've done just that.
The teams have conducted more than 50 bolt sessions across the Innovation Stations. After those sessions, Juel said, Synchrony literally hands code back to its partners to show their companies. "Those teams come up with working prototypes," Juel said. "Then it becomes a co-development opportunity for our teams."
All in all, Synchrony's teams or their partners have brought to market 30 to 40 percent of the concepts emerging from the bolt sessions, the company said.
One tool, Synchrony Plug-In (SyPi), can be embedded in a retailer's app to let users apply for a credit card or perform basic account services. Since SyPi's launch in 2017, Synchrony's team has added several capabilities, from using geo-location technology to target offers based on a user's proximity to a store, to pushing notifications about specific credit offers from the retailer. Synchrony built SyPi with talent and other resources from GPShopper, a mobile application development company it acquired in March 2017.
Another Innovation Station breakthrough is new voice capability for customers to check account balances, recent transactions and payment due data for their Amazon.com card via Amazon's Alexa voice service. In the interest of appealing to more users, Synchrony is also developing similar capabilities for Google Home.
Maintaining support
While Synchrony built the Stamford Innovation Station as an actual working lab—and not just a showcase—it opened in January 2018 a new space for partners, visitors and employees to demo the new and emerging tools.
The showcase area features different pillars of capabilities: Those that are ready for deployment, close to launch and in the research and development phase.
Leave alone the deviation from Innovation Station's mission of "not [being] a show-and-tell lab," as Florin Arghirescu, senior vice president of technology and payment innovation at Synchrony, who is one of the leaders of Innovation Station, said. That pipeline—now much more visible and accessible to all—is the reason why Innovation Station has grown.
"The key is, the results are clear," Juel said. "We're oftentimes being asked to do more than we're already doing. So the demand is exceeding the ability we have—that's where we are."
The company's executive leadership and board have taken a hands-on interest in the Innovation Stations and the overall innovation strategy, Juel and Arghirescu said. The leadership team—including CEO Margaret Keane—routinely reviews outputs from hackathons, and the board members often visit the labs. Moreover, the board includes several technology experts that "understand the rationale" for the larger innovation framework, Juel added.
"When you look at our B2B2C business model, at the amount of transformation that's happening in our industry, at innovation being at the core of Synchrony and how we view ourselves," Juel said. "There's so much energy around this and support."
One of the key aims of the Innovation Station teams is to spread that energy across the company. There's an open-door policy at the labs for all employees—not just for executives and board members, Arghirescu said. While the team members occupy most of the space in the facilities, they leave open workstations for employees to come in and work.
Juel said that openness creates what she calls "productive eavesdropping." Employees from outside the labs can come in and learn something new by watching the teams work, and they can also get inspiration to push ahead with ideas they might have.
That intermingling helps evangelize the work the Innovation Station teams do.
Still, despite the support, Arghirescu says the Innovation Station teams know—to Juel's earlier point—that they need to keep producing. "We don't take that for granted," he said. "Every day starts fresh. Every day we need to build our credibility to continue that level of support."