Boasting a line-up that includes All-Stars Stephen Curry, Kevin Durant and Draymond Green, it's hard for the Golden State Warriors to improve the product it puts on the basketball court each night. Even so, the organization's technology team is raising its game, launching chatbots on multiple platforms and experimenting with virtual and augmented reality to curry more favor with fans.
The Warriors are also seeking new ways to use data analytics to better personalize the fan experience, including more convenient ways to purchase food, beverages and merchandise, Jennifer Millet, Golden State Warriors vice president of marketing and digital, tells CIO.com as the Warriors prepare to battle the Houston Rockets for the Western Conference championship.
The Warriors, which have won two of the past three NBA titles and averaged more than 60 wins per season for the past four years, have a dynasty in the making, on the court. Here's how the organization's digital team is gearing up to extend that success in the arena of customer experience.
Chatbots on fans' platforms of choice
The Warriors' digital strategy mirrors that of most traditional enterprises. Virtually every company is experimenting with new ways to enhance the customer experience. Sometimes this requires cutting-edge innovation in machine learning and artificial intelligence. Sometimes it includes better process automation that streamlines consumers' ability to make purchases. Fans of professional sports teams also expect frictionless access to information and content, as well as the ability to conduct transactions seamlessly, from any device.
In that regard, the Warriors are like any other company trying to reach consumers on their platforms of choice. For Warriors fans, that includes instant messaging tools on two of the world's largest social communication platforms, Facebook Messenger and Rakuten's Viber. Building the best chatbot experiences to meet consumer expectations on each platform is critical for expanding the Warriors brand. "We think there is a huge opportunity on the platforms that they already use," Daniel Brusilovsky, Warriors' digital initiatives lead, tells CIO.com.
The Warriors last year launched a Messenger chatbot, built by Chatfuel, which consumers query for information about parking facilities, when the doors open or where the closest ATM or concession stand is in the team's home Oracle Arena, for example. Fans can also access live news updates, highlights and player stats, as well as get help purchasing tickets or merchandise.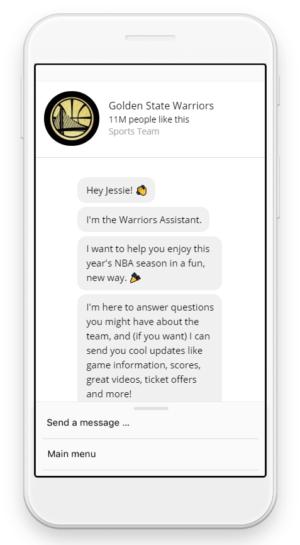 To cater to the Warriors' international fanbase, the digital team this year launched a chatbot in multiple languages on Viber, which is popular in Europe and Asia. The agreement with Viber, part of a three-year, $60 million marketing deal the Warriors inked with Viber parent company Rakuten, includes digital sticker packs, which consumers download and share via instant messaging like emoji. The stickers display cartoon likenesses of Durant, Curry and other Warrior players, such as Zaza Pachulia, who hails from Georgia.
Augmenting the fan experience
Like many professional sports organizations, the Warriors are also testing VR and AR with fans. In 2016, the Warriors teamed up with Accenture on Fannovate, an initiative to deliver fans attending a game VR content through a lightweight VR device. The tool allowed fans to experience a game day in the life of the Warriors in VR.
In 2017, the team partnered with Helios Interactive to let attendees of the Chase Center groundbreaking ceremony don Microsoft HoloLens AR headsets to see a miniature 3D rendering of the stadium overlaid on the actual site. Guests explored the arena by walking around the projection. The Chase Center is expected to open for the 2019-2020 season.
"We've been empowered to think about things differently," Brusilovsky says. "The greatest part is we're just getting started."
For example, Brusilovsky says the Warriors are contemplating ways to extend AR functionality to fans' smartphones, potentially providing a game experience akin to Pokemon Go to engage fans in a brand-building experience without requiring a headset. But that project is in its early stages, and Brusilovsky and Millet are also mindful of introducing too many tools that could detract from the real reason fans attend: the entertainment on the court.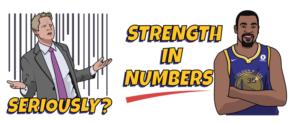 "We don't want to get in the way of that or distract from that," Millet says. "We don't want people heads-down, drawn into a silo of their own device."
Personalized services with an assist from analytics
The Warriors are also looking for other ways to improve the fan experience, ranging from providing frictionless commerce experiences to perfecting how to marry purchase intent with targeted, relevant offers. For example, Millet and Brusilovsky are mulling how to better facilitate purchases during games, which could include "cashless" options that allow consumers to pay for food, beverages and merchandize by phone. Other options could include enabling fans to order concessions from their phones and have those orders delivered to them in their seats. There are no solutions pending, as the organization is still trying to work through scenarios that would appeal to fans.
For that, the Warriors need to analyze data. Lots of it. Millet is working with her senior director of analytics to craft a 360-degree view of the customer that could, for example, combine credit card data on fans' ticket, food, beverage and merchandise purchases, as well as third-party data, to figure out how to deliver fans relevant offers, including suggestions for other events happening at the Oracle Arena and, later, the new Chase Arena.
"What we need to do is build toward marrying that data toward one dimension," Millet says. "It's a huge priority for us going forward."