Everywhere you turn enterprises are setting up innovation centers, labs and digital accelerators, places where software programmers can hack together some incomplete ideas into something usable for their businesses. But here's the dirty little secret about innovation centers: There are no guaranteed outcomes.
Companies will allocate a certain amount of budget and resources to such endeavors and hope for the best. But even in an age where companies are expected to rapidly build, launch and refine digital products, software created in innovation centers often fails to find its way into corporate development, let alone make it to commercial production.
[ Learn why design thinking is the secret to digital success | Read how home service giant ServiceMaster embraced agile as part of a broad digital transformation | Get the latest insights by signing up for our CIO newsletter. ]
TD Ameritrade CIO Vijay Sankaran is determined to break that cycle with the online broker's innovation center. Originally launched in 2014 as an incubator with three employees, the Ann Arbor, Mich. facility has grown to more than 140 techies and has become a full-blown product engineering hub that is a launching pad for new digital products. Buoyed by agile software development, devops and other modern best practices for building digital products, the center recently launched a roboadvisor application and is poised to launch applications that tap artificial intelligence to make trading more efficient.
Innovating your way to disruption
TD Ameritrade's emphasis on emerging technologies shouldn't come as a surprise. An online broker before e-trading became fashionable, the company is seeking to become more of a disruptive force in the financial services sector. "There is an opportunity to leverage digital technologies to continue to disrupt," Sankaran says. "We need to modernize ourselves to be more like an Amazon or Google or fintech out in Silicon Valley."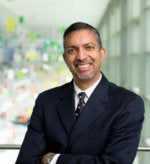 It's hard to find a hotter technology in financial services than roboadvisors. Launched last fall, TD Ameritrade's Essential Portfolios roboadvisor enables long-term investors to choose an investment plan for crucial financial goals, including retirement, college or home purchases. Using the app from computers or smartphones, clients can dial up or scale back their contributions and view a graphical projection of their investments over time. TD Ameritrade will eventually allow clients to aggregate non TD Ameritrade accounts. "It's becoming a digital financial cockpit for our self-directed, long-term investors," Sankaran says.
Many industry watchers eye roboadvisors with suspicion, as they are ostensibly replacements for financial planners at a time automation is viewed as a threat to jobs. But Sankaran says some TD Ameritrade investors use both roboadvisors and financial planners, comparing advice and recommendations from each to round out their planning.
Continuing in that automation vein, the innovation center is also driving TD Ameritrade's venture into virtual assistant technology and is ramping up bot production. Earlier this year, the company hosted a hackathon, called a "thinkoff," in which the company's software developers built bots to connect with consumers. Sankaran says he expects 6 out of 10 bots created at the event will go into production in the next couple of months.
One bot, built for Facebook Messenger and coming in a couple months, will allow clients to log into the social messaging app to conduct question-and-answer sessions for information on balances, positions and real-time quotes. Eventually, TD Ameritrade will expand the bot's functionality to allow clients to open accounts, close out positions and execute trades.
Harnessing application programming interfaces (APIs) that will enable the company to connect bots with existing digital services without a lot of additional development, TD Ameritrade plans to build text and voice-based bots for WeChat, Amazon Echo, Google Home and other popular consumer tools. This API set will also enable the company to extend the reach of the Essential Portfolios roboadvisor to Amazon Echo, Google Home and other assistant tools.
Emerging technologies require modern methodologies
Getting products from innovation center to production isn't a matter of flipping switch. Sankaran says he has turned to agile, design thinking and lean startup methodologies for quickly building products and adapting rapidly to changes. Prior to Sankaran's arrival, most software development was conducted in waterfall methodology. In this model, the business units write stacks of software requirements and hand them off to IT to build over several months. Today TD Ameritrade software developers huddle with product managers and other business unit members to build products, an agile process Sankaran brought with him from Ford Motor Co., where he led application development until 2013.
Sankaran says his team is further shrinking its development-to-delivery windows by embracing devops processes for continuous integration and deployment. He says devops has become a necessity to build products. "If you don't do the devops piece in parallel where you have automated testing and continuous integration and you can deploy packages automatically you create a bottleneck in a different place," Sankaran says. "We've done a lot to allow our teams to build, deploy, and test software very quickly using automated testing routines. The result? Sankaran says the IT department has doubled overall throughput and efficiency in one year.
TD Ameritrade isn't simply whipping up roboadvisors and chatbots rapidly in an agile and devops vacuum. Sankaran says his team is increasingly embracing design thinking, a business philosophy that focuses on crafting a sound human experience that can be turned into a minimally viable product.
His team is working with Pivotal Labs, which helps IT departments properly scope projects with design thinking methodologies. They ask such open-ended questions as, "What would a client want to do with a product and how would they interact with it." The answers help product development teams communicate what they require, including product vision, scope and narrative to IT. Pivotal will typically embed designers with tech teams as the answers crystallize. "It doesn't need to be perfect, just good enough for our customers to try it out," Sankaran says, adding that he expects to bring in more design thinking coaches.
Sankaran says such moves are enabling the innovation center to crank out software prototypes in one to three months and minimally viable commercial products in only six months. It's an audacious goal, but one Sankaran says is necessary for a company looking to create more digital products that will resonate with customers.