There are, perhaps, no more vocal or assertive customers than airline passengers between connecting flights. Sometimes these hungry and harried travelers just need a hot coffee and croissant.
HMSHost, a leading firm in the food and beverage space for travelers, is focused intently on that need. Sarah Naqvi, executive vice president and CIO at the company, describes an IT organization that has "been able to move mountains" on a digital level, accomplishing more in the past "six or seven months than we have been able to do in the past three years."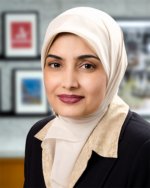 Specifically, Naqvi says several key factors have jointly accelerated HMSHost's agility and relevance to consumers, including a shift in digital governance strategy, key investments in technology infrastructure and a renewed focus on customer experience.
It is a journey that has not been without some difficulties and missteps, she relates. The lessons learned, however, have been invaluable. These process improvements will continue to resonate for HMSHost, situated at the intersection of two hypercompetitive industries — travel, as well as consumer food and beverage — that will continue to face evolving customer expectations, characterized by instant feedback across channels, she says.
Organizing HMSHost's IT team for success
Naqvi began her career at HMSHost as a programmer analyst in 2000. Her years of progressive experience at the organization provided her with a distinct perspective on IT's potential upon her assumption of the CIO role in 2013.
"I started on the journey of innovation, trying to look at a strategy in which IT could play a different role than historically it was known to play — as a support center," she says. "I felt that technology was evolving and maturing at such a fast pace that the IT organization had to play a more significant role in enabling transformation and growth."
The most critical factor was implementing an effective governance strategy around digital. Naqvi sought to simultaneously impress upon peers the criticality of digital processes and attendant investment, address talent gaps through new hires, and align customers' needs with HMSHost's offerings in more concrete ways.
The company hired a vice president overseeing digital transformation, reporting directly to Naqvi. Underneath this vice president are all of HMSHost's project managers, working on anything from the next version of the company's Host2Coast mobile app to a kiosk installation at one of the company's Burger King franchises. Engineers in this division rely on the empirical data that project managers grapple with every day — everything from kiosk utilization to user experience feedback for mobile menus in Host2Coast — to refine consumer-facing interfaces.
Significantly, on the organization chart, customer experience falls directly under the banner of digital transformation. The company's director of experience, Naqvi explains, also resides in the digital transformation group and relies upon a variety of techniques to document how customers spend, what frustrates or delights them, and even "customer flow" — the footprint, defined in minutes spent and footsteps, that every customer leaves behind.
The director of experience, she adds, seeks to "really study each of these locations in depth, understand customer tracks … [ascertain] what the journey is looking like today, and how that journey changes with the introduction of a digital solution."
The digital transformation group's formation, Naqvi continues, presented some challenges that underscored surmountable disconnects between IT and the rest of the organization. Initially, the group was placed directly under HMSHost's separate operations group, but the inherent nature of this organization structure, in spite of good intentions and sincere effort, served only to exacerbate some long-standing communication gaps.
Operations and the digital group, respectively, were "engaging different vendors to address some of their digital needs, but those decisions were being made in isolation of IT's involvement," Naqvi says, leading to negotiations at the margins that created confusion and slowed down some processes. Ultimately, however, the move to instate the digital transformation group under the CIO created the consolidated and streamlined platform by which transparent collaboration could more readily occur.
"I would say, by far, the biggest challenge was finding that pool of people, [and determining] where they belong," she says.
Digital's impact on 'customer flow'
With the digital transformation group in place, Naqvi and her colleagues strategized on how digital could directly impact customer loyalty. She believes customers are very much in a transition phase in terms of how they transact, split between face-to-face interactions with employees and digital inputs.
As a result, she explains, allowing customers to interact with HMSHost on their own terms remains a strategic imperative. Customers can, of course, transact with the cashiers who work at any of the company's airport or travel plaza locations. But they can also order food and beverages from self-service kiosks, tabletop devices that supplement human servers, and the company's Host2Coast mobile app.
The data that Naqvi and her team collect from each of these respective channels varies in type and depth. The speedy kiosk experience, she explains, would be impeded if kiosks forced customers to provide even an email address, while Host2Coast — which features GPS-based directions to HMSHost-operated restaurants, complete menus and food ordering functionality — is far more wedded to mobile user profiles and therefore provides more nuanced data.
This data on customer movement, or "customer flow," helps HMSHost adjust its multichannel strategy. The group found, for example, that when customers interacted with a kiosk to make their food purchase, their average check was 30 to 40 percent more than it would be if they interacted with an employee. The most popular add-on items in the kiosk channel helping to drive this revenue difference were cheese and bacon. Naqvi and her team concluded that the impersonality and convenience of kiosks helped customers feel more comfortable ordering these add-on items.
Multichannel digital strategy is ineffective without simple, clear communication, Naqvi adds. To accentuate the point, she shares how she saw another 30-point revenue difference at kiosks in two separate company-run Burger King stores. The first Burger King had "Express Meal" as its kiosk signage. The second store, extremely comparable in terms of physical footprint and traffic, was far more successful with "Order Here."
"With all of these digital journeys, marketing is the key to success," Naqvi says. "The positioning of your digital assets and their design, the customer journey, and the flow of your information — these are all the factors that can mean the difference between a successful digital deployment and a failure."
Most in-store customers wait the longest during payment. To expedite the payment process and, by extension, increase revenues, HMSHost implemented wearable solutions, allowing customers to push a button from their table relaying their readiness to leave. That, in turn, creates an instant notification on a server's watch.
Middleware and cloud as transformation drivers
Naqvi describes the criticality of the company's middleware stack to their ongoing digital efforts. This middleware platform, she explains, shields vital legacy downstream systems, while allowing the company the flexibility to make rapid consumer-facing, front-end changes. Given HMSHost's array of constituencies — including partners such as airlines and airports, as well as the Transportation Safety Administration (TSA) — such malleability will continue to be key to growth.
This middleware stack represents a set of capabilities that will continue to inform and drive HMSHost's ongoing digital transformation. Application programming interfaces (APIs) in the stack collect order data to drive business intelligence across channels, informing the company on such variables as consumer price sensitivity and cross-sell opportunities. This data, Naqvi explains, is extant in current point of sale (POS) systems but has historically been so "fractured and distributed" as to inhibit analysis.
HMSHost's middleware resides in the cloud, which will continue to offer desirable scalability and cost reductions, Naqvi says. The company will continue to host customer information, such as loyalty program data, in its cloud-based architecture.
Naqvi adds that cloud provides opportunities for the company to make better data-driven decisions. The company can, for example, store and analyze social media conversations identified by its social media monitoring partner, Global Response. And it can help drive internal analytics, such as correlations between employee satisfaction survey scores and external sales volume.
Partnerships key to successful digital transformation
Fundamentally, the story of HMSHost's digital transformation group is one of partnership — both external and internal.
As she looks to the future, Naqvi continues to seek potential external partners to enhance the business. Her ongoing key priorities include security and compliance, given the company's physical locations in airports and the extent of its customer data. While she is open to discussions with any relevant partner, she is especially keen on the smaller players who may not necessarily boast as many time-worn processes, but have proven to be remarkably competent and nimble.
On an internal level, the last several years of digital transformation have proven to be a dynamic crucible of sorts, one in which a new digital group was formed and a new strategy forged. The transformation, she explains, has not been strictly digital, but cultural as well.
Generally, "90 or 95 percent of IT's time is spent on just providing support, and playing the role of a cost center," Naqvi says. "The aspiration that I had was for IT to be an enabler of business transformation, through digital and with our partnership with the business. What I'm most proud of is that we feel that we have arrived. We can see our solutions that are contributing to the bottom line every single day."