When you are the head of Client Services and Technology at a 100-year-old financial services organization, you cannot take a "digital mindset" for granted. Rahul Merchant, who joined TIAA in 2015, tells us how he defines and cultivates digital thinking for the financial services firm with more than $954 billion in Assets Under Management. Hint: It's all about the customer.
————————————————
How do you define "digital thinking" in technology and operations at TIAA?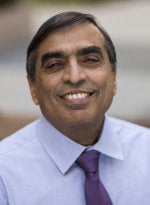 Digital thinking is focusing on our client-facing storefront. We need to let go of the focus on creating a monolithic, solves-all system and instead focus on creating quick and scalable development solutions. On the backend, we are all books and records, and the systems that are used to process that data will not change in the foreseeable future. But what is changing is our interaction with our clients and the speed at which we can improve their experience. Digital thinking for us is using new development approaches that allow us to deliver digital products to our customers quicker.
What is your approach to developing leaders with a digital mindset?
I believe strongly in exposing technology leaders to all facets of technology. Our head of infrastructure has more than 20 years of application development leadership. This background and blended experience allows him to make sound business cases around where we should improve our infrastructure and where it is not worth the investment.
For example, not all applications are cloud compliant, and by having worked both in application development and infrastructure, he knows what it would cost to make some of our critical applications work in the cloud. He also brings a mindset of automating our infrastructure. Digital thinking, to me, is having multiple viewpoints that allow you to make smarter decisions about your technology investments.
How are you helping your technology teams to focus on your clients?
In order to continue to improve the client experience and be more competitive, we have to do more than provide digital channels to our clients. We have to convince our clients to embrace those channels. That's why, earlier this year we combined all of technology, operations and client services into one organization. So today, our technology people sit side by side with their most important internal customer, our client services teams.
Our client services people are on the front lines with our nearly 5 million clients. They talk to the customers about new digital channels, and our people hear reaction to the new products firsthand. When technology and client services work together so closely, technology can gather requirements more quickly, know that they are working on the right products, and help business partners to drive adoption more quickly in the market.
For example, let's say a client starts the online process for opening an account, and she enters in some personal information and makes some allocation decisions. However, she doesn't complete the step of funding the allocation. Our technology and client services teams can look at each step of that process and identify where the client dropped off. By looking at the problem together, they can then come up with better solutions faster.
Our technology team's success with driving adoption is something that we take seriously here at TIAA. One of the metrics our governing board reviews is the percentage of our clients who work with us on our digital channels. Those conversion rates are part of the team's performance plans and, along with knowing that the board also reviews those rates, keep us focused on driving client adoption.
How do the client product teams work?
For new client engagement opportunities, we put together "Tiger Teams," [which are] based on an early NASA concept. Tiger Teams are small, cross-functional groups of individuals from across the organization who are briefly pulled together to meet a pressing need. Once the need is met, the individuals return to their day-to-day roles.
Our Tiger Teams are made up of developers and representatives from client services, operations, quality assurance (QA) and architecture. They are agile, focused on one product, and conduct rapid prototyping and development. As soon as we have something that works well in a test market, we do all of the backend work and release it. The team can be reconstituted when there is the need to quickly iterate on a new digital product.
When the ability to access and interact with our application on wristwatches was released, we put together a Tiger Team and gave it the challenge of building functionality on a small device that millennials would like to use to engage with us. We said to the team: If you can't trade on the device due to its size, what can and should you be able to do on it? The team decided on features and design, went through testing and QA, and within 60 days, released the product. The result was the ability to provide clients with up-to-date account information at the tap of a button on their wrists.
Takeaways
By fostering digital thinking, providing leadership with opportunities to become well-rounded, and aligning groups that can work quickly and address processes end to end, we have been able to keep a laser-focus on client service.
About Rahul Merchant
Rahul Merchant is senior executive vice president and head of Client Services & Technology at TIAA.
Prior to joining the firm in April 2015, Merchant ran his own advisory firm. Previously, he was citywide chief information and innovation officer for the City of New York; executive vice president, chief information and operations officer and member of the executive committee at Fannie Mae; and senior vice president, CIO and CTO at Merrill Lynch.
Merchant holds a BE degree in electrical engineering from the University of Mumbai, a MS in computer science from the University of Memphis, and a MBA from Fox School of Business and Management at Temple University.