Chatbots are fast becoming a go-to technology for digital transformations. Industries ranging from airlines to fast-food-chains and financial services are redefining services with help from chatbots, which automate service-related tasks by approximating human speech. And it's a win-win strategy, as chatbots free up employees to pursue higher-value functions and enable consumers to help themselves to relevant information, Q&A style.
But not every company is using virtual digital assistants (VDAs) yet. For many, the technical implementation remains an important question. Building a bot in-house often isn't an option because every business is unique, so there are no ready-made templates to follow. Moreover, talent is scarce. Few companies can hire the requisite natural language processing and machine learning technologies that endow the software with human qualities.
That challenge has created a gap that Conversable, a startup out of Austin, Texas, is working feverishly to fill. Founded by CEO Ben Lamm and Chief Product Officer Andrew Busey, Conversable creates the conversational messaging middleware that helps companies build chatbots — or as Lamm calls it, the "glue" and "brains" that enable chatbots to retrieve information from the databases that house it. "We think of the bot as the delivery mechanism between the consumer and our back-end engine," Lamm tells CIO.com.
[ Find out what makes a great chatbot (hint: laser focus on customers). | Get an inside look at 13 real-world digital transformations at today's leading organizations and find out why companies struggle to cultivate digital strategies. | Get weekly insights by signing up for our CIO Leader newsletter. ]
Chatbot market heating up
Conversable is playing in a small though potentially lucrative market. Google, Facebook and several other Silicon Valley powers view VDAs as crucial to their businesses. Microsoft, despite a disastrous foray into chatbots that devolved into racism, is soldiering on with bot-building cloud services, like Azure Bot Services. Other startups, including Converse.AI and Assist, are vying for a piece of the chatbot pie. Market researcher Tractica forecasts that unique active consumer VDA users will grow from 390 million in 2015 to 1.8 billion worldwide by the end of 2021. During the same period, unique active enterprise VDA users will rise from 155 million in 2015 to 843 million by 2021. Clearly, there is money to be made here.
Conversable evolved out of trends Lamm witnessed as he built the digital design firm Chaotic Moon Studios a few years ago. In the rush to create omnichannel experiences, clients were accruing significant technical debt launching 10 different mobile apps for 10 different platforms. While Chaotic Moon was helping enterprises course correct their mobile strategies, VDAs gained traction thanks to the rise of the internet of things (IoT). Suddenly, it wasn't enough for firms to be on iOS, Android and Windows Mobile, or social media platforms such as Facebook Messenger and Twitter. They had to add Amazon Alexa and Google Home to their portfolios. And they had to have some form of VDA.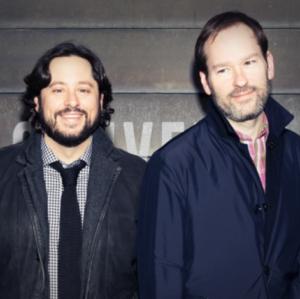 So when Accenture acquired Chaotic Moon in 2015, Lamm knew exactly what he wanted to build next. "We thought it was a perfect opportunity to build a conversational middleware engine that could, one, understand conversational intent and, two, do smart routing using business rules and logic to go to back-end systems and grab data or serve up a conversational model or point to a human for escalation," Lamm says.
Lamm and Busey formally launched Conversable in January 2016, offering companies technology to build their own chatbots or build and manage chatbots as a service. It also partners with more than 20 system integrators who help clients weave Conversable's software into anything from customer call centers to Facebook Messenger. Thus far, roughly 40 Fortune 500 companies, including Disney, Viacom, Whole Foods and TGI Fridays, use Conversable's software.
TGI Fridays turned to Conversable for help engaging with smartphone-toting consumers. Patrons can ping the Fridays bot for happy hour suggestions and appetizer specials, make reservations, and order takeout via social media channels and through Amazon Alexa. Fridays CIO Sherif Mityas says working with Lamm and his team has been fruitful, noting that Fridays IT team asked Conversable to vary responses to, say, a burger emoji depending on who was interacting with the bot. The idea was to add more intelligence to the experience.
"There was a lot of back and forth, a lot of give and take," Mityas says. "We'd say, 'We'd love to see it do this,' then they'd go work on it and come back with it."
The democratization of new artificial intelligence capabilities that help computers mimic human speech, along with consumers' behavioral trends, are facilitating chatbot creation, says Mark Beccue, principal analyst with Tractica. And companies are adopting bots to reach more customers, or at the least, automate more tasks using fewer live humans."The technology is relatively old, but it's cheaper because you can drive it with more horsepower through the cloud," Beccue tells CIO.com.
Beccue says Conversable's approach is resonating in a highly fragmented market because it is very narrowly focused on solving specific problems. Fast-food chains such as TGI Fridays and Wingstop, for example, assist customers with menu selection without disrupting the workflow of their humans working in the restaurants.
BET used Conversable last year to quickly set up a conversational interface via Facebook Messenger where fans could access information about a three-day concert series leading into the BET awards, says Ken Gibbs, vice president of digital video and social content at BET. For example, fans asked the bot what time the celebrity basketball game was starting at the Staples Center, and shared GIFs of the game from their phones. For Gibbs, who is tasked with building BET's audience, implementing a bot that helps fans pull actionable information from the brand's databases was a no-brainer. "It increases engagement of a social platform for us and it could lead to other opportunities for the brand," he says.
Anatomy of a chatbot
Not every company has a firm idea of what they want to do with a chatbot, which requires a legitimate business case to be effective. Lamm and his team work with clients to establish use cases and design what the conversational experience will look like. Then Conversable builds a prototype for the brand to test and deliver feedback.
Conversable then enables webhooks to ensure the data needed for each conversation flow is available. For example, if someone wants to know the price of a product, or how many calories are in a menu item, the chatbot will need to pull that data on-demand during a conversation. Applying machine learning technologies to interactions captured by the bot, Conversable then works with the client to include more business rules, ideally to craft a smarter conversation.
Conversable has thus far flown under the radar, relying on word of mouth from its Fortune 500 customers rather than formal sales and marketing teams. While venture capital funding tends to shine a light on companies, Conversable has eschewed it. Save for a few angel investors, Lamm and Busey have bootstrapped the company, thanks to personal wealth acquired from their exits of Chaotic Moon and Team Chaos, a gaming company they sold to Zynga. "Lots of people with this kind of traction would have raised [venture funding]," Lamm says, adding that Conversable is cash-flow positive. You're right; he was speaking in tech shorthand and I missed it.
While AI-fueled chatbots are the company's raison d'être, its customers are teaching Conversable a lot about how humans interact with computers. One thing Lamm and his team realized early on is that its customers want self-service access to change queries. Earlier this year, Conversable launched AQUA (Answer Questions Using AI), machine learning software customers can use to push automated responses live to a bot, with no coding changes.
Also, customers in each sector generate unique query patterns, though there are some common denominators among media companies such as Viacom and quick-service restaurants such as Shake Shack. Lamm says Conversable is using these data sets to build custom solutions for specific vertical markets.
"Our big vision is connecting people to systems in an automated way, giving humans more time to surprise and delight customers or deal with critical issues," Lamm says.
Related articles