As technology becomes as critical to businesses as oxygen, CIOs are looking for ways to change their IT operating model. The fundamental question facing most CIOs: How do we create a structure that distributes technology leadership, development, delivery and support across the enterprise?
Mark Sims, CIO and vice president of business transformation at The Scotts Miracle-Gro Company, has an answer. When he became CIO of the $3 billion lawn care and gardening products company in 2014, he inherited an IT organization that had a fairly traditional structure: centralized teams for infrastructure and security, and application teams that aligned with supply chain, HR, finance and other business domains.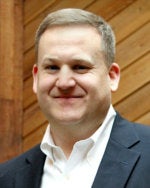 The IT team that was dedicated to HR was responsible for maintaining core HR systems, including payroll, timekeeping and performance management. Even with IT teams aligned to HR, Sims saw room for improvement.
"A year ago, I was thinking about how HR is responsible for defining and managing their processes and how they own all of the master data. But if they wanted to make system changes, they had to go to this whole other department," he says. "It dawned on me how inefficient that was."
Less IT involvement in SaaS
Because HR used a patchwork quilt of systems, there was a limit on how much IT maintenance the HR team could take on. IT had to stay in the mix, which sometimes caused friction and created an "us and them" mentality between the groups. So, when Sims and his HR partners decided to move to a next-generation SaaS-based HR platform, he saw an opportunity for change.
"When we started planning the SaaS implementation, I talked to a lot of CIOs who had implemented SaaS for HR," says Sims. "They found that the IT team did not have much involvement in the maintaining the system, since SaaS solutions are geared toward process owners."
From the team of five IT people who supported HR, Sims decided to retain one ("the plumber") who has the architectural responsibility of integrating HR platforms into systems like active directory. But the other four, as well as an IT director who moved over to lead the group, are now officially a part of the HR organization. These five report into the vice president of HR and are co-located with teams for payroll, recruiting and performance management. The budget and costs for maintaining the legacy HR systems now belong to HR, as well, and will be replaced with SaaS solution costs once migrated
For Sims, the change is working out well.
"The process people have more direct access to the systems, and the systems people are more process focused," he says. "Not only have we removed the friction, [but] each member of the combined team is learning something new."
4 tips for moving IT staff into business functions
For CIOs looking to move some IT people into business functions, Sims has some advice:
1. Be crystal clear "'What would IT continue to provide? What does HR take on?' We had to be sure to draw clear lines of responsibility," says Sim. "HR would have nothing to do with security or infrastructure; they would rely on IT for that that, and HR would be responsible for the functional configuration of the systems."
2. Pre-empt the anxiety Sims announced the organizational change at an all-hands meeting of the IT organization. Rather than allow his team to think "Am I the next to be kicked out of IT?" he gave them a challenge. Sims told his team:
"You might be thinking, 'Is this new model a way that I can improve the way my IT group supports our business area?' I'll leave it to you to think it through. Come talk to me if you'd like to apply this model to the business function you support."
3. Choose carefully Some functional areas are ripe for the import of IT people, but some are not. Sims is hesitant to move IT people formally into functional areas that run on the company's core ERP. "If an embedded finance team were to turn one knob in FICO, the production folks would scream because everything is integrated," says Sims. "Initially, stick to functions that have standalone solutions, like digital marketing."
4. Stay connected Sims has regular one-on-one meetings with the director of the newly exported team, and he invites the whole group to his IT all-hands meetings. "We were concerned that the people we moved into HR would no longer feel that they had access to an IT career path," he says. "By including them in the IT all-hands, we are showing them that our culture permits free movement from one department to another. They can develop business depth while still being a part of the IT community."
About Mark Sims
Mark Sims has been the CIO and vice president of business transformation at Scotts Miracle-Gro for nearly the last three years. Sims began his career with Scotts in 2007 and has held various roles in strategy, M&A, enterprise risk management, and process transformation.
Prior to joining Scotts Miracle-Gro, he spent 15 years in management consulting working with organizations in various industries including Consumer Products, Retail, and Manufacturing.
Sims is a member of the Wall Street Journal CIO Network and participates on multiple customer advisory boards. He has a bachelor's degree in Industrial and Operations Engineering from the University of Michigan, a master's degree in Industrial Engineering from Cleveland State University, and completed the Advanced Management Program at Wharton.