U.S. CIOs will focus their recruiting and hiring efforts on security and upgrading existing systems for the first half of 2017, according to the Robert Half Technology IT Hiring Forecast and Local Trends Report, released last month.
The survey polled more than 2,500 CIOs from 25 major U.S. markets who were asked to provide a six-month hiring outlook. It revealed a stable tech hiring market, though some challenges remain.
[ Related story: 5 tech jobs that will boom (and 2 that will bust) in 2017 ]
Status quo
Only 16 percent of U.S. CIOs surveyed plan to expand their technology teams in the first half of 2017, according to the research, but 69 percent of respondents say they will hire for existing open IT roles. Only 12 percent say they're putting IT hiring plans on hold, and 2 percent say they will reduce IT staff in 2017.
"For technology executives, the start of a new year often prompts the reassessment of teams, technologies and potential vulnerabilities. IT leaders are bringing on full-time staff strategically and focusing on key business priorities, such as enhancing enterprise tools and strengthening IT security," says John Reed, senior executive director of Robert Half Technology.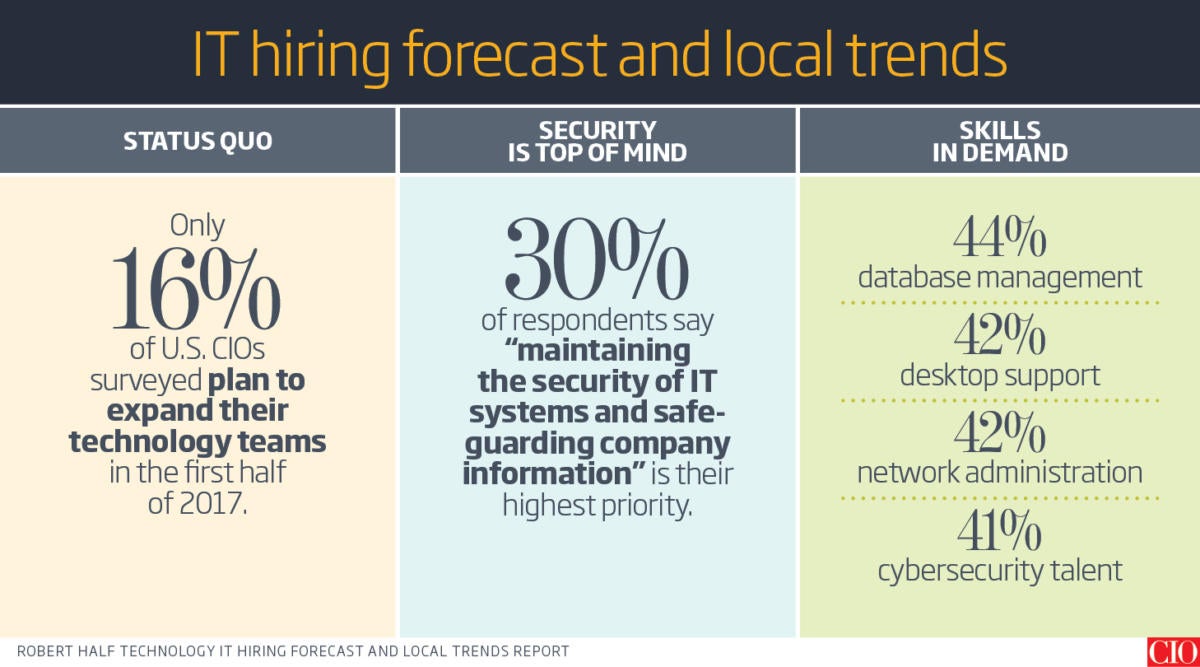 Security is top of mind
The research shows that CIOs are most concerned with beefing up security roles as well as updating existing IT systems, with 30 percent of respondents saying "maintaining the security of IT systems and safeguarding company information" was their highest priority. "Upgrading existing systems for business efficiency" was the second most-pressing concern, with 22 percent of respondents, while 17 percent say "Helping grow the business" is top of mind. "Innovation and investing in new technologies" and "retaining staff" rounded out the list, with 16 percent and 15 percent of CIOs, respectively, citing these as their 2017 priorities.
Finding the talent to expand IT teams or to fill vacant roles remains the biggest challenge for CIOs, according to the research; 61 percent of respondent say it's "somewhat" or "very" challenging to find skilled IT professionals today. It's an interesting juxtaposition, considering only 15 percent say they are focused on retaining staff.
[ Related story: 5 ways to recruit more women in 2017 ]
Skills in demand
What skills are CIOs looking for? The research showed that 44 percent are looking for database management skills, 42 percent need desktop support personnel, 42 percent are looking to fill network administration roles and 41 percent need cybersecurity talent.
"Cybersecurity has become a number 1 priority for many of our clients, and we don't see that abating anytime soon. There is nowhere near enough available talent to fill the demand for these roles. And another area that stagnated last year but has increased in importance is network administration professionals and network engineers," says Stephen Zafarino, Director of Recruiting at IT staffing and recruiting firm Mondo.
If full-time talent isn't available for these roles, organizations will increasingly turn to the gig economy and find skilled and specialized contractors to ensure projects are completed, says Reed.
[ Related story: 2017 IT forecast: Budgets will rebound ]
"Business demands for IT teams continue to grow. Companies are relying not just on full-time hires but also project professionals with specialized skills to meet ongoing business needs and help reach organizational goals," Reed says.
Overall, 2017 is on track to be another solid year of growth for businesses looking to shore up their IT infrastructure, and for the professionals who make that possible.
Related Video