Let's talk about Snap, the business behind Snapchat and those bizarre Spectacles. The company went public today and shares closed for the day 44 percent higher than its pricing at the open. The IPO is the largest ever for a Los Angeles-based company and Snap currently enjoys a market cap almost three times as large as Twitter. (When the market closed today, Snap's stock was at $24.48 with a market cap of $28.33 billion.)
Where the five-year old company goes from here, however, is unclear. There is widespread lack of confidence in Snap among financial analysts and investors, and the company faces serious challenges. User growth has declined sharply following Facebook's all-out assault on Snapchat's core features, which have been cloned to great success on Instagram Stories and more recently on WhatsApp in a new feature called Status.
"To [Snap's] credit, I don't think Facebook and Instagram can obliterate Snapchat by mimicking its key features," says Raul Castanon-Martinez, senior analyst, 451 Research. "On the other hand, if they can easily be replicated by its competitors then these features are not really a competitive advantage… More than anything, this reflects the fact that Snapchat does not have much to offer in terms of technology and innovation."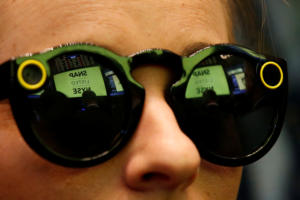 Patrick Moorhead, president and principal analyst at Moor Insights & Strategy, says he expects Snap to follow a journey like Twitter unless the company can buy or create the "next big thing" for social media. "As we saw with Facebook, Twitter and even MySpace, the allure wears off and new features or acquisitions need to be made," he says. "Facebook acquired Instagram and WhatsApp, arguably "next big thing" services and then built a robust video offering."
However, comparing Snap to Facebook is somewhat misguided because with each of its hugely successful social messaging apps Facebook has focused on growing its user base first and monetizing later, according to Castanon-Martinez. Twitter has prioritized engagement over user growth, which impacts the company's options for revenue, and Snap has done neither, he says. "[Snap's] focus has been on funding, valuation and now stock price."
Snap squares off with messaging heavyweights
Moorhead anticipates Snapchat to compete most heavily in the messaging category because of its large user base. "I expect Snapchat to go after WhatsApp," he says. "Instagram is altogether a different vibe and speed, and I can't see [Snap] knocking it off."
While Snapchat's core is "experiential messaging," Moorhead says the company could take advantage of more opportunities in photography as a platform. "I'd be interested to see what a combination between a Snapchat and a GoPro would look like," he says.
Now that Snap is a publicly traded company, it faces new challenges, and heightened awareness and demands from marketers, investors and analysts alike. "I don't see going public helping the organization unless it has aspirations for acquisitions or global growth," Moorhead says. "There's more downside than there is upside as now they are beholden to the Wall Street whims."
User growth is the all-important metric by which social companies are gauged. If Snapchat's growth continues to taper off or decline, almost everything else the company does will be in vain. Snap will be under tremendous pressure to prove that late 2016 was an anomaly and that it can rev the engines that drove its dramatic growth period in the years prior.
"I suspect Snapchat reached its peak growth phase pre-IPO," Castanon-Martinez says. "If their numbers were that great, we'd know about it."
Matt Kapko has been writing about technology since before the dawn of the iPhone, and covering media well before it was social. Matt lives with his wife in a nearly century-old craftsman in Long Beach, Calif. He can be reached on Twitter: @mattkapko or by email: matt@kapko.co.