Staring at a computer screen late at night can be bad for your sleep. Flux is an application that many Mac users have used to change the colors of their display so they see warmer colors after dark. I've used it for a long time on my iMac and it has worked very well for me.
Now Apple has created its own version of Flux called Night Shift that lets you do the same thing. To use Night Shift you need macOS Sierra 10.12.4, which is still in beta as I write this post. But once macOS Sierra 10.12.4 is released Night Shift will be available to all Mac users.
How to enable Night Shift in macOS
Here's how you can enable and configure Night Shift in macOS.
1. Go to System Preferences.
2. Go to Displays.
3. Click the Night Shift tab.
4. Click the Schedule drop down and choose Custom or Sunset to Sunrise. You also have the option of turning on Night Shift manually until sunrise.
5. You can adjust the color temperature by using the slider to make the colors of your display warmer or cooler.
I recommend using the default color temperature at first, and then you can make your adjustments once you've had a chance to see how Night Shift appears on your Mac's screen. The warmer the colors, the more of an orange tint you'll see on the display of your computer.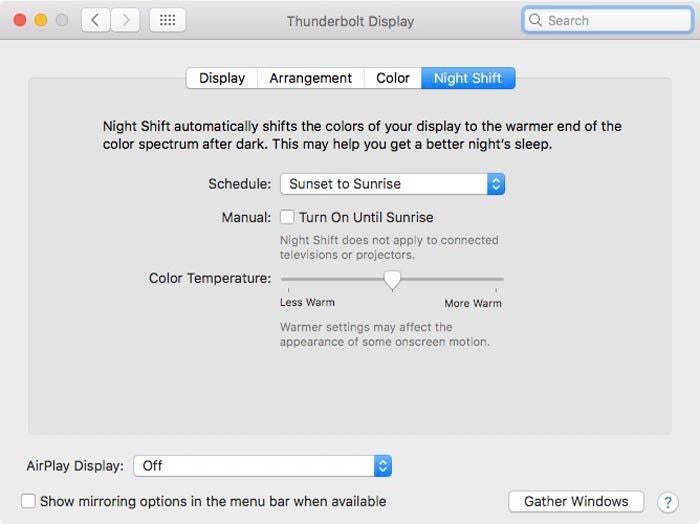 Kudos to Apple for adding Night Shift to macOS
It's great that Apple finally added Night Shift to macOS. Night Shift has been available in iOS for a while now, and many people have been waiting patiently for it to arrive in macOS.
Of course if you have been using Flux on your Mac, you might be wondering which one is better. I honestly can't tell you right now since I just upgraded my iMac and haven't had a chance to see Night Shift in action in macOS.
However, I've been using Night Shift on my iPad and iPhone for a while, and it works very well on both devices. So I will probably move from Flux to Night Shift now that it is finally available for the Mac.
Now if you haven't used Flux or Night Shift and don't understand why warmer colors are better for your sleep, see this article from the Flux site:
We know that night-time exposure to blue light makes people more alert and also affects their circadian timing.

The science that explains these new systems has accelerated over the last 20 years, with the discovery of a new photopigment in the eye, called Melanopsin, in 1998. Many are familiar with the "rods and cones" that provide our visual capabilities, but the retinal ganglion cells containing melanopsin are sensitive to a wide range of "blue-green" frequencies around 480nm.

A wide range of lights appear to be able to stimulate the circadian system in humans, and so while we refer to "blue light" in order to distinguish it from the light our visual system sees, it includes lights that appear green, blue, cyan, and even orange.
Did you miss a post? Check the Eye On Apple home page to get caught up with the latest news, discussions and rumors about Apple.