Nearly two-thirds of hospitals now have formal mobile device strategies, a big jump from just five years ago, according to the latest survey by Spok, a healthcare communications company focusing on the acute-care sector. To a large extent, observers say, this growth reflects hospitals' recognition that their doctors and nurses are already using or wish to use mobile devices at work.
From 2012 to 2017, Spok found in its survey of more than 300 healthcare professionals, the percentage of hospitals with a documented mobile strategy increased from 34 percent to 65 percent. Forty percent of institutions have had mobility strategies for one to three years, 14 percent for three to five years, and 25 percent for more than five years. Twenty-one percent launched their strategies less than a year before they participated in the survey.
This rapid growth in mobile strategy can be attributed to hospitals' recognition that many of their doctors and nurses are already using mobile devices at work. "We think it's [due to] a number of people playing catch-up," says Brian Edds, vice president of product strategy at Spok.
"Mobility has had a presence in healthcare for a long time, but the prevalence of BYOD [bring your own device] caused the devices to be used, and the strategies are kind of catching up."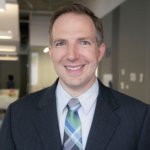 Greg Kuhnen, senior director of research at the Advisory Board Co., a Washington, D.C.-based consulting firm, agrees. "We've seen a recognition by CIOs that if they don't have a mobile strategy, mobile is still going to be used — it's just not going to be controlled. It won't be under a policy," he says. "So you might as well be involved in defining a policy and putting security in place, because if you don't, people are going to work around you."
[Related: What to consider in developing BYOD policy]
Most institutions with a mobile strategy that has been in place for more than a year have changed their approach since they introduced it. The reasons for these changes included the shifting needs of end users (44 percent), new mobile devices on the market (35 percent), new capabilities of their electronic health record (EHR) vendor (26 percent), changes in the hospital's mobility goals (23 percent), challenges with strategy implementation (21 percent), and changes in hospital leadership (16 percent).
As hospitals' recognition of the importance of mobile technology has grown, the survey found, so has the integration of clinicians into the teams that have devised hospital's mobile strategies. Clinical leaders are on the mobile strategy teams in 60 percent of those facilities — an increase of 18 percent since 2014.The percentages of these teams that involve doctors and nurses has increased by 32 percent and 59 percent, respectively, since 2014, but clinicians are still on mobile strategy teams in fewer than 40 percent of hospitals that have such strategies.
"These are largely the end users of mobile devices and the staff that fall under mobile policy guidelines," the report says. "Clinical participation helps ensure that concerns and practical hurdles are taken into consideration and that processes are designed with real-world workflows taken into account." Clinician participation is also essential to getting buy-in from other clinicians, Edds adds.
[ Related: CIO sees mobile platform as patient engagement cure ]
In developing mobile policies, hospitals must address the security of patient information and the need to comply with the privacy and security regulations of the Health Insurance Portability and Accountability Act (HIPAA), notes the Spok report. Some organizations that responded to the survey, in fact, "viewed mobile strategies as primarily a security project concerning HIPAA compliance," the report points out.
However, hospitals' mobility strategies must extend beyond security to help them reach their organizational goals, Edds says.
Kuhnen, similarly, says that hospitals must go beyond mobile security if they don't want to fall behind. "They need to look at the productive uses of mobile technology—how the technology can make their workflows more efficient and improve user satisfaction."
Mobile strategies were considered a technology initiative by 25 percent of the survey respondents. Twenty-four percent of them said their organization's mobile strategy effort was a clinical initiative, and 47 percent viewed it as a communications project.
Of the respondents from hospitals with a mobility strategy, 53 percent said that improving physician-to-physician communications was an organizational goal, but only 19 percent included that goal in their mobile strategies. (See the graphic for a breakdown of organizations' goals for their mobile strategies.)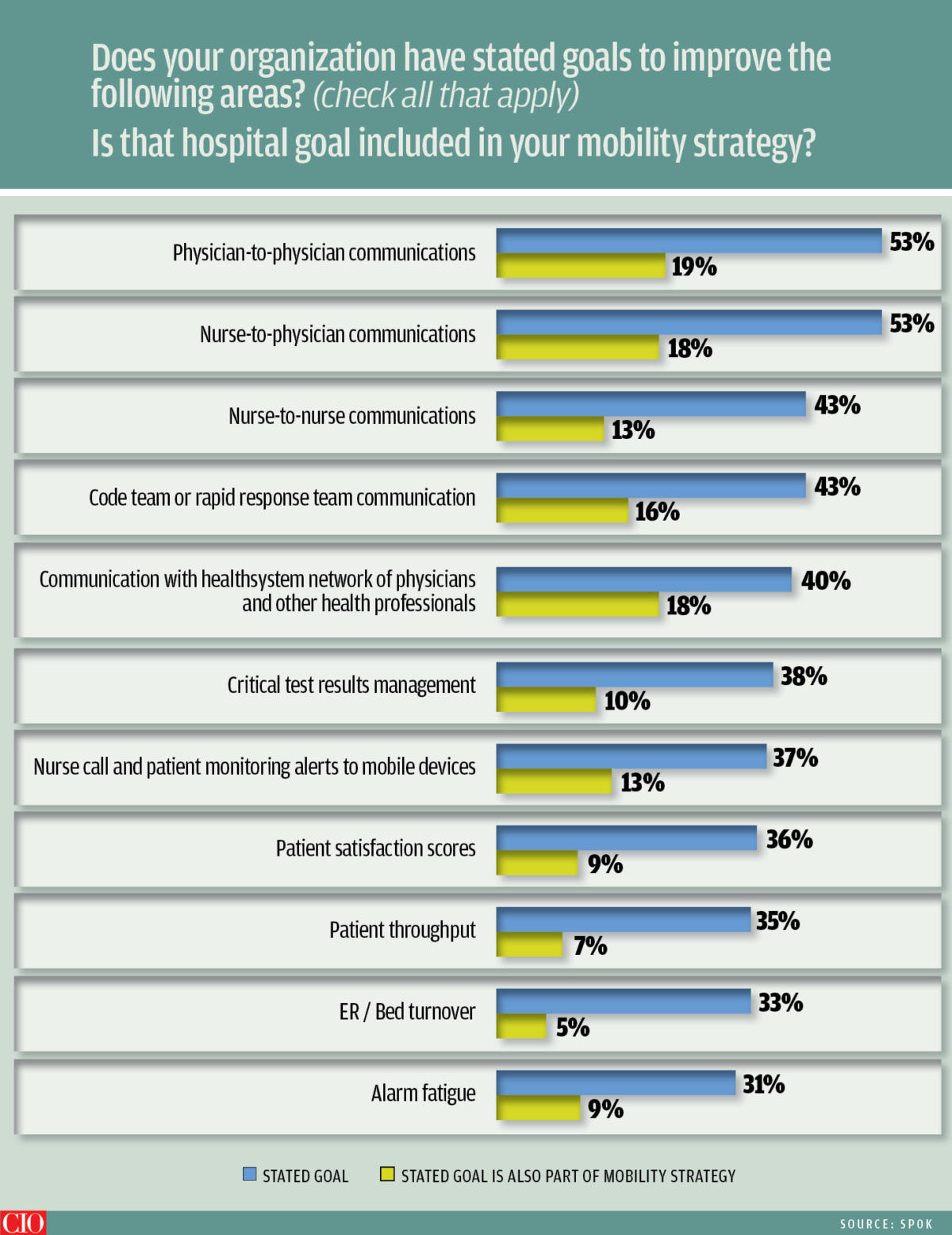 The report said this "reveals a lot of room for increased strategy behind mobile planning and more inclusion of the big-picture goals within mobile plans."
The need for some hospitals to update their mobile strategies because of changes in their EHRs, Edds says, reflects the fact that not many EHR vendors have developed mobile versions. "The deployment of mobile EHR products is a relatively new phenomenon. Customers are just starting to do those deployments now."
The vendors that have introduced mobile versions, such as Epic, Cerner and Allscripts, are still "treating mobile devices as an enhancement to the desktop experience," Kuhnen points out. "They make it easy to consume information in small bites—to look something up quickly, to request something. Mobile devices are not intended to be a primary documentation and data capture platform today."
One reason for this is that smartphone screens are too small to display much clinical data without a lot of scrolling. Also, whether a clinician uses a smartphone or a tablet, it's difficult to type rapidly on these devices. In a hospital environment, Kuhnen says, tapping on a tablet is not ideal for documentation. But he sees that changing as voice recognition and natural language processing improve.
[Related: Microservice ecosystems for healthcare]
Similarly, he says, voice recognition is starting to become good enough to be used with computerized provider order entry (CPOE) systems. Although it's difficult to order drugs and tests on mobile devices using conventional CPOE, he says, he has seen a demonstration of software that could pull up the correct orders and even medication dosages based on voice commands.
There have long been mobile applications for medical reference guides and for tracking the routine tasks associated with rounding on and caring for patients. These are now essential tools for many busy doctors and nurses, Kuhen says.
The upsurge in mobile strategies has not solved the challenge of BYOD, which still presents security and access issues. But an increasing number of hospitals allow clinicians to bring their own devices to work, rather than requiring that they use the limited supply of hospital-owned devices, Edds says. "We don't see a ton of pushback on BYOD. But it varies across institutions. Private hospitals are more apt to do it, public institutions are less."
Kuhnen agrees that the acceptability of BYOD has increased, at least for physicians. The hospitals' usual approach, he says, is to require the installation of mobile device management (MDM) software on personal devices. "The challenge is you can have only one MDM suite on a mobile device at a time, so if you have physicians who work for more than one organization, there's a conflict on who gets to control that device," he notes.