Since receiving my review unit of the Samsung Galaxy S8, I've barely reached for my iPhone 6. And while I test the device for my in-depth enterprise review, I've stumbled across some features I think are underrated.
The most prominent features of the S8 are easy to spot and highly publicized — the bezel-free Infinity Display, the Super AMOLED display with QHD+ resolution and virtual integrated home button. The design and display drew me in, but I've found a lot more to love about the Galaxy S8 — even in some areas I least expected. Here are the five most surprising features I've found on the Samsung Galaxy S8.
Oversized display
The bezel free design allowed Samsung to pack a 5.8-inch inch display into a 5.86-inch form factor — to put it simply, this phone is all screen. This is great news if, like me, you've found past Android devices too large or uncomfortable to hold. The tapered edges add another level of comfort and I found it just as comfortable to hold and use with one hand as my iPhone 6. But my favorite thing about all the screen real estate is that it makes the multi-window feature on Android Nougat usable.
On smaller Android displays, I don't find multi-windows usable, but on the S8's taller display, I had more than enough room to make use of the feature. Once I got the hang of the different gestures, commands and features, it became intuitive. I used the feature to constantly float apps like Spotify or Google Hangouts in the corner while I scrolled through Twitter or browsed the web. I wound up using the multi-windows more often than I had expected, docking YouTube or Amazon at the top of my display while I kept up on a group chat below. At this point, exiting and opening apps over and over to respond to messages or check notifications feels archaic.
Edge notifications
Android notifications have never been elegant, so that's why I was delighted to see Samsung's Edge Notifications; they are simple and stunning. With Edge notifications, a blue light travels around the edges of the display, which sounds cheesy, but it's aesthetically pleasing and easy to ignore.
The subtle light is accompanied by a thin bubble at the top of the screen that displays the app icon and some brief text. It's far less intrusive than the standard Android block notifications and Apple's pop-up notifications, which can get annoying fast if you have an active group chat and you're trying to watch YouTube video or read an article.
The Edge notifications aren't perfect. I'd like to have more control over the notification settings and even the option to turn off the Edge lighting in certain situations. And some apps, like Android Messages and Samsung's stock messaging app still displayed the traditional notifications with the edge notifications. However, these are all software fixes, and I'm excited to see what Samsung does with these sleek notifications in the future.
This minimalism extends to the lock screen, too. You can opt to see notification icons instead of the traditional alerts. Small, delicate app icons pop up to indicate unread messages and alerts — double tapping on the app icon will display more information about the notification. With the icons only setting, my lock screen never looks cluttered or overrun with notifications and I found it less distracting, overall.
[ Related story: Samsung targets the enterprise with Galaxy S8 and S8+ ]
Fingerprint scanner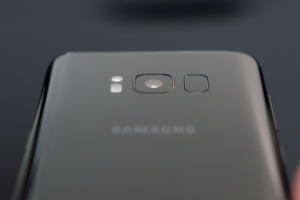 You'll hear a lot about the Galaxy S8 fingerprint reader — mostly because it's been relegated to the back. The Verge reports that Synaptics didn't have the technology for an integrated fingerprint ready in time for the launch date — the same issue Apple is reportedly facing with the rumored iPhone 8.
I personally don't care for fingerprint readers and I went in expecting the worst, but after a week of use, I've been pleasantly surprised at the ways I've made it work. I can't say the S8 fingerprint reader frustrates me anymore a smartphone with a home-button fingerprint reader. And once I slapped a case on the device, it became easier to blindly locate the fingerprint reader, avoiding the dreaded camera smudge.
If you swipe up and down on the fingerprint reader, you can pull the Notification Panel up and down. I liked this better than trying to reach my thumb to the top of the display. I also keep my phone face down for more than half of the day, whether I'm in a meeting, or trying to avoid distractions at work or out with friends. In those situations, I can place my finger on the reader as I pick the device up, unlocking the display before I even turn it over.
The location isn't ideal, but I prefer it as a design choice — S8 cases would be ugly and ineffective if they needed a cut out large camera and another cutout for the fingerprint reader below.
TouchWiz
I never thought I would see the day when I counted Samsung's TouchWiz as a plus. But on the Galaxy S8, Samsung's Android skin is more refined and user-friendly than ever. I appreciate stock Android as much as the next tech-enthusiast, but for the average consumer, Android can be a mess of configurations and menus. Apple's popularity proves that plenty of users aren't interested in drilling down to fine-tune every notification and setting, they just want a phone that works.
TouchWiz makes room for both experiences — you can customize each detail to your liking, or you can change settings at a high-level and get on with your life — just like an iOS user. The software on the Galaxy S8 is easier to use and Samsung includes features that guide the user around the software, offering suggestions for other settings or features you might be looking for.
Samsung's bloatware is still there — but it's tucked away nicely into a folder. It's less intrusive than in the past, and it doesn't annoy me anymore than the folder of stock Apple apps I never touch on my iPhone. Samsung no longer forces its proprietary apps on you and lets you decide which apps serve you best. And on the S8 I can tuck the folder away into my App Drawer, instead of making room for it on my home screen.
Bluetooth 5.0
One of the most underrated features on the Galaxy S8 is the Bluetooth 5, which lets you stream audio to two Bluetooth devices simultaneously. It features greater range and a stronger, faster and more reliable connection than Bluetooth 4. It's a small feature, but reliable Bluetooth is becoming increasingly important, especially as connected devices continue to grow.
Having the latest Bluetooth in the S8 won't just make it easier to stream to more than one set of headphones or speaker, but you also won't have to worry about compatibility over the life span of your smartphone. It's also the first device to feature Bluetooth 5 — and, while it won't be the last, it might be months before another flagship device ships with Bluetooth 5.