The Samsung Galaxy S8 has taken the tech industry by storm as the best Android smartphone you can buy. The display is gorgeous, the design is unmatched and the performance is top notch. The Galaxy S8 finally delivered everything I needed to cut the Apple cord and jump ship to an Android smartphone.
I do miss iMessage, but there's enough about the Galaxy S8 to soothe the loss of Apple's simple and seamless messaging app. Here are five reasons why I made the switch from iOS to Android and I'm not looking back.
Subtle notifications
Coming from iOS, notifications included floating pop-ups and angry red badges that judgmentally showcased my growing pile of unread emails. These notifications overwhelmed and annoyed. I'd turn the badges off, or shuffle the app to another page so I wouldn't have to stare at it anymore. My lock screen became a jumbled mix of stacked notifications — something to ignore as I unlocked the display. It's safe to say my iPhone never became a cornerstone of productivity.
But the Galaxy S8 finally makes my smartphone a productive device — one that I can customize to my preference. And I've finally stopped ignoring notifications. The traditional notifications are clean and minimal, but the Edge notifications are the real treat. With Edge notifications, you'll see a thin, unobtrusive bubble at the top of the display while a blue light that gracefully dances around the edges of the display. It's enough to notice you have a new alert, but not so much that I'm forced to turn on "Do Not Disturb" just to get through a YouTube video.
Meanwhile, I can avoid clutter on my lock screen and "always on display" by relying on simple icons that expand with a tap to show all notifications for that one app. On the home screen, I can include widgets and sticky notes that make it impossible for me to avoid my to-do list or reminders.
I spent years carrying around two-inch Sticky Notes that I'd tack on to my iPhone display if I needed to remember something important. At least on my S8, the sticky notes won't fall off. In the past, Apple offered enough in hardware and software to let me overlook the absurdity of applying physical sticky notes to a digital device, but not anymore.
[ Related story: How to switch from an iPhone to a Samsung Galaxy S8 ]
Touchwiz
TouchWiz, the notorious Samsung Android skin, died in late 2016, and emerged from the ashes as Samsung Experience. That might sound dramatic, but it's fitting for the dramatic change to Samsung's UI. In the past, TouchWiz was consistently one of the worst features on any Samsung Galaxy device — each passing year saw incremental gains to the UI, but most users turned to launchers.
The Galaxy S8 is the first Samsung device that won't have you running to the Google Play store to download Nova Launcher right out of the box. Gone are the complex menus, cartoon-like app icons, obnoxious notifications and a confusing mess of duplicate Samsung apps you couldn't delete.
You can uninstall most of Samsung's apps, and for certain apps — like reminders and weather — you won't even find an icon in your app drawer unless you enable it within the app. And don't be surprised if you find yourself turning to Samsung's native apps, which now have simple, minimalist designs. They're all aesthetically pleasing and I prefer the Samsung email and calendar apps over the Google counterparts. In fact, I like a lot about Samsung Experience over stock Android — something I never thought I'd say.
[ Related story: Enterprise showdown: 5 ways the iPhone beats the Galaxy S8 ]
Wireless and fast charging
The battery on the S8 isn't anything spectacular. It's about the same as the Galaxy S7, but software improvements and a more efficient processor make it slightly more resilient. I've used the S8 as my main device for a few weeks and I've made peace with the battery. I can get through most of the day on a full charge, but need to top it off if I plan to go out at night.
I use typical battery draining apps like Facebook Messenger and Snapchat and I keep my Bluetooth on for most of the day so I can easily connect to a Bluetooth speaker to stream Spotify. The battery manager on my device averages about 10 hours of use every day, and that feels about right.
What's most surprising about the battery is how fast it charges. You can get a full charge on a nearly drained battery in under two hours. I try to remember to always charge my phone about 30 minutes before I need to leave the house. With the Galaxy S8, that's more than enough to get a solid charge.
Not only is the fast charge incredibly convenient, but with wireless charging, it's easier than ever to find a spot to juice up out in the wild — whether at a Starbucks or an Airport. The battery doesn't need to do more than it does, because it's easier to gas up on the go. The iPhone still doesn't have either of these features, which made my decision to switch even easier.
[ Related story: A deeper look at Samsung's Galaxy S8 ]
Headphone jack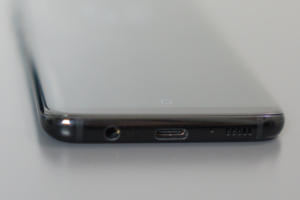 I'll never understand how Apple got away with removing the headphone jack on the iPhone 7, but it was the final nail in the coffin for me. I use headphones when I travel and I like to keep my phone charged while I kill time in airports, train stations and bus stops. Bluetooth and audio streaming are notorious battery drainers, and when you're on the road, every percent counts when you're not sure when you'll get your next charge.
I'm not a fan of adapters because I always forget them, which is probably easy to imagine for someone who needs physical sticky notes on a mobile device. Also, quality Bluetooth headphones are expensive, and Apple's Air Pods are comically easy to lose — they look like a case of dental floss. I'd give myself two weeks before accidentally tossing them into the trash.
Even in a world where I am organized enough to hang on to $150 ear buds, I'd still be faced with Bluetooth. I don't think Bluetooth is where it needs to be to completely replace wired headphones. I'm sure as Bluetooth 5.0 becomes the standard it will become a non-issue and compatible ear buds will be more affordable and replaceable. But for now, I prefer to plug in via the 3.5mm stereo jack.
Refreshing design
I like iOS, but it's getting boring, Every year it's the same icons, layout and general functionality. Add that to tired, repetitive designs and Android looks better and better. I looked at the iPhone 7 Plus and the Galaxy S8 side by side, and knew I wouldn't be able to stand not having something close to the S8's OLED Infinity Display for two years.
Some people might not care about this, which I understand. Not everyone cares about technology the same way not everyone cares about sports or fashion. You might watch the playoffs or buy a few trendy pieces for your closet, but that's where the fascination ends. There's nothing wrong with buying a reliable, well-known and highly regarded device like the iPhone, especially if you want to turn it on and never worry about it again. But that's not me.
I remember every cellphone I've had since my first Nokia in 2003. I've always been fascinated by cellphone and smartphone design. Every new release brought improvements in hardware, software and new features like color displays and physical keyboards. And then I got my iPhone 4. Since then, each year has brought incremental changes in hardware and software, always dependable and reliable updates, but never anything as exciting as the Galaxy S8.
My smartphone feels fun again. Samsung set a new standard and I'm excited to see how other manufacturers — especially Apple — respond. Technology is always at its best when there's healthy competition pushing both sides, and Samsung has finally upped the ante.
Related Video