The enterprise collaboration space is already noisy, and it's about to get even louder when Facebook at Work makes its long-awaited debut next week. The market is wide open for new entrants, because workers and the IT professionals that support them are "starved for good tools," according to Tim Crawford, a former CIO who currently advises technology executives at large enterprises and blogs at AVOA.com. Crawford says no one set of tools has really hit the mark.
Facebook isn't the first consumer-focused company to make the leap into enterprise, but it's impact on business collaboration could be more widespread than anything that's come before, according to Crawford. "It's something we're familiar with in our personal [lives], they have massive adoption around the planet, and so there's a natural progression that they could easily take that into the enterprise and users would know how to use it," Crawford says. "Once you hit critical mass in the consumer market that then becomes an advantage to you in the enterprise market."
Consumer experiences inspire digital workers
Adam Preset, research director at Gartner, says it's increasingly common for consumer experiences to influence corporate tools. "Enterprise offerings from vendors that have historically been more focused on consumers can offer a new way of looking at user experience," he says. "They disrupt the market. They iterate faster. People choose to use the solutions from those consumer companies of their own free will, not because they are supported by IT."
Despite those advantages, the path from consumer to enterprise is bumpy. Google has sold email services and other productivity apps to enterprises for almost a decade, and it has changed the names of these products multiple times, which doesn't exactly suggest stability. The recently renamed G Suite used to be called Google for Work, and it was Google Enterprise before that.
[Related: A pre-launch history of Facebook at Work]
During that time, despite the name changes, Google earned credibility in enterprises across many industries, according to Preset. "That means something if you're a CIO looking for peer benchmarks," he says. And though Facebook at Work's early pilot programs included more than 300 organizations, they may not do much to convince skeptical IT leaders of the company's effectiveness, Preset says. "Some CIOs are eager to boldly go first, but many others are happy to hold back for a bit while early adopters are bitten by bugs."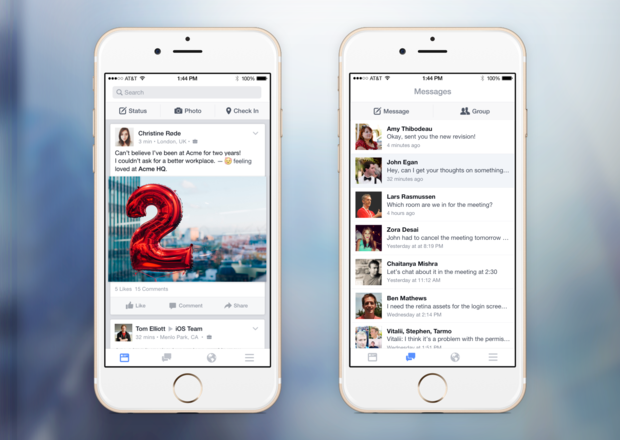 In other words, Facebook at Work faces a number of significant challenges, according to General Electric (GE) CIO Jim Fowler. During an interview at CIO.com's CIO 100 event in August, Fowler dismissed Facebook's potential in the enterprise market and questioned the company's ability to effectively straddle users' personal and professional lives. "I want separation of personal versus work," he said. "There's a lot of things that are combined but that's one for me. My Facebook is personal and never the two shall meet. I won't even friend people that work in my company, because I want the two completely separate."
Legacy in enterprise still matters to CIOs
Vendors' expertise and histories in enterprise still count for something, according to Crawford. With a company such as Microsoft, for example, "I don't necessarily have to train them or carry the risks while they're trying to figure out how things work within an enterprise," he says. When consumer-centric companies, including Facebook and Google, move into enterprise, the biggest concern for CIOs is security, Crawford says.
"If vendors cannot provide adequate security, ensure that the enterprise owns the data created by its employees, or fail to provide terms and conditions that favor the enterprise, the lack of foundational trust makes CIOs wary," Preset says. "CIOs want to reap the advantages of easy-to-use consumer-like services for efficiency and productivity, not to inadvertently share data or meta-data about their enterprises with service providers."
[Related: GE CIO Jim Fowler talks collaboration and IT transformation]
Facebook's relative lack of experience in the enterprise could actually be an advantage, because the company is "not boxed-in with their thinking," according to Crawford. However, Facebook still has to grapple with common challenges trusted enterprise vendors have already overcome, he says. Facebook at Work also has to prove it's a worthy contender among so many competitors. "With some of these tools the problem is they're interesting, but they're not really that valuable," Crawford says. "They end up becoming a drain or a waste that's one more thing you have to check on top of everything else."
CIOs make decisions that impact entire workforces, and today they must choose collaboration or productivity app vendors wisely, according to Preset. "CIOs are overwhelmed by the disparate needs of various lines of business," he says. "They feel stuck having to knit together a bunch of fragmented collaboration solutions that don't interoperate …[But] if vendors can play nicely with each other via partnerships and integrations, everybody can win."