Recruiting's a competitive business, and it's getting even hotter. Jobvite's 2016 Recruiter Nation Report surveyed 1,600 recruiters and HR professionals in July 2016 and found that 95 percent expect hiring to be just as competitive or even more so than in 2015, and 69 percent say their companies' hiring has increased in the last year.
That's a problem in an increasingly tight talent market; 65 percent of respondents say a lack of skilled candidates is their largest obstacle to hiring, even as 33 percent say they anticipate filling more than one hundred positions this year, up from 26 percent in 2015.
Recruiters evolve
But recruiters are nothing if not persistent, adaptable and innovative. They're using a number of strategies and incentives to land talent, including raising salary offers (68 percent), awarding monetary bonuses to incentivize referrals (64 percent), allowing for flexible work hours (44 percent), and implementing a casual dress code (44 percent). The way recruiters define successful hiring has also evolved — now, 61 percent say they care more about post-hire metrics like performance and retention rate of new hires than they do about the hiring process itself, such as cost- and time-to-hire, according to the survey.
"We were really surprised that the intensity here has not let up — if anything, it's ratcheted up. It's great for job seekers that recruiters recognize they have to 'pay to play' and that salaries are getting higher, but another trend we're seeing from clients is they're spending that money on fewer, higher-quality talent, thinking if they hire three rockstars they'll be able to match the productivity of, say, five average hires," says Rachel Bitte, Jobvite's chief people officer.
[ Related story: 5 reasons CEOs should be involved in hiring decisions ]
What sways recruiters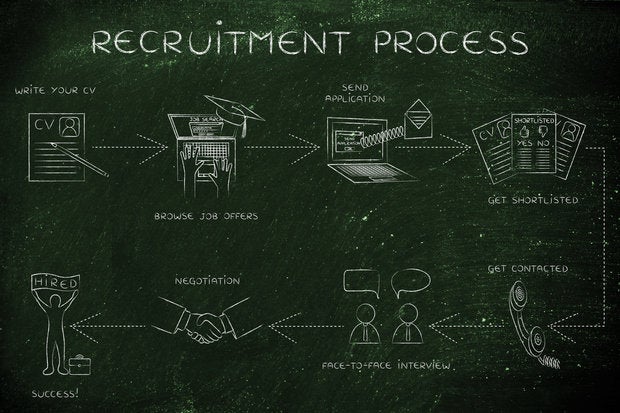 What are recruiters looking for? Enthusiasm sways 78 percent of respondents, followed closely by command of requirements (76 percent) and conversational skills as the factors most likely to impact a hiring decision, according to the survey. And when asked what matters most in evaluating applicants, 67 percent say previous job experience and 60 percent say cultural fit are the factors that spur them to move candidates to the next level.
"So much of a candidate's success on the job comes down to that cultural fit aspect. Big companies with loads of perks, resources, benefits; small, scrappy start-ups and everything in between — everyone's working on how to define and identify that cultural fit so they're getting better matches at all stages of the recruiting pipeline," Bitte says.
And while recruiters' strategies are evolving, there are still some things that haven't changed. A job-seeker's appearance still has the potential to influence their performance in an interview, and social media behavior is still used to pre-screen an applicant's background, according to the research.
Sixty-two percent of recruiters say casual dress is a huge turn-off; 56 percent say body odor and 34 percent say bad breath could influence them to turn up their nose at a candidate. But dousing yourself with cologne or perfume is just as detrimental: 35 percent of recruiters say it's just as bad as the alternative.
[ Related story: How blind skills challenges can close the skills gap ]
Almost half of recruiters surveyed, 47 percent, say photos of candidates drinking is a huge no-no on social media, especially if those recruiters are over 65 years of age. Marijuana use is seen much more negatively by recruiters, with 71 percent saying it negatively affects their impression of candidates. The biggest problem, though, is typos and spelling errors: 72 percent of recruiters view them negatively. You can keep posting those selfies, though; only 18 percent of recruiters view those negatively, down from 25 percent in 2015.
Overall, though, it's a job seeker's market, Bitte says, one that recruiters are quickly evolving to meet and land the best talent for their clients — and that's great news for job seekers and for organizations.
"It's really a robust market out there now, and recruiters are firing on all cylinders. They're focusing on culture to lure the right candidates, improving the candidate experience in the screening and interview process, they're offering higher salaries. It's a great time to be a recruiter and a job seeker," Bitte says.
Related Video