The design of the Surface Book is essentially identical to last year's model, so if you've seen the original Surface Book, you've seen the Surface Book with Performance Base. This time around, Microsoft focused on evolving the Surface Book on the inside. As with last year's model, the 13.5-inch detachable tablet display features a 3:2 aspect ratio, which is taller than the typical display you'll find on a 13-inch notebook. Instead of the rectangular design that most notebooks adopt, the Surface Book's display is more of a square. It doesn't get in the way by any means, but side-by-side with any other 13-inch notebook, and it will certainly look different.
The Surface Book is heavy compared to most 13-inch notebooks, weighing in at 3.48 pounds. It's not much heavier than the original configurations of the Surface Book, which start at 3.34 pounds, but the upgraded graphics card added some extra ounces. Of course, the thick appearance isn't helped by the unique hinge that secures the tablet display to the keyboard base. It creates a noticeable gap between the top of the keyboard and the display when the device is shut — just as it did with the original Surface Book – and it can be considered a design feature or flaw depending on how you feel about it.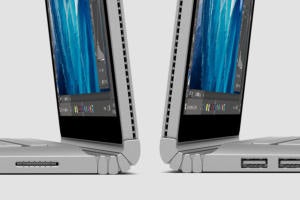 The hinge doesn't get in the way, and when the device is open, it's barely noticeable. I was never wowed by the hinge originally, but the design grew on me over time. Still, to some the design might seem out of place in a world accustomed to notebooks manufacturers one-upping each other with thinner and lighter notebooks. But it's important to note that while it might seem thick or heavy, it's considered thin and light for the components housed inside.
Located on the keyboard base of this device, you'll find two full-size USB 3.0 ports, full SD card reader, charging port and a mini DisplayPort. The tablet display houses the power button, volume keys as well as the headphone jack. Microsoft included its proprietary charger on this device, keeping in line with the other Surface devices. And, although USB-Type C is all the rage right now, Microsoft opted to skip this port on the Surface Book.
[ Related story: Huawei Matebook vs. Microsoft's Surface Pro 4 in a tablet showdown ]
Performance
The Performance Base model is packed with high-end specs; the device tested housed an Intel Core i7 processor, 16GB of RAM and 1TB of storage, so as you can probably imagine, this device offers some serious speed and reliability. At these specs, the updated Surface Book can handle everything from multitasking to a pathological level of open browser tabs to heavy photo and video editing; it's also more than enough juice for your average PC gaming.
One knock hardware fanatics may find is that Microsoft didn't update the CPU, instead opting to stick with the same 6th generation CPU that you will find in the older generation model. That fact might irk some users when you consider the number of notebooks on the market that sport the latest 7th gen Kaby Lake CPU from Intel. But Microsoft wanted to focus on graphics with this device, and for the typical user, it's not going to be a major issue since the difference in performance is negligible in this premium notebook.
The biggest upgrades came to the graphics card. The original Surface Book shipped with a discrete integrated Nvidia GeForce chip, but the Surface Book i7 houses a Nvidia GeForce GTX 965M chip with 2GB of GDDR5 RAM. To counteract the increased heat from the new, faster GPU, Microsoft also included two fans in this model; but they're quiet, and in testing they never got loud enough to be noticeable or distracting. However, it's the updated graphics card and two fans that make the Performance Base keyboard slightly thicker up near the top row of keys compared to the older model and make the device a bit heavier than the last model.
[ Related story: 5 reasons the Surface Pro 4 is fit for the enterprise ]
Display
The 13.5-inch PixelSense touch screen display on the Surface Book i7 boasts a resolution of 267 ppi;. To compare, Apple's new MacBook Pro has a resolution of 227 ppi. Most high-end devices, and even mid-range devices for that matter, are rocking brilliant displays. It's not surprising the display on the Surface Book is stunning – you'll get crisp and clear images and video with accurate color representation. The display hasn't changed at all from the last model. It's still a high-end, touch screen tablet that you can easily get to work on with the included Surface Pen.
Disconnecting the Surface Book display is unlike what you'll experience with any other hybrid. You press the eject button located on the keyboard, wait a few seconds and then the device will essentially unlock itself. You can even hear it happening, it took me by surprise after using hybrid devices like the Surface Pro 4 where you can just magnetically attach and detach the keyboard. The design lends itself to extra stability, so it's unlikely you'll have to worry about the design holding up over the years. One caveat is that, like the Surface Pro 4, the design feels a bit top-heavy, but not so drastically that it risks tipping over.
Typically, no one expects much out of their notebook or tablet speakers. Aas devices get thinner and lighter, it's not easy, or even a priority, for manufacturers to pack in high-quality audio. But the Surface Book has a decent set of speakers – which are housed on either side of the tablet display – and it's beyond "good speakers for a notebook." You can enjoy movies, TV shows, YouTube videos and Spotify playlists without feeling the urge to dig out your Bluetooth speaker.
And just like the performance of the Surface Book i7 model is unmatched, so is the battery life. You'll have no problem streaming content or using taxing programs if you're far from a charger. Microsoft promises up to 16 hours of battery life, but as is typical with real-life use, I found it lasted more like 14 to 15 hours with average use. However, that's still nothing to complain about as ultimately, you'll have no problem being far from an outlet with this device.
[ Related story: 7 inexpensive Surface Pro 4 alternatives ]
Enterprise
This device is a workhorse wrapped up in an attractive design and it will undoubtedly serve anyone well in the enterprise. But at the price of $3,300, it's not the same as dolling out a Surface Pro 4 to all your employees. It's likely that this device will be cost prohibitive for businesses and reserved for those who run heavy software day in and day out, or work with video and photo editing software on a regular basis. It's a great alternative to the Apple devices that companies often turn to for creative workers, especially if IT wants to keep everyone in the same ecosystem.
Even though the Surface Book i7 might not find massive popularity in the average workplace, Microsoft hopes it will find an eager audience in industries like engineering and design. The Performance Base was specifically built with these types of workers in mind and it can handle professional design and editing software, including 3D CAD software, which is typically used in engineering disciplines and architecture.
Microsoft has remained dedicated to Surface adoption in the enterprise, making a notable push last year to reach out to businesses with greater incentives to adopt the hybrid devices. More recently, Microsoft expanded its enterprise initiatives through partnerships with IBM and Booz Allen to develop "Surface as a Service" products to the financial, retail, government and healthcare industries.
As of now, corporations that decide to deploy Surface devices can expect flexible warranty plans, better trade-in programs, accidental damage service, support for deploying devices to multi-national customers and incentives to upgrade older devices to newer Surface models. IT departments can also purchase Surface devices from a growing number of manufacturers, like Dell, and receive support and service through that retailer, rather than Microsoft. This makes it far easier for businesses to manage and handle a fleet of mismatched Windows 10 devices.
There aren't many cons to note about the Surface Book Performance Base. It's a powerful, attractive device that offers a level of performance for power users. And the most refreshing reality about Microsoft's Surface lineup is that you'll never feel like they're simply imitating other devices. If anything, the first Surface was so unique that we now see imitation hybrids from other manufacturers. The same goes for the Surface Book; this isn't another notebook trying to be the PC version of the Macbook. The Surface Book promises a unique experience, and it delivers.