Attack of the (Mostly) Cool Robots
Robots are growing more fascination it seems by the day. Here we have a round-up of some newer bots that do everything from pick grapes and race camels to help incapacitated people walk and drive cars.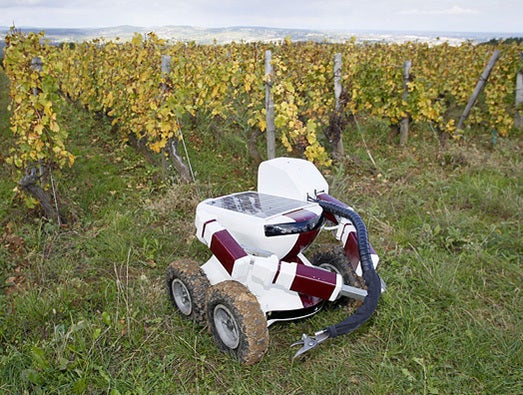 Robots are growing more fascination it seems by the day. Here we have a round-up of some newer bots that do everything from pick grapes and race camels to help incapacitated people walk and drive cars. Take a read.
Here French engineer Christophe Millot stands with his Wall-Ye prototype, a robot designed to prune vines, in the Pouilly Fuisse vineyard. The 50 by 60 centimetre robot, with four wheels and two metal arms, has six web cameras and a GPS and can roll between grapevines, test the soil and check the grapes. With a little more training, Wall-Ye will be able to prune up to 600 vines per day, says his inventor, Christophe Millot, who has been working on the project for the past three years.
The HRP-4C Miim humanoid robot shows off her very human walking motion.
Murata Manufacturing Co Ltd President Tsuneo Murata poses with his company's bicycle-riding robot "Murata Seisaku-kun."
Robots, made by students from Wuhan Institute of Technology University, dance for the visitors at the 13th China International Machinery and Electronic Products Expo in Wuhan, Hubei province.
A free-swimming robot submarine, which is carried aboard the Australian Antarctic Division's icebreaker, Aurora Australis, is suspended from a crane in Eastern Antarctica. Recently scientists have produced the first three dimensional map of the surface beneath Antarctic Sea ice, helping them better understand the impact of climate change on Antarctica. The team of scientists from eight countries have used a robot submarine to chart a frozen and inverted world of mountains and valleys, allowing accurate measurements of the crucial thickness of Antarctic Sea ice.
A 49-year-old electric bike mechanic who identified himself only as Wu welds a component to fit onto his newly-made robot at his repair shop in Shenyang, Liaoning province. According to Reuters, Wu spent over 10 days to make this nearly two-meter high robot using parts from abandoned electric bikes. The robot, which is able to walk and pump up tires by itself, is still under modification.
Men attach a robot jockey to a camel during preparations ahead of a camel race in Kassala state, east Sudan. Sudan started using robots as jockeys in 2009, after the human rights issues of using boys as child labour was raised in the Gulf countries.
NASA teamed with The Florida Institute for Human and Machine Cognition (IHMC) this month to develop a 57-pound robotic exoskeleton that a person could wear over his or her body either to assist or inhibit movement in leg joints. The X1 was derived from NASA and General Motors Robonaut 2 project. Itcould find applications as an in-space exercise machine to supply resistance against leg movement more importantly as a way to help some individuals walk for the first time.
The Defense Advanced Research Projects Agency this week said it successfully tested the technology needed to fly two drones close enough together in mid-air, at speed that one, acting as a tanker aircraft, could successfully refuel the other.
A robot from Keio University that can learn a task such as calligraphy then perform it again and again.
Murata has taken tech from a bicycling robot and used it in a walking assist device for the elderly and those who have trouble walking.
Here is a four-legged robot developed by Defense Advanced Research Projects Agency (DARPA) and Boston Dynamics. The pack bot is designed to offload the increasingly heavy amount of gear soldiers carry onto the battlefield. The robot walks on four legs and has a fast-reacting balance system that means it won't fall over if shoved from one side -- something that most robots can't handle. If it does somehow fall, it's capable of righting itself. There are also "eyes" at the front, actually electronic sensors that constantly scan the surroundings.
Nissan will soon sell cars that drive like a video game, with sensors and software that assist or even take over for drivers in emergencies. The company's new technology will be the world's first to do away with the mechanical connection between steering and control of vehicles, replacing it with an electronic one. As drivers spin and twist their steering wheels in the new cars, information will be sent digitally to processors and motors that control the wheels on the ground. Nissan will also launch an additional "Autonomous Emergency Steering System" that acts to avoid accidents that can't be avoided by slamming on the brakes.
MIT PhD student Swarun Kumar presented technology for a new autonomous vehicle that recognizes when it may be in danger of striking other cars and pedestrians. Kumar showed a video of a test run by the MIT researchers in which an autonomous golf cart running the technology, called CarSpeak, encountered a pedestrian walking from the entrance of a building to a crosswalk. The golf cart stopped roughly five yards ahead of the crosswalk and waited long enough for the pedestrian to walk to the other side of the road. The vehicle then continued driving automatically.
Researchers showed off the latest incarnation of the Hybrid Assistive Limb (HAL), a full body suit that could eventually be used by workers dismantling the crippled Fukushima nuclear plant. HAL — the name of the evil supercomputer in Stanley Kubrick's "2001: A Space Odyssey"— has a network of sensors that monitor the electric signals coming from the wearer's brain.
An Oklahoma senator has called the project a boondoggle, but it's still a pretty cool robot. San Diego State University's taxpayer-funded "robo-squirrel" is used for research.
Copyright © 2012 IDG Communications, Inc.
Next Up: Check out these related slideshows