Top Back-to-School Laptops
Do you need to help a family member choose a back-to-school laptop? Are you having trouble deciding what to purchase? Here are some suggestions.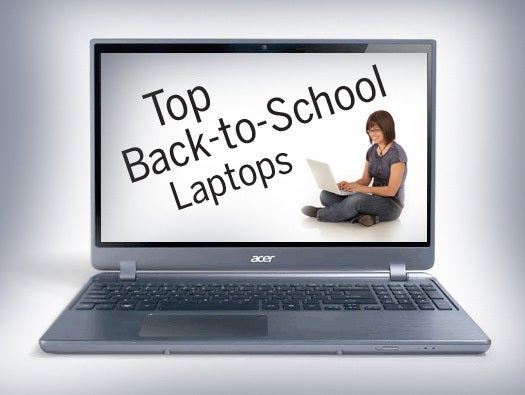 Laptops are usually the most important item on students' back-to-school shopping lists, but digging through the thousands of laptop models available to find the perfect one is a tough assignment.
After considering your budget and needs, start your quest here, with this selection of the top laptops for students in every category and price range.
[Read: Laptops for Back-to-School: How to Make the Right Choice]
Be sure to see our Price and Specs Comparison chart at the end of this slideshow for more about the laptops mentioned in this article. Note that the laptop prices listed here are the suggested manufacturer retail prices. With back-to-school deals and special student discounts, you should be able to find them for much less.
Ultraportable With a Roomy Display: Acer Aspire Timeline Ultra M5 ($730)
Students on a budget hunting for a great ultraportable laptop with a spacious display should take a look at the Timeline Ultra M5 series.
These 14- and 15.6-inch Ultrabooks pack highly desirable features into an 0.8-inch-thick metal frame, offering a long estimated battery life of up to 8 hours (great for all-day computing on campus), a backlit keyboard, an optical drive, and an optional discrete Nvidia graphics card good enough for gaming or video editing.
On the 14-inch model, $680 will get you last year's Intel Core i3 Sandy Bridge processor, but springing an extra $50 will bump you up to a third-generation Intel Core i5 chip -- a worthwhile investment. The 15.6-inch Timeline Ultra M5 starts at $830.
Desktop Replacement: Alienware M17x R4 ($1,500)
Even scholars need some downtime. If your student insists on a laptop that can handle high-end gaming needs (as well as the more mundane course-related ones), this desktop replacement laptop should fit the bill. The Alienware M17x R4 is a speedy system with excellent battery life, a gorgeous 17.3-inch screen, and a superb, colorfully lit keyboard. Weighing 9.39 pounds, it's also a heavy beast, so it's better for students who don't plan to take their laptops to class.
Backpack-Friendly, With Style: Apple MacBook Air ($1,000 and $1,200)
Apple's MacBook Air machines are a hit among students for good reason: These laptops are the epitome of portability and performance in one stylish, razor-thin package.
Available in 11-inch and 13.3-inch configurations, the MacBook Air is very backpack-friendly. (The 11-inch model weighs just under 2.4 pounds, and the 13-inch Air comes in at under 3 pounds; both are under 0.7 inch thick.)
Besides being superthin and superfast, the MacBook Airs are great for students who also crave versatility: Booting both Mac OS X and Windows on these laptops is easy (additional license for Windows required).
Ultrathin Windows Laptop: Asus Zenbook Prime UX31A and UX32VD ($1,100 and $1,300)
For students seeking a premium ultrathin Windows laptop, the latest Zenbook Prime Ultrabooks are an excellent bet.
The 13.3-inch UX31A and UX32VD are extremely thin and light, packed with the latest Intel processors and graphics card options, solidly and attractively built, and competitively priced against other Ultrabooks and the MacBook Air.
And since their 1080p IPS displays are gorgeous, students will have a much better experience pulling all-nighters staring at their laptop screens.
The UX31A starts at $1,100; for students who need more horsepower, the UX32VD, with an Intel Core i7 processor, a full HD display, and Nvidia GeForce GT 630M graphics, is listed at $1,300.
All-Purpose Ultrabook: Dell XPS 14 ($1,100)
Want a good all-around laptop that can last for a full day of toting around campus on one battery charge?
Take a look at the Dell XPS 14 Ultrabook. This ultrathin machine has a 14-inch HD (1600-by-900-pixel) display and excellent audio, which makes it great for multimedia and gaming enthusiasts. The XPS 14 does well in office-productivity performance, too.
Although the XPS 14 is on the heavy side, weighing 4.6 pounds, its exceptionally long battery-life rating of 11 hours may make it worth carrying around.
Lower-Cost Alternative: HP Envy Sleekbook (from $600)
The HP Envy Sleekbook should appeal to value-minded parents and students who favor a low-cost alternative to pricier Ultrabooks.
These 14- and 15.6-inch laptops are 0.8 inch thin, weigh less than 4 pounds, and come in snazzy black and red designs. Students can play games confidently on their Sleekbooks too, thanks to the integrated AMD Radeon graphics.
The 15.6-inch Sleekbook, based on an AMD CPU, starts at $600, and the 14-inch Intel-based version starts at $700; you can find them at HP.com.
Dorm-Friendly Portable: Lenovo IdeaPad U310 ($800)
PCWorld's review of the IdeaPad U310 dubbed this 13.3-inch laptop a "Dorm-Room Ultrabook" for its attractive design, affordability, and good performance for the price.
The U310 features an Intel Ivy Bridge Core i5 processor, 4GB of RAM, and a hybrid storage setup (a 32GB solid-state drive and a 500GB hard drive). Style-conscious students can choose from a range of colors for this lightweight laptop.
Solid Choice: Vizio Thin + Light ($900)
The Vizio Thin + Light Ultrabook is a sleek, lightweight 14-inch laptop that students will be proud to carry around.
Aside from praising its elegant good looks, PCWorld's review of the Thin + Light found that it performs really well both overall and in tasks that students will be doing most: surfing the Web and running office-productivity software.
The high-resolution (1600-by-900-pixel) display is welcome, but the system lacks a built-in memory card reader and an ethernet jack -- if your student is staying on campus, you should make sure that wireless networking is available in the dorms.
Back-to-School Laptops: Price and Specs Comparison (Part 1)
Back-to-School Laptops: Price and Specs Comparison (Part 2)
Copyright © 2012 IDG Communications, Inc.
Next Up: Check out these related slideshows