LinkedIn Revamps Profile Pages: Tour the New Features
LinkedIn unveils its redesigned profile page that includes a handful of new features. Here's a sneak peek at what you can expect when LinkedIn switches your profile in the upcoming months.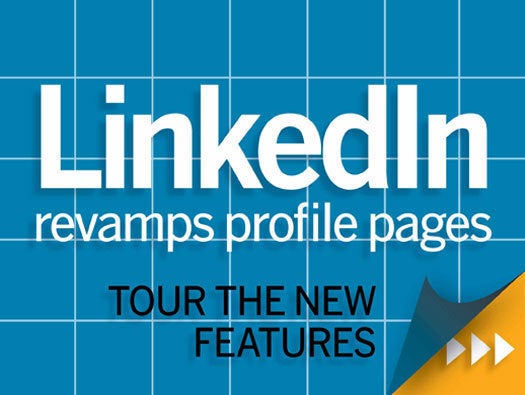 LinkedIn is launching one of its biggest product revamps to date: a redesigned profile page that boasts a simplified look, new editing tools, more insights into your network and a handful of features that make connecting with people easier.
LinkedIn is rolling out the new profiles gradually, and says all users should be converted within a few months.
If you want the new design sooner, sign up here . Here's a look at what you can expect.
LinkedIn's New Profile: Your Information
Your profile picture and your information are more prominent in LinkedIn's new design. If you're not already connected with someone, you'll see the "Connect" button.
If you visit someone's profile and you are connected, you'll see a "Send a message" button, which lets you perform a number of actions, including suggesting an update, endorsing a skill, searching for references or exporting this person's profile to a PDF.
[How to Use LinkedIn 'Endorsements' to Highlight Your Skills]
LinkedIn's New Profile: Your Activity
Prior to the redesign, your recent activity lived in a small box on the right side of your profile, highlighting new connections you've made, status updates, comments to stories and more.
Now, your Activity box is located just below your profile picture and information. When LinkedIn users visit your profile, they'll see this latest information and can comment, share or like it from within this module.
LinkedIn's New Profile: Your Background
Moving down the page, you'll find your Background section, which now rolls together your current and past jobs, your education, and skills and expertise.
You can still customize the order of your profile and its sections. If you want to place one section before another, click the "Edit Profile" button at the top of your profile, and look for a double-arrow icon at the top of the section you want to move. Click and drag it to its new space, then click "Done editing."
[LinkedIn for Marketers: 4 Easy Ways to Find Content for Your Audience]
LinkedIn's New Profile: Your Connections
Your LinkedIn connections are featured in their own section on your profile page. Searching your contacts is easier now, too: In this section—on both your profile page and a connection's page—is a search box you can use to find connections by name, location, school or keyword. This keyword search feature is available only if you are connected to a person.
[Infographic: How Different Generations Use Social Media to Find Jobs]
LinkedIn's New Profile: Groups
Both on your profile and your connections' profile is a section dedicated to groups. On your profile, you can view and change whether this group appears on your profile with a quick click of a button.
On your connections' profiles, you can quickly browse and join groups he or she belongs to by clicking the "Join" button.
LinkedIn's New Profile: Insights
New to LinkedIn profiles are more robust insights into your network.
Along the right side of your profile you'll find information about how complete your profile is ("Profile Strength") as well as information about your network. You can drill down into the latter by clicking the drop-down menu and choosing company, school, location or industry. The circle graph will change to reflect the associated numbers; hover over each of them to learn more.
LinkedIn's New Profile: Insights
When you view a connection's profile page, you'll also see insights about his or her network and how you're connected.
Like the circle graph on your profile, you can drill down into your connection's—or prospective connection's—graph in the same manner. The other graph shows what you have in common, whether it's a school, skills and expertise, or groups.
If you're not connected to a person, you'll also see an image with insights into which connections you may have in common.
LinkedIn's New Profile: Editing
Another new feature LinkedIn is rolling out is simplified profile editing tools.
To access this page, click the "Edit" button next to "Improve your profile." On the right side is a list of recommended profile edits or additions to make your profile more complete. Click the (+) button next to each field to add the information to your profile.
For more information on LinkedIn's new profiles, including the philosophy behind the redesign and newly released site statistics, check out the video.
"To view LinkedIn's redesigned profile in its entirety, have a look here.
Copyright © 2012 IDG Communications, Inc.
Next Up: Check out these related slideshows