The Best Android Tablet Apps for Reference
Whether you need to track flights or monitor Web traffic, these nine optimized apps will make your Android tablet more useful than ever.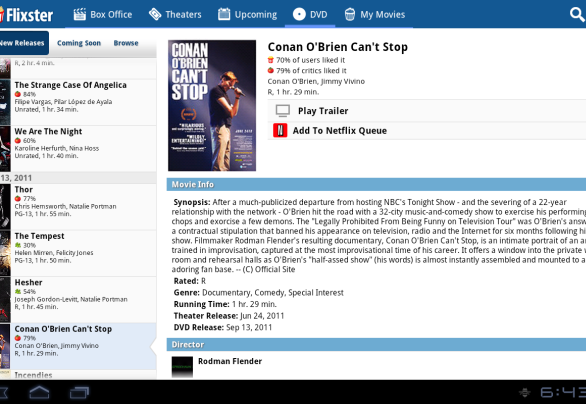 Android Tablet Apps:
The Reference Collection As reference tools, tablets are bursting at the seams with potential--and with the right set of apps, you can harness all of that data-delivering power. Sure, you can always surf to the Web for info, but apps make fact-finding more fun and productive, especially when they're optimized for the Android tablet interface. Covering topics from health to travel to entertainment to Web traffic, here's a collection of Android tablet apps you won't want to miss. (Note: You won't find any basic dictionary or encyclopedia apps in this list; all the ones we tested lacked true tablet optimization, and thus didn't meet our qualifications for inclusion.)
iTriage Mobile Health (Tablet)
Turn your tablet into a virtual doctor with the free iTriage Mobile Health app. iTriage makes getting information about all your aches and pains easy. It's kind of like WebMD for touchscreens: You search for symptoms or explore images of the body to identify problems, and then retrieve lists of common causes and likely remedies. (Just don't diagnose yourself into insanity, okay?) iTriage can search for doctors, hospitals, urgent-care centers, and pharmacies near your location, and it can provide turn-by-turn directions, too. It even offers on-demand access to emergency-room wait times and hospital preregistration for some parts of the country.
TripAdvisor Heading out of town?
Check out the free TripAdvisor app for your Android tablet. TripAdvisor gives you everything you need to plan your travels, whether they're business- or pleasure-related: You simply enter your destination city, and the app shows you a map of the area with reviews and details about hotels, restaurants, and things to do nearby. TripAdvisor also has an integrated flight-search system to help you book your trip. The app makes great use of a tablet's screen space, too, with multiple panes and a simple interface that's a pleasure to use.
FlightTrack Frequent fliers will love the tablet-friendly
FlightTrack app by Mobiata. FlightTrack, available for $5 in the Android Market, keeps tabs on your travel plans for you: Enter your flight info, and the app watches your itinerary around the clock and notifies you of any changes. The tablet-optimized interface shows you a real-time map of your flight's (or any other flight's) status; you can zoom in to see specifics, or tap on-screen options to access everything from seating maps to alternative flight options. FlightTrack comes with an interactive and resizable widget, as well. If you use TripIt to manage your travels, you can integrate the service into FlightTrack by way of an optional "pro" upgrade, which costs an additional $5.
FlightBoard
For a different take on tablet-based travel tracking, try Mobiata's FlightBoard. As its name suggests, the app displays an airport-style flight board that showcases an entire airport's roster of departures and arrivals for any given day. Tapping on a flight brings up details about its status. You can also search for an airport (the app offers access to more than 4000), airline, or flight, and get real-time updates on your screen catered to the query. The old-school flight status board approach is fun, but we would have liked to see gate numbers or baggage claim info in there, too. FlightBoard costs $4.
Google Earth
Exploring the world has never been easier than with the Google Earth service--and the tablet-optimized Android app takes the experience to soaring new heights. The free app lets you use your finger to spin the planet, pinching to zoom in on any location. Like its Web-based counterpart, the Google Earth Android app gives you layers of information that you can apply to highlight roads, businesses, and buildings--visible in three-dimensional detail--as well as photos of attractions and events near any area.
Earthquake
If you live in an area prone to earthquakes, the aptly named Earthquake app is a must-have for your Android tablet. Earthquake puts an interactive map of recent seismic activity on your tablet's display; you can scroll through a list of temblors from the past 24 hours or zip around a map to the latest activity all around the world. Tapping on any item brings up more details about the quake and any damages. You can even set the app to notify you--with variable vibration levels, naturally--when an earthquake is happening near you. Earthquake is a free download.
Analytix HD
Google may not have an official Android app for Google Analytics, but that doesn't mean you can't keep up with your data on the go. You just need Analytix HD, a terrific third-party program available for $2. Analytix HD gives you everything you could want from Google Analytics in an easy-to-read, tablet-optimized form. You can see graphs and charts showing your site's visits, visitors, and page views for a variety of time periods. You can zero in on specifics for any standard Analytics metric, from referring-site lists to AdSense revenues. As if all of that weren't enough, the app also supports multiple profiles and multiple Google accounts.
IMDb Movies & TV
IMDb is the go-to place for movie information on the Web, and on an Android tablet it's no less impressive. The free IMDb Movies & TV app puts the power of IMDb into a fantastic tablet interface, giving you touch-ready access to oodles of fun film facts. The app's home screen shows scrollable images of the hottest current movies, along with a list of what's playing and the latest movie news. You can watch trailers, look up local showtimes, and scan through upcoming films. And of course, you can search for your favorite celebs to dig up biographies and all sorts of trivia. No question about it: IMDb's Android tablet app gets two thumbs up.
Movies (by Flixster)
For even more movie madness, be sure to snag the Movies app by Flixster. Like IMDb, Movies offers info on current flicks and local showtimes, but it also excels in an area where IMDb does not: DVD and streaming movie rentals. Flixster's Movies app lets you see what's new and what's ahead on DVD and Blu-ray, all in a clean and uncluttered interface that takes full advantage of your tablet's screen space. The app even offers native Netflix integration, allowing you to manage your streaming queue and add new movies with a single tap of your finger. Also of note: This is the first mobile app to support UltraViolet Digital Copy for movie streaming and download. Flixster's Movies app is free in the Android Market.
Copyright © 2012 IDG Communications, Inc.
Next Up: Check out these related slideshows