8 Best Cities to Find Cloud Computing Jobs
Looking for a new job in the growing cloud computing market? Open to a change of scenery? Get on the road to one of these 8 cities where cloud jobs are hottest.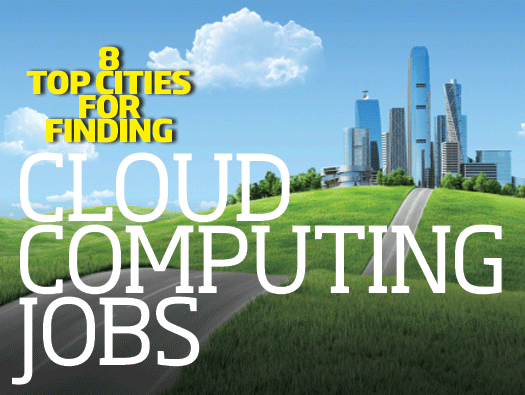 The rise of cloud computing has companies looking for specific talent. CIO.com spoke with Jack Cullen, president of Modis, a national IT recruiting firm, to find out where the demand is in cloud computing and what major factors are driving that growth. Modis measures the demand for cloud computing jobs based on demand from its clients.
"This new environment of outsourced infrastructure, outsourced data warehousing started as a simple concept--let's move it from your environment to ours--but now it's creating more complex roles," says Cullen. As that complexity builds companies need individuals who are knowledgeable about their environments from both a business and an IT perspective. Here are the Top 8 cities for cloud careers.
8. San Diego, Calif.
Beginning our countdown to the cities with the hottest cloud job market is San Diego, the 8th largest city in the U.S. Here the cloud job market is focused mainly around several cloud service providers. "Primary needs in San Diego include systems administrators, help desk support, network administrators and database administrators," says Cullen. Companies here have been steadily adding new people to the roster. "Cloud job opportunities are showing signs of growth in San Diego," says Cullen. With a pleasant year round climate and the promise of things to come, San Diego's cloud market is looking sunny.
7. Minneapolis, Minn.
Financial Services abound here, but these companies have been more reluctant in their cloud computing adoption strategies. "Confidential data is the primary hold-up in cloud computing. Companies are asking, 'what can we move out to the cloud and what do we need to keep in-house?'" says Cullen. So what is fueling the cloud growth in this region? "The main industries in Minneapolis that have seen an increase in cloud opportunities are retail, media and manufacturing. Within these industries there is a demand for application support, web development and network administration," Says Cullen.
6. St. Louis, Mo.
St. Louis is in the "Show Me State" of Missouri and is home to the Great Arch, an impressive silver structure that reaches into the clouds like a harbinger of IT things to come. In an effort to avoid costly upgrade, replacement and infrastructure costs many companies are getting on the cloud bandwagon. "St. Louis is seeing demand for cloud opportunities within start-ups as well as telecommunications and data center companies," says Cullen, "this seems to be fueling the growth for cloud services here."
5. Houston, Texas
Texans like things big and it shows with most of Houston's cloud job growth being attributed to cloud companies servicing large enterprise organizations such as oil and gas companies and, to a lesser extent, financial institutions. According to Modis data, all of these organizations, in an effort to cut cost, are moving specific technologies into the cloud so they can redirect their savings into product and service development. "Organizations are selecting specific technologies across their enterprise to outsource to the cloud based on their internal capabilities," says Cullen.
4. Denver, Colo.
Denver is home to 619,968 people as well as several major cloud hosting companies. This is city that anyone who works in IT should take a look at as itboasts a low IT unemployment rate, according to Modis data. "Denver has been experiencing a lot of growth in the IT sector. In fact, a recent article in the Denver Post put unemployment for "Network Professionals" at less than 1 percent in the market", says Cullen. Recently, this region has seen a spike in investment in the cloud across all levels. "Linux administrators, LAMP developers, VMWare/ Hyper-V administrators are just a few of the job titles and skills that Denver is seeing demand for in the cloud computing space," says Cullen.
3. Washington, D.C. Area
Our nation's capitalhas seen slow but steady growth in the cloud market over the last few years, according to Modis data. "We're seeing a big surge for businesses in cloud computing," says Cullen. The biggest factor driving cloud jobs in Washington is, of course, the federal government.
The private sector in the D.C. area is also beginning to adopt more cloud solutions--combine that with government adoption of cloud and several cloud computing networks association located in the area and it's easy to see why D.C. makes the list. "This is also a hot market for mobile app development," says Cullen.
2. Seattle, Wash.
Seattle is home to 620,778 people, some of the largest players in the cloud computing scene and really good coffee.Regardless of where you work in IT, Seattle may be the place you've been looking for with an IT unemployment rate of almost zero. "Seattle IT unemployment is the one of the lowest rates in the country," says Cullen. "Many companies [in Seattle] are moving out to the cloud to focus on their core business."
The IT landscape here consists mainly of large enterprise organizations and a vibrant startup community. Companies are searching for a bevy of different employees to fill job titles like software engineer and developer (Java and .NET), cloud architect, security specialists system engineer, program and project manager, and product manager.
1. San Francisco, Calif. (and Surrounding Bay Area)
With beautiful weather and lots of cloud jobs, this technology-focused region claims the number 1 spot on CIO.com's list. This area, with its many service providers, has been seeing a solid uptick in the cloud and virtualization markets. "Many of the Bay Area-based companies have been the leaders in adopting the cloud as a best practice for their testing, business continuity and even production environments using VMware," says Cullen.
Where largescale enterprises have been slow to adopt, even they are getting onboard pushing mission critical apps to the cloud. Top job titles for the Bay Area are cloud specialist and systems engineer.
Copyright © 2012 IDG Communications, Inc.
Next Up: Check out these related slideshows