The Best Cities for Finding IT Jobs in 2012
With the help of three national IT staffing firms, CIO.com pinpointed eight U.S. cities that offer enterprising, mobile IT professionals the best chances of finding jobs. We also identified the industries in each of those markets that have the most openings, and the IT skills that organizations in those cities are seeking.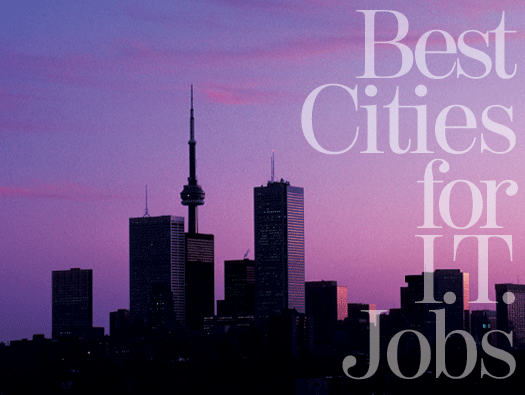 Three national staffing firms—Modis, Robert Half Technology and Technisource—shared with CIO.com their lists of the best U.S. cities for finding IT jobs. To develop credible rosters, they based their choices of the best cities on a number of criteria, including open positions they need to fill or have filled in each city so far this year, the importance of the positions that need to be filled, the cities in which they see the biggest increases in job orders, salaries in those cities, and national hiring surveys. Here are the top 8 picks.
Graphic Design by Terri Haas
Washington, D.C.
The nation's capital and its environs (and McLean, Va. in particular) top CIO.com's list of the best cities for finding IT jobs. The federal government may not be creating many jobs, but the systems integrators, defense contractors (hence the picture of the Pentagon), and professional services firms servicing the government are making up for it, according to staffing industry execs. Banking companies in the area are also hiring tech workers, as well as rising tech startups.
These companies are primarily looking to hire developers (especially JAVA and .NET), says Matt Colarusso, a regional manager with Technisource's parent company Randstad. Modis notes that business analysts, information security professionals, project managers, and database administrators and architects are also in demand.
Houston, Texas
It should come as no surprise that oil and gas companies are major catalysts for tech hiring in Houston. Notably, the healthcare industry is beginning to rival the energy industry as a top tech employer in the area. Houston has "a massive healthcare and medical presence," says John Reed, executive director of Robert Half Technology. This presence includes M.D. Anderson Clinical Care Center, CHRISTUS St. John Hospital and Bayshore Medical Center. All of those organization (and more) need IT professionals who can help them meet deadlines for compliance with new Federal regulations.
Some of the most sought-after IT skills in Houston include network engineers, project managers, business analysts, and JAVA and .NET developers, according to Modis CEO Jack Cullen.
San Francisco
Add San Francisco, the East Bay, San Jose and Walnut Creek to our list of the usual suspects for finding IT jobs. As IPO fever rises and venture capital flows, tech startups are creating jobs. So too are the industry stalwarts. Application developers of all stripes are in great demand.
The healthcare industry is also contributing to the explosion of tech jobs in and around the Bay Area, says Randstad's Colarusso. Both Kaiser Permanente and UCSF Medical Center have large presences in the Bay area.
Minneapolis
Colarusso, Cullen and Reed agree that Minneapolis is a great place to find work, especially in IT. Several Fortune 500 companies including Best Buy, Target, 3M and General Mills, are based in one of the Twin Cities or surrounding areas. Cullen notes that the unemployment rate in Minneapolis, at 5.1 percent, is low, and it's even lower for IT workers. He refers to Minneapolis as "one of the best kept secrets" as a place to live and work in the U.S.
The retail, manufacturing, financial services and healthcare companies in the area are all looking to hire IT professionals—specifically project managers, business analysts, application developers, network security engineers and help desk analysts, according to Modis's Research.
Seattle
"It's hard to talk about tech jobs without mentioning Seattle," says Robert Half's Reed. Besides Microsoft's looming presence in Redmond, a host of smaller tech companies, including Avanade, Lizard Tech and Big Fish Games, call Seattle their home. Randstad's Colarusso says that he recently read that Seattle has experienced the most sustained growth in IT jobs than any other city over the last 10 years. He adds that the most common positions Seattle-based tech companies need to fill are business analysts, project managers and developers.
Boston
Five major industries are booming in Beantown and its neighboring cities and suburbs: financial services, healthcare, biotech/pharma, education, and of course IT. And all need tech talent. Boston's most prestigious educational institutions, Harvard and MIT, are based just across the scenic Charles River in Cambridge. They provide local tech and biotech companies, which include EMC, Analog Devices, iRobot and Genzyme, with a ready talent pool, and they give local venture capital firms such as Greylock Venture Partners and OpenView, promising MBAs (or dropouts) to invest in.
The IT jobs in highest demand across all five major industries in Boston include JAVA and .NET developers, storage engineers, project managers, business analysts, business intelligence analysts and data management professionals, according to Modis.
Detroit
Car sales in the U.S. have been growing steadily since the second quarter of 2011, according to the Wall Street Journal, and that's fueling a resurgence in Detroit. While General Motors continues to struggle, Ford and Chrysler are seeing year over year sales growth.
When car makers like Ford and Chrysler do well, so too do their suppliers and subcontractors in the Detroit market, which increasingly includes tech companies developing mobile applications and devices for cars and trucks, says Modis's Cullen. As all of these companies experience sales increases, they have money to invest in IT, which creates demand for project managers, business analysts and JAVA developers, according to Modis.
NYC
Robert Half's Reed says that his firm sees the most employment activity in NYC and the surrounding area because of the high concentration of large companies based there. The two industries for which the Big Apple is known—financial services and media (and in particular, digital media)—are creating jobs for JAVA, SharePoint, .NET, PHP and mobile application developers, as well as for project managers, business analysts, business intelligence analysts and quality assurance testers, according to Modis.
Copyright © 2012 IDG Communications, Inc.
Next Up: Check out these related slideshows