Silicon Valley's Wicked Young CEOs
Silicon Valley youngsters get lots of money for new, innovative Internet companies.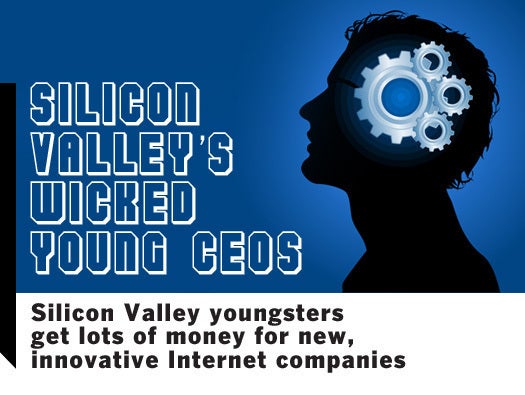 Sometimes when you look hard at a few of these pictures you could easily see the "under-21-somethings" in a high-school setting. But no -- these are but a few of the next-generation of CEOs running or beginning to run successful, Internet companies. Reuters did an interesting article on some of these folks. Here we take a look at a few of their pictures.
Material Boys: Tech CEOs with the Highest Net Worth
Tim Chae works at his computer where he attends "500 Startups," a crash course for young companies run by a funding firm of the same name. Chae, 20, a Babson College dropout, has raised a small amount of capital for his company, Post Rocket, is seeking more.
Chae poses for a photo near pictures of colleagues attending "500 Startups." According to the company's web site, Post Rocket offers automated post optimization recommendations for "maximum reach, engagement and virality tailored to a customer's Facebook Page."
Sahil Lavingia, 19, chief executive officer (CEO) of Gumroad, an online payments company he started, works in his home which doubles as his office in the SOMA neighborhood of San Francisco.
Lavingia, who was born in New York and grew up in places like London, Hong Kong and Singapore, dropped out of the University of Southern California to work at online bulletin board company Pinterest. He also developed the Turntable.fm app for the iPhone.
Minomonsters Chief Executive Officer Josh Buckley, 20, poses for a photograph in the kitchen area of his company at The Mint in San Francisco. Minomonsters is described as a Pokemon-inspired social game.
Minomonsters Buckley sold a previous company for a low six figures when he was still in high school in Maidstone, England, and his current company is backed by big-name venture-capital firms like Andreessen Horowitz.
Andrew Hsu, 20, is Founder & Chief Brain of Airy Labs Airy Labs, which makes social learning games for kids.
Brian Wong, 20, and ex-Digg social network employee runs reward-network Kiip. According to Hummer Windbad venture partners, Kiip created an entirely new ad model around moments: moments-based advertising that hinges on the positive achievements in mobile games. Kiip has partnered early with reward providers like Vitaminwater, popchips, Sephora, Dr Pepper, Carl's Jr, 1-800-Flowers.
Copyright © 2012 IDG Communications, Inc.
Next Up: Check out these related slideshows