What to Expect at Salesforce.com's Dreamforce
Salesforce.com's annual Dreamforce conference will kick off next week in San Francisco, and with a reported 120,000 people registered to attend in person and virtually, it will be the cloud software vendor's biggest shindig yet. Here's a look at what to expect, from keynote rhetoric to special guests, as well as a look back on Salesforce.com's past.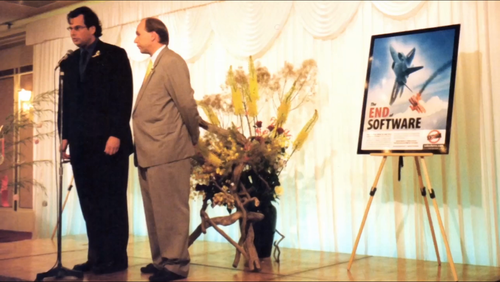 Marc Benioff launches Salesforce.com's "End of Software" campaign
Each Dreamforce gives Benioff an opportunity to spell out Salesforce.com's broadest strategic initiatives and marketing themes. This year, he's expected to focus on marketing software. No word on whether he'll unveil a new company catch phrase to rival the memorable "No Software" tag line that marked Salesforce.com's earlier days.
Big crowds are expected next week at Salesforce.com's Dreamforce event
The 120,000 plus people expected to attend this year's Dreamforce event, albeit a percentage online rather than in person, will pack San Francisco's Moscone Center in a manner rivaling or perhaps surpassing Oracle's OpenWorld event. Some 90,000 people registered last year. While Salesforce.com helps boost its numbers through strategies such as free keynote and expo passes, it's hard to deny how much interest there is in the vendor.
Marc Benioff at Salesforce.com's original headquarters
An older and much richer Salesforce.com CEO Marc Benioff will take the keynote stage at Dreamforce, compared to the company's early days. Here's a rare picture of Benioff in the apartment that served as Salesforce.com's original headquarters.
Salesforce.com CEO Marc Benioff speaks to Virgin chairman Richard Branson
Benioff's Dreamforce keynotes tend to be rather long affairs, but he leavens the load with a healthy dose of celebrity guests. Past visitors have included Virgin chairman Richard Branson.
Yahoo CEO Marissa Mayer will appear at Salesforce.com's Dreamforce show
This year, Yahoo CEO Marissa Mayer is scheduled to appear at Dreamforce. Salesforce.com and Yahoo haven't seem to be that closely aligned strategy-wise in the past, so a strategic announcement isn't out of the realm of possibility.
Larry Ellison speaks at Oracle's OpenWorld conference. Will he show up at Dreamforce?
Dreamforce 2013 may also see the appearance of a previously unthinkable guest: Oracle CEO Larry Ellison. Benioff and Ellison ended their famous public feud earlier this year when announcing a partnership that will include Salesforce.com committing to using Oracle technology for a long time. Ellison also accepted Benioff's invitation to Dreamforce, although it's not clear whether his plans have changed since then.
Marc Benioff did a "rogue keynote" after Oracle CEO Larry Ellison canceled his official one at OpenWorld 2011
An Ellison appearance at Dreamforce would stand in stark contrast to Ellison's cancellation of a talk Benioff was supposed to give at OpenWorld 2011. That didn't stop Benioff, however, who used a hotel near the event to deliver a "rogue keynote."
Programmers will vie for a $1 million prize at the Dreamforce "hackathon" this year
While its user base includes many line-of-business employees, Salesforce.com is expecting plenty of developers to show up at the event. Underscoring the company's belief in the importance of developers to its future, Salesforce.com is offering a US$1 million prize to the individual or team that wins a mobile application "hackathon" using Salesforce.com technology.
Copyright © 2013 IDG Communications, Inc.
Next Up: Check out these related slideshows